Please click here for explanations on some of my baby sleep books recommendations.
Baby Sleeps In…
Swaddling
Swaddle Strap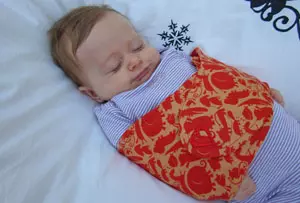 The Swaddle Strap from Anna and Eve is a unique and innovative swaddle design that goes on in seconds and can help calm fussy babies. Made from cotton, it works well in warm and cold weather. This can also be a good sleep tool to help transition your baby from a full swaddle. Visit www.annaandeve.com for more information.
Zipadee-Zip

The Zipadee-Zip is a great sleep product that can also help transition your baby from the feeling of a snug swaddle by giving them more freedom of movement but still gives your baby a safe and snug feeling. It comes in both lightweight, breathable cotton for warmer weather and a fleece version for colder temperatures. You can find out more about Zipadee-Zip by visiting them at www.zipadeezip.com.
Toddler sleeps in…
Baby and Toddler Monitors
Baby and Toddler Sleep Books
Recommended Books For Kids
DVD
Sleep Aids
Making Co-Sleeping, Sleeping With Reflux and Traveling Easier
Baby Stay Asleep
An infant sleep system that allows you to elevate the head of the crib up to 30 degrees while keeping your baby secure and comfortable. Learn More…
Additional Sleep Aids
These items may work well for kids with Autism, Sensory Processing Disorder and other special needs.

Be the Boss of Your Sleep – $8.95



Sleep Tight Small – $159.99



8 lb Weighted Sleeping Bag – $132.00



Twinkles to go Octo – $19.95



Twilight Turtle – $29.95



Sleep Sheep – $27.95



Good Night Baby: A Collection of Lullabies Music CD – $9.99



Gentle Giraffe – $27.95



LED Jellyfish Mood Lamp – $36.99

White-Noise Machines to Help Baby Sleep
Nightlights
Toddler Clocks
Recommended Parenting Books
Helping your toddler learn about emotions
Preparing for new baby
Recommended Breastfeeding Books & Reading
Kelly Mom
Recommended Breastpumps
Baby Nursing Pillows
Recommended Feeding Links and Books
Start Baby on Solids
Wholesome Toddler Food
Disclosure: The Baby Sleep Site is a participant in the Amazon Services LLC Associates Program and other product affiliate programs. If you click on a product link above and make a purchase, The Baby Sleep Site may (but not always) receive a small commission from the company selling the product. This commission will not affect your purchase price. We only recommend products that we believe are quality products and good for our readers.