Napping is a hot topic around The Baby Sleep Site®, and it's no wonder: most of us count nap time as our favorite time of the day! Of course, naps are essential for the health and development of your baby, but don't count yourself out — you need a little downtime during the day, too! And naps offer the perfect opportunity for you to get a little breather.
One of the most popular questions we get around here (aside from "How can I get my baby to nap longer?") is "How many naps does my baby/toddler need each day?"
All babies are different and your baby will develop at a different pace than other babies the same age. Even twins develop at a different pace, sometimes! Just like some babies will walk first and some babies talk first, the age at which your baby will transition to fewer naps will vary, too.
Newborns and Naps
In those first few months after your baby is born, it's best not to worry much about a napping schedule. Your baby's brain is developing, central nervous system maturing, and sleep is organizing. As we've previously shared:
In the beginning, your newborn sleeps most of the time and you don't usually have to worry too much about naps. Your newborn's sleep schedule and patterns are highly unpredictable, usually, so it's hard to tell if she will have 5 naps or 8 on any given day. You've just given birth (or partnered the birth), so as long as she sorts out the difference between day and night, you probably won't stress too much about it unless she isn't "sleeping like a baby."
Once your newborn has become more social, you may begin to have more napping challenges. You may also want more predictability in your day. This won't come easily for some babies, depending on age, but you can begin focusing on getting your baby to nap better and get on a schedule, especially if your baby won't nap at all. No naps or short naps can lead to fussiness (for you and baby!) and make it difficult for your baby to sleep through the night.
How Many Naps Do Babies and Toddlers Need?
Here are some guidelines for how many naps your baby or toddler likely needs:
From 1-4 months, the number of naps your baby takes will be variable but will hover around 4-5 naps per day, depending on how long his naps are and how long he can stay up between naps.
By 3 or 4 months old, she will lean towards just 4 naps, rather than 5.
From 5-8 months, most babies will have three naps per day (though my son had four until after 7 months). They will start to resist the fourth nap, no matter how tired they are. There are a few babies who will only have two naps at a very young age, but those naps are usually long.
From 9-15 or 18 months, on average, your baby will nap two times a day. Although many people believe most babies can transition to one nap at 12 months, the average age is actually 15 to 18 months.
From 18 months to 4 years, toddlers nap once a day. The age to transition away from all napping varies a lot, from 2 to 5+ years old, but the average age is between 3 and 4 years old.
Remember, these are general guidelines and all babies are different. We have seen a few 10 month olds taking just one nap while others are taking three naps, still. Your baby's sleep needs will vary. You should also know that a nap should be at least an hour to be considered restorative, except for any third or fourth nap of the day, which are almost always catnaps of about 30-45 minutes each.
For even more nap and schedule help, check out these members-only resources, found in our VIP Members Area:
Not a member? Not a problem! Join today, and you'll receive instant access to our vast online library of sleep coaching resources.
Personalized Baby and Toddler Nap Help That Works – Guaranteed!
Don't feel up to working on your baby or toddler's nap challenges on your own? While our Members Area is great for DIY parents who prefer to tackle sleep challenges on their own, we know that other moms much prefer to go straight to one-on-one help. Well, good news – we offer that, and you can start getting the personal help you need TODAY!
Browse our list of consultation package options here.
Once you make your choice and purchase, you will immediately receive an e-mail with your Helpdesk login information. You'll be able to log in and get started right away – it's that simple!
My Baby/Toddler Won't Nap — Help!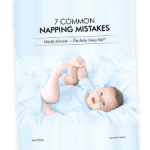 Short or non-existent baby naps can be so frustrating – but you don't have to suffer through them! We have a ton of nap resources – and one of those nap resources is our free guide, 7 Common Napping Mistakes. Are you making any of these common nap mistakes? If so, they may be the cause of your baby's non-napping. So download your free guide today, and start putting the tips to use as early as your baby's next nap!
Is your child a champion napper? A no-napper? Something in between? Share your story!