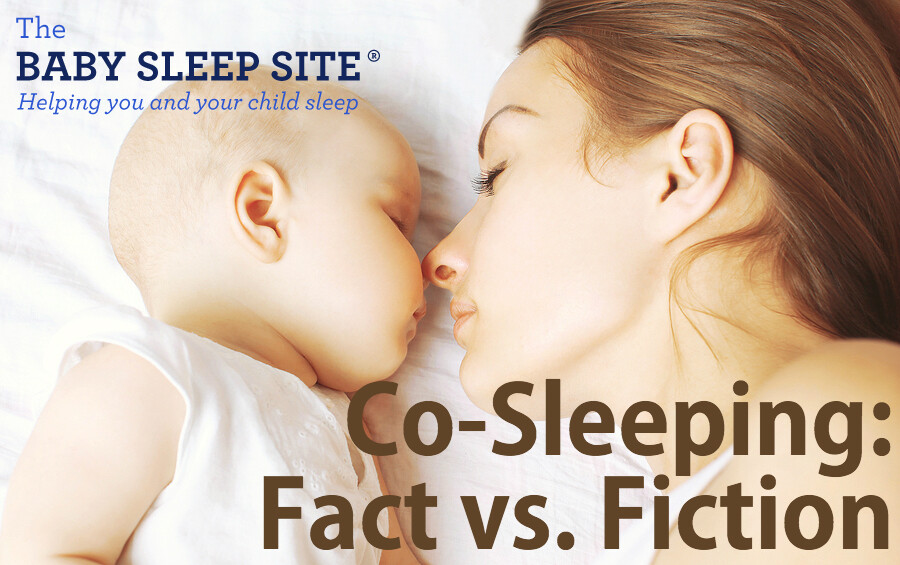 Co-sleeping may be a controversial topic around the web (just Google the term, and you'll see what I mean!), but here's a fact: many, many families utilize co-sleeping at one point or another. Some families co-sleep for a brief time, out of a desperate desire for more sleep. Other families co-sleep intentionally, because the method fits well with their parenting styles.
Because so many families co-sleep, we have found it crucial to help parents sort co-sleeping fact from fiction. Keep reading for answers!
Co-Sleeping: 4 Fact vs. Fiction Questions
Is co-sleeping dangerous?

This 'is co-sleeping dangerous' question is a good one, and one that has a "yes and no" answer. On the one hand, it's true that co-sleeping is statistically more dangerous than independent crib-sleeping. When you share a sleeping area with your baby, there are inherently more variables that can put your baby at risk — pillows and blankets pose suffocation hazards, for example, and a baby sleeping on an elevated surface could fall.

That said, there is also an indication that if you follow proper co-sleeping best practices, co-sleeping can be just as safe as independent crib-sleeping.

So the verdict here is that, provided you do it safely and follow all precautions, co-sleeping can be safe. But since the precautions can prove burdensome for some families, it may be safest of all to share a room with your child but not a bed.

Will co-sleeping fix sleep problems?

We hear this question a lot, and this one (fortunately) has more definitive answer than our last question. The answer here is definitely no! While it's true that co-sleeping can provide some temporary relief from relentless sleep problems (since you won't have to get out of bed so often to respond to cries, and you can likely nurse your baby continuously every time he or she gets fussy), co-sleeping is not a long-term solution to sleep issues. If you want your nights to be rested and sleep-filled once and for all, you may need to work on sleep training.

Will my child want to sleep in my bed forever if we co-sleep now?

Rest assured that this is a no. 😉 Although some extremists may try to convince you that allowing your child to share your bed now means you'll never sleep solo again, this just isn't true. After all, I don't know many teenagers who are keen to sleep with mom and dad!

That said, co-sleeping can create long-term sleeping habits that are tough to break. If you make co-sleeping a habit during babyhood, it may stick around during toddlerhood, whether you want it to or not. This isn't necessarily a reason NOT to co-sleep, of course; if you want to co-sleep now, there are ways to gently stop co-sleeping later. But if you are hesitant to create a big, long-term sleeping habit (and that's what nightly co-sleeping is), then you may want to re-consider co-sleeping.

Is having my baby co-sleep with me better than having him/her sleep in a crib?

The answer to this question is highly dependent on individual factors. I will say, however, that co-sleeping is not inherently better or worse than individual crib-sleeping. It just depends on your goals. If you want to prioritize breastfeeding, and if you want to breastfeed for as long as you possibly can, then co-sleeping may indeed be a better choice for you.

That said, if you are a working mom whose job requires that you are rested and alert – and if you find that co-sleeping doesn't allow you to get enough sleep – then independent sleeping may be a better idea.

In the end, there is no hard-and-fast answer to this. Use your judgment to decide whether or not co-sleeping works for YOUR family, and try to tune out any extreme voices that attempt to convince you that one is always better than the other.
Co-sleeping tips? Share below, and scroll down to hear other parents' stories! Questions about safe and effective co-sleeping? Ask, and we'll answer!