Ahhh, swaddling – for many parents, it's a miracle of a technique that helps babies sleep longer and better.
That is, it's a miracle tool…until it's not. 😉
All good things come to an end, and that includes swaddling your baby. But when should you stop swaddling, exactly? Some babies seem like they're totally over the swaddle within a month or two of birth, while others seem to really like the swaddle for months and months.
And, of course, as Baby Sleep Site® readers, we know you are no doubt working to build healthy sleep habits with your baby, so you may also be wondering when it's best to stop swaddling, in order to avoid creating sleep associations.
Lucky for you, this is exactly the question we are tackling in today's topic! Keep reading for our top tips on when to stop swaddling your baby.
When To Stop Swaddling Your Baby
The first question many parents have is, "When can I (or should I) stop swaddling my baby?" The good news is that there is no hard-and-fast answer to this. You "can" stop swaddling your baby whenever you feel it's best. You know your baby best, after all!
Remember that while most people use swaddling as a soothing technique during the newborn stage, and then start to phase it out around 3 or 4 months, it's not uncommon for babies to be swaddled when they are 6, 7, 8, even 9 months old. Most older babies will eventually start to reject swaddling, but that's not true for all older babies; some will continue to sleep better while swaddled well past 6 months.
That said, here are some general guidelines you can use to help determine when to stop swaddling your baby:
The average age to stop swaddling baby is around 3 or 4 months of age.
Newborns are born with a startle reflex, called the Moro reflex, and most babies don't outgrow it until 4 or 5 months of age. So be careful about stopping the swaddle too early; if your baby's Moro reflex is still strong, she may startle herself awake at night and during naps.
If your baby is able to break free of his swaddle, this isn't necessarily a sign that it's time to stop swaddling. However, if your baby is consistently breaking free of his swaddle every night, and if that means you have loose blankets in the crib, then it's time to either stop swaddling or to switch to a safer swaddling blanket. We recommend the Miracle Blanket.
Swaddled babies should NEVER sleep face-down. So if your baby is starting to roll over on to her tummy while she sleeps, that is a strong sign that it's time to stop swaddling your baby. Remember, when it comes to swaddling, safety first! You can use a sleep sack instead, or a product like the ZipadeeZip that still provides a swaddle-like feel while leaving baby's arms free (which is key when they start rolling over).
Make sure that your baby is not swaddled all day long. While swaddling for sleep is fine, especially during the newborn stage, babies need time to move freely as well, so that they can grow stronger and develop their gross motor skills. If your baby spends all of his sleep AND awake time swaddled, it might be time to gradually stop swaddling during his awake time.
If you are getting ready to sleep train, or sleep coach, you will likely want to stop swaddling first, before you begin sleep training. Part of the sleep training process involves helping your child learn to self-soothe, and babies need to be unswaddled and have access to their hands and fingers in order to learn to self-soothe.
So there you go, parents! If your baby is older than about 5 months of age, is routinely breaking free of the swaddle, or is rolling over onto his/her tummy, it's time to start weaning away from the swaddle blanket and to go with something like a sleep sack instead. And remember, if sleep training is in your future, you will probably want to wean your baby off the swaddle before you start the sleep training process.
As for HOW to stop swaddling – we have tips on that, too! Check out this article, When and How To Stop Swaddling Your Baby, for step-by-step instructions on transitioning away from swaddling.
Soothing and Swaddling and Sleep Training – Oh My!
It can be tough to figure out your baby's sleep…just when you think you've got it nailed, your baby changes, and boom! Whole new schedule, whole new set of needs, and whole new sleep problems. But remember, you don't have to do this alone. We can help! Connect with one of our expert sleep consultants today, and she will craft a Personalized Sleep Plan™ just for you, that accounts for your baby's sleep needs and personality, and your own parenting philosophies and goals.
Browse our list of consultation package options here.
Once you make your choice and purchase, you will immediately receive an e-mail with your Helpdesk login information. You'll be able to log in and get started right away!
Want more information about how personalized help works? Check out our FAQ page here, and get answers.
Have swaddling tips? Leave them below – we love hearing from you!
Join our VIP Members Area packed with exclusive content and resources: e-Books, assessments, detailed case studies, expert advice, peer support, and more. It actually costs less to join than buying products separately! As a VIP member, you'll also enjoy a weekly chat with an expert sleep consultant. And the best part – members receive 20% off all sleep consultation services!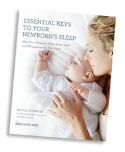 Newborns really can sleep long stretches during the day and at night – you simply have to use appropriate, gentle techniques to get there! Our newborn e-book, Essential Keys to Your Newborn's Sleep, outlines a number of gentle, baby-centered ways you can encourage better sleep from your newborn. Learn how to create sleep-inducing routines and schedules, how to bond and communicate with your newborn, and more!

Persistent nighttime struggles demand a more intensive approach. Check out The 3 Step System to Help Your Baby Sleep. Using the same unique approach and practical tools for success, this e-book helps you and your baby sleep through the night.