Parents are always excited for their child to meet milestones and make the transition to the next stage. We record our child's first steps, giggles, and spoonfuls of squash. We then get excited about transitioning our toddlers from a crib to a big kid bed…until they turn on us and create a night time misery too scary to explain unless you've already been there. Let us set the stage…
The first night goes so well. Your daughter or son feels so BIG and independent about sleeping in a big bed that they are nearly begging to go to sleep. After a few night time stories and a kiss goodnight, you leave a crack in the door and head downstairs to have some much needed adult time with your spouse. You look at each other and breathe a sigh of relief and feel so proud you've created such amazing and obedient children. For some of you, your nights go just like that and you sip wine on the couch and binge watch all the shows you need to catch up on and live happily ever after.
For the rest of us baggy-eyed, crazy, tired people, our night looks more like this scenario…your child quietly sneaks downstairs and stands in the doorway to the family room and glares at you wide-eyed with her hair in her face, mimicking a Poltergeist movie, scaring you to near death. You take turns with your spouse, taking her back to her room and read her another story, give her a sip of water, plug in another night light, leave the door wide open. She pleads and pleads with you to stay with her forever. We all love our children and would do anything for them. So, sure, why not lay down and snuggle your toddler in their big kid bed on their first night? They are growing up too fast anyway. One night won't hurt, right?!
People will argue what's best for their child's sleep schedules, but we can only share what works for our family (and the families of our amazing customers across the country). We wanted to set a routine with our toddlers that involved independence, consistency, courage, respect, and encouragement. When our children feel included in the process, whether it be brushing their teeth, potty training, or sleep training, we see better results. We wanted to make bed time a comforting and empowering process for our kids. When we searched for sleep aides and tools to help us create this environment for them, none of them gave us the results we were looking for. So, out of desperation, need and determination, we created SleeperHero.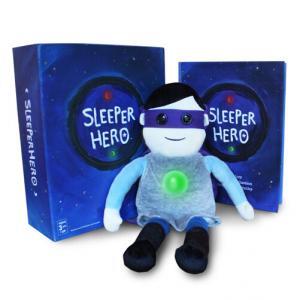 SleeperHero is a super powered doll that comes with a storybook. This unique duo helps children (and parents) conquer their bedtime struggles. The book is a tale about a boy that has trouble staying in his bed at night. That is until he is introduced to a SleeperHero! SleeperHero is a doll with a special light on its chest that shines bright in the dark, wards off imaginary bad guys and teaches them when its an okay time to get out of bed in the morning. The light changes from red to green. Red means "stay in bed" and green means "rise and shine". SleeperHero is essentially a snuggle buddy, night light, and clock that signals sleep and wake times for children too young to tell time. It travels on vacation and to sleepovers, so you can keep a consistent and successful sleep routine wherever you go!
To align with our plan to involve our children in the sleep routine, we created printables and tips to do just that!There is a Coloring Page of SleeperHero that we feel is best to introduce first to get your child excited and familiar with SleeperHero. After reading the story and introducing the doll, there's a Sleep Chart to help monitor progress. Use checks or stickers to mark successful nights. Then create a rewards system with your child and involve them in this process as well.
Many parents will argue that they won't partake in "bribery" with their children. A rewards system isn't bribery. Rewards don't always have to be treats or toys to see results. You set up the rewards that work best for your family. It can be an extra book read to them, 5 extra minutes of snuggle time, breakfast for dinner, family game night. When they pick their rewards, they're more inclined to work harder to earn them. When you introduce a sleep chart, figure out how many successful nights are needed for your child to have "mastered" the sleep routine. It can be a few weeks, a month, or a few months. Just make sure you talk about mastery so they know what to work towards. Continue to monitor their progress and talk to them about the good nights and bad nights and how they turned into rewards and consequences. Once your child masters their sleep routine, honor them with our Certificate of Courage and hang in in a place for all to see! Take their picture with their certificate and make a big deal about it!
SleeperHero has been a game changer for us. Our four year old daughter and three year old son love their SleeperHero. They pack it in their overnight bags to Grandma and Grandpa's and when we go on vacation. We've also been surprised by this added bonus…when they are playing in the evening and the SleeperHero turns red, they bring it to us and tell us it's time to go to bed! I mean, really?! We get sidetracked studying with our older two children or cleaning up in the kitchen, and our toddlers remind us it's time for them to go to bed. Alleluia!
Don't just take our word for it, hear what others have to say about SleeperHero! We are so humbled and excited to hear our customers reach out and tell us SleeperHero is changing their sleep habits. Families are getting the rest they need and they are thanking us for it. Although we set out to create SleeperHero to help families get much needed sleep, it's always wonderful to hear the success stories and know we've made a small difference.
Enter win your own SleeperHero!
Enter below for the chance to win your own SleepHero and book (value $49.99) Please note that this giveaway is only open to US entrants.