Feeding your baby doesn't require fancy gadgets or expensive equipment — if you have a bowl and a spoon, you are well on your way!  But sometimes, a product comes along that makes the baby feeding process so much easier, it's well worth the money spent.
Below are a few of the recommend products that we think will help make your baby feeding a breeze.
Nursing
Products that'll help make nursing easy and convenient
No more fear of "accidental flashing" — Udder Covers let you discreetly and fashionably nurse in public!  We love this nursing cover's line of patterns — everything from whimsical to romantic to chic.  And the name?  So clever! 🙂
Baby Feeding Products:
Everything you need to take the fuss out of feeding your baby
Make babyearth.com your one-stop shop for all your baby's feeding equipment.  Babyearth.com offers an array of feeding accessories, from bibs and bowls to bottles and breastpumps.  Even better:  babyearth.com offers high-quality, innovative products that'll make feeding your baby a snap.


The Tripp Trapp Highchair
A high chair that grows with your baby?  Yes, please!  The award-winning Tripp Trapp is fully adjustable and works for all ages of children, from birth through the teen years.  In fact, it can even be converted into a chair for adults!  What's more, the Tripp Trapp's solid wood construction and sleek, minimal design make it sturdy and attractive.

BabyBjorn Bib


You may have used those little "drooler" bibs with your baby before — the little cotton ones, with the cute decals. They're adorable, but they'll prove fairly useless as actual feeding bibs.  Instead, we recommend you get a separate set of larger, waterproof, easy-to-clean feeding bibs.  We like the ones that have a big pocket in the front (to catch spilled food — there'll be lots of it!).  This one, by Baby Bjorn, is great — it's made of soft, rubbery plastic, so it's easy to wipe down after a meal.  And the neck closure is adjustable, ensuring a great fit.


OXO Tot Feeding Spoons
You're going to be using your baby spoons A LOT, so it makes sense to get quality ones. 
We adore these cool spoons from OXO; with their soft tips and ergonomic handles, they make feeding easier for everyone. And they're BPA-free, so you can rest assured that they're safe for you to use with your baby.


Gerber Graduates Bunch-A-Bowls With Lids
When you're first introducing solids, you'll just need a handful of good, plastic bowls.  
We like these, from Gerber — they come in nice colors, and they include fitted lids, which makes food storage a snap. And they're also BPA-free, which makes them perfectly safe for holding hot foods.


Nuk Silicone Spout Learning Cup
You won't be weaning your little one off of breastmilk or formula when you start offering solid foods; on the contrary, breastmilk and/or formula should be your baby's primary source of nutrition for the first year.  But at some point (around 8 or 9 months, perhaps), you'll want to think about introducing a sippy cup.  This'll give your baby plenty of time to get used to a new way of drinking milk. 
We like this NUK Silicone Spout Training Cup. It's bottom-heavy, meaning fewer spills, and the silicone spout offers built-in leak protection. No valve!
Baby Food Preparation Products:
Solid, basic tools to help you get started making your own baby food
At 6", this high-quality stainless steel steamer basket fits perfectly into smaller sauce pans and is just the right size for making baby food.
Cuisinart Mini-Prep Food Processor
The Cuisinart Mini-Prep Food Processor makes pureeing baby food a breeze.  It's compact (9") and lightweight enough to store easily in a cabinet, and the plastic bowl and lid are dishwasher safe.
The OXO Food Mill helps you make everything from smooth purees to the chunkier textures that your baby will eat as she gets older.  The three stainless steel discs help you achieve a variety of textures, and the interior stainless steel bowl can handle steaming hot food with no problems.
This simple little OXO food masher has a comfort grip handle to make mashing even easier.  The best part?  The whole thing can go straight into the dishwasher.
Baby Food Makers:
You don't need specialty appliances to make baby food, but sometimes, the convenience they provide is worth the investment.
The Beaba Babycook is a one-of-a-kind countertop appliance that functions as a steamer, blender, warmer and defroster to prepare fresh, healthy meals for baby. It starts by steam cooking vegetables, fruits, and meats in less than 15 minutes, while preserving their vitamins and flavors. It then purees and blends them to the desired consistency. You can also use the Babycook to quickly reheat or defrost precooked foods.
The Baby Brezza One Step Baby Food Maker is the one and only baby food maker that automatically blends food after steaming, for a true one step, simple cooking process. This patented, multi-functional baby food maker allows you to steam and blend fruits, vegetables, fish and meats to create healthy, homemade purees for your baby.  The simplest way to give baby nutritious meals and a wholesome start to life.
Baby Food Storage Products:
Products to help you store your homemade baby food safely and conveniently
Mumi & Bubi Solids Starter Kit
You can freeze your homemade puree in plain old ice cube trays, but why not upgrade to the Mumi & Bubi Starter Kit?  Two trays hold 42 1 oz. cubes of food, making it easier than ever to prepare you baby food in bulk.  And the convenient, snap-on lids prevent contamination and freezer burn.
OXO Tot Baby Blocks Freezer Set
Once your baby's graduated to larger food portions, these OXO Baby Blocks freezer containers provide the perfect way to freeze the quantities he needs.  Available in two sets (4 4 oz. blocks or 6 2 oz. blocks), these blocks are great for freezing homemade food or as a convenient container for snacks.  The containers themselves are airtight, leakproof, and safe to use in the dishwasher and microwave.
Pre-Made Baby Food:
No time to make baby food?  Check out these resources for healthy pre-made baby food.
Happy Baby Food offers a complete line of healthy, organic food for babies and toddlers.
Other Resources
Label Daddy's line peel-and-stick labels can be personalized with your baby's name.  And because they're washable, they're the perfect labels for your baby's feeding supplies.
This cookbook pairs simple, delicious baby food recipes with gorgeous photos, making it a book that's as beautiful as it is useful.
Everything You Need To Know About Starting Solids – All In One e-Book!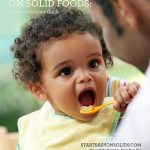 What if you could find everything you needed to know about starting your baby on solid foods – when it's best to start solids, how to introduce solids, complications, food allergies, etc. – in one easy-reference guide? Now you can! Your Baby's Start To Solid Foods: A Comprehensive Guide will walk you through every step of starting solids. Plus, your e-Book package includes several bonus materials, designed to maximize your success in starting solids. You'll get a thorough guide to treating constipation, a dietitian's advice on how to avoid 5 common solid-foods mistakes, and a weekly meal plan for your baby's first year. Grab your e-Book today, and ensure your baby has the healthiest possible start to solid foods!
Any favorites of your own to add to the list?  Share your "must-haves" below!