We've mentioned this before, in previous articles, but let us say it again:  you don't need to spend a fortune on fancy, state-of-the-art tools and gadgets in order to feed your baby well.  You certainly can, but it's not a requirement.
That said, there are some basic pieces of "equipment" you'll need in order to start feeding your baby solids.  In this article, we'll outline those basic tools and suggest products we think are too fantastic to pass up. 🙂
5 Basic Baby Feeding Tools
Visit our Recommended Products page for more baby feeding items we love.
Everything You Need To Know About Starting Solids – All In One e-Book!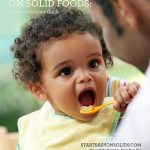 What if you could find everything you needed to know about starting your baby on solid foods – when it's best to start solids, how to introduce solids, complications, food allergies, etc. – in one easy-reference guide? Now you can! Your Baby's Start To Solid Foods: A Comprehensive Guide will walk you through every step of starting solids. Plus, your e-Book package includes several bonus materials, designed to maximize your success in starting solids. You'll get a thorough guide to treating constipation, a dietitian's advice on how to avoid 5 common solid-foods mistakes, and a weekly meal plan for your baby's first year. Grab your e-Book today, and ensure your baby has the healthiest possible start to solid foods!
Any baby feeding essentials you'd add to our list? Share your favorite feeding tools below!