We talk a lot around here about starting solids (since it's the name of our site and all! 😉 ) That's because it's our desire to equip all parents with the knowledge they need to give their baby the best possible start to eating solid foods.
We know, however, that for parents (and especially for you first-time parents) the information related to starting your baby on solids can be a LOT to take in! There's so much to remember, and we know (from personal experience!) that it's enough to make any parent feel anxious.
In this post, we'll review six things you need to think about before starting your baby on solid foods. We've shared all this information in previous posts, but here, we'll condense and summarize it for you, in the hopes that it'll make your life a little easier. Because what parent couldn't use a healthy does of "easier", right?
Right.
1. Know When to Start Baby on Solids
We've written a lot about when it's time to start your baby on solids. You can check out our How to Know When to Start Baby on Solids post, as well as our 9 Signs Your Baby Is Ready to Start Solids post.
Short version: It's best to wait until your baby's close to 6 months to start feeding your baby solids. That's based on a recommendation by the American Academy of Pediatrics, which urges parents to make breastmilk (or formula) their babies' only source of nutrition for the first 6 months of life.
2. Know How to Start Feeding Baby Solids
Need a little guidance on how to start feeding your baby solid foods? Check out this How To Introduce Your Baby to Solid Foods post (it includes great tips on food sensitivities and allergies). You can also read this How To Feed Your Baby Solids post for a video clip on steps to feeding. Finally, check out our When Do Babies Eat Solid Foods In A Day post for tips on how many meals to offer your baby, and when to offer them.
Short version: Start by offering baby smooth, runny purees. As she gets older, you can offer thicker, lumpier foods with more texture and, eventually, chopped table food. In the beginning, be prepared to be patient — the feeding process will be long and messy, and it may take baby awhile to get the hang of it. Begin by serving one small meal (after baby has nursed or bottle-fed); then, gradually build up to two and then three meals.
3. Know Which Foods Are Best, And How Much Should to Serve
It's critical that parents know which foods to offer baby at certain ages, and which foods to avoid. Be sure to look over the 8 Most Common Baby First Foods post for recommendations on which foods to serve first. You'll also want to check out our Types and Amounts of Solid Foods by Age charts to help you decide which foods to offer at each stage of your baby's development, and how much food you should be serving at each stage.
Short version: Rice cereal is the most common first food, followed by fruits and veggies that are sweet and easy-to-digest. Avoid serving allergenic foods (like milk, nuts, and fish) until baby is 12 months. Begin by offering one or two tablespoons of food each day; then, gradually increase the serving sizes.
4. Know All About Buying Vs. Making Baby Food
Before you start offering your baby solid foods, you'll want to think about where those solid foods are going to come from. Do you buy baby food? Make it yourself? Read this Should You Make Your Own Baby Food post for tips.
If you do want to dive in and make some of your baby's food yourself, we've got plenty of recipes to get you started. Check out our homemade fruit purees and veggie purees. We also have a complete listing of protein recipes. We'll even show you how to make baby cereal! And once your baby's older, we have a sampling of great meal recipes he's sure to love.
Short version: Buying all of your baby's food is expensive, but making all of it might not fit into your schedule. Instead, consider buying some and making the rest. Making your baby's food doesn't have to be hard; you can simply cook fruits and vegetables you have on hand until they're soft, and then puree them in your blender. You can serve them immediately, or you can freeze them in small containers for later.
5. Know How Your Baby Might React to Starting Solids
Every baby's different, so until you start your baby on solids, you won't know how he's going to react. Some babies love solids; others aren't fans at first :). Check out our How Your Baby May React To Starting Solids post for more information.
Short version: Some babies love solids too much; if your baby's eating tons of food but not nursing or bottle-feeding enough, cut back on the solid food (since breastmilk and/or formula should be your baby's primary source of nutrition for the first year of life.) But what if your baby seems to hate solids? No worries! There's no harm in taking a break and trying again later. Finally, starting solids will impact your baby's digestive system in a big way; your baby may start having diarrhea or constipation.
6. Know Your Baby Feeding Products
We've mentioned this a few times in past articles, but it bears repeating: you don't need fancy gadgets and expensive, trendy tools to feed your baby well. If you have a few bibs, a set of spoons, a couple of (BPA-free) plastic dishes, and a comfy seat for baby, you're ready to go!
Sometimes, though, it's worth investing in a few products, especially if they'll make the baby food making and serving process easier on everyone. Check out our Recommended Products post for a sampling of items we think are worth the investment!
Short version: High-quality bibs, spoons, and dishes are worth the money spent, since you'll use be using them constantly. A high-quality of high chair can be a good investment, too (especially if it converts into a regular chair, like the Tripp Trapp!) If you're planning on making lots of your baby's food at home, buy some good, basic tools (like a steamer basket) as well as some good freezer and storage containers.
Everything You Need To Know About Starting Solids – All In One e-Book!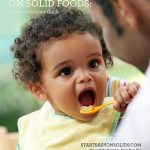 What if you could find everything you needed to know about starting your baby on solid foods – when it's best to start solids, how to introduce solids, complications, food allergies, etc. – in one easy-reference guide? Now you can! Your Baby's Start To Solid Foods: A Comprehensive Guide will walk you through every step of starting solids. Plus, your e-Book package includes several bonus materials, designed to maximize your success in starting solids. You'll get a thorough guide to treating constipation, a dietitian's advice on how to avoid 5 common solid-foods mistakes, and a weekly meal plan for your baby's first year. Grab your e-Book today, and ensure your baby has the healthiest possible start to solid foods!