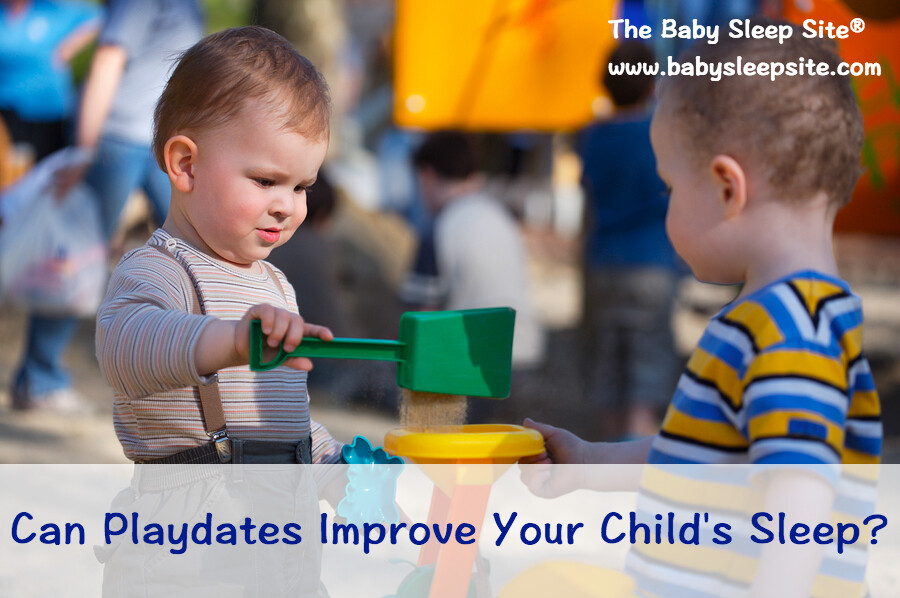 Playdates are doubly fun: your little one gets to play with friends, and YOU get to enjoy quality time with friends of your own!
But here's a 3rd bonus that some parents swear by: better sleep! That's right; some parents are adamant that a daytime playdate means a better, longer nap once baby is back home. But does this always work? Do playdates really mean more sleep for your baby or toddler?
Let's investigate!
Can Playdates Mean Better Baby and Toddler Sleep?
Here's the short answer: it depends. Playdates can spell better, long sleep, but they can also spell disrupted, short (or missed) sleep.

If your playdate cuts into your baby or toddler's nap….
….then it's probably going to interfere with sleep and cause problems later. That's a no-brainer, right? If your child is late to take a nap, he's more likely to get overtired, which makes a good nap even tougher to achieve…and missed nap sleep can then spell rough nighttime sleep as well. The solution to this one is simple: be sure to schedule your playdates around your child's nap and feeding schedule.
If your child has a sensitive temperament and is easily overstimulated…..
….then a playdate may cause sleep issues later. That's because a child who is overstimulated gets fussy, and a child who is fussy has a lot of trouble relaxing and falling asleep at nap time or bedtime. If your child is easily-overstimulated, you don't have to skip the playdates altogether; however, you may need to shorten them or build in some quiet breaks.
If your child loads up on sugary snacks or screen time during the playdate….
…..then sleep is almost certainly going to derail when you get home! Sugary snacks provide a rush of energy, which can interfere with sleep. But even that sugar "crash" that comes later can't be counted on to provide good sleep; the kind of sleep that comes after a sugar crash tends to be fitful and not terribly restorative. (And, of course, there are a host of health issues associated with too much sugar intake, so there are other reasons to avoid those sugary snacks.) In addition, if your playdate includes lots of screen time, watch out! Time spent watching TV or playing computer games – especially when it happens close to nap or bed time, has been shown to disrupt sleep patterns in a big way.
If, however, your playdate doesn't interfere with naps and doesn't include sugary snacks or screen time, AND if your child isn't easily overstimulated….
….then a playdate can absolutely ensure better, longer sleep once you've returned home (or after your friends leave). Research indicates that babies and toddlers need age-appropriate exercise to grow and develop properly, but plenty of activity in the form of playing can also lead to deeper, longer sleep! Additionally, it's not just your child's body that's getting a workout; during a playdate, your child is observing new facial expressions, learning new ways to socially interact, and generally getting tons of emotional and intellectual exercise as well!
Now, playdates aren't a solution for problematic sleep; you'll need to sleep train in that case. But offering your child plenty of activity – including time spent with other children – is an easy and healthy way to help enhance sleep. So go schedule some playdates; you'll be thanking yourself at nap time!
Your turn: how do your baby or toddler's playdates impact sleep? Do playdates make sleep better or worse? Scroll down to offer tips, to ask questions, and to hear from other parents just like you!