'Tis the season, dear readers — the season for FREE STUFF! We are beyond excited to kick off The Baby Sleep Site's 4th annual 12 Days of Christmas Giveaway. Of all the giveaways we do each year, this is by far one of our favorites. That's why we load it up with so many awesome prizes — including a $250 Amazon Gift Card! We can't think of a better way to kick off the holiday season, and (more importantly) to say a big 'thank you' to our you, our fabulous readers and clients!
So, here's how it works…
Interested yet? Here's what you need to know: you can enter the giveaway via the widget below (and also on our Facebook page). We will be accepting entries from today through 8:59 pm EST, December 12, 2013. Starting on Monday, December 2nd, we will draw a winner per day with the Grand Prize winner being drawn on December 13th. Obviously, the earlier you enter the better chance you have of winning a prize. Oh, and this is important: there are several ways to earn more than one entry. So be sure to read through all of the options! Want to know what you could win? Scroll through the list below to see the list of awesome prizes we're offering this year!
(*Note: Shipped prizes available to US Residents only. International winners will be offered an alternative Baby Sleep Site prize that does not require shipping. Prizes listed below are not necessarily in the order that they will be awarded).
Grand Prize – $250 Gift Card to Amazon.com
This year's Grand Prize winner will receive an Amazon.com gift card worth $250. Order virtually anything quickly and easily online, using your Amazon gift card, and receive your shipment quickly.
One grand prize winner will receive a $250 Amazon Gift Card.
The Baby Shusher™ has been called a "Sleep Miracle" and was created by real parents with a genuine passion to help babies sleep. This is a doctor-approved and thoroughly tested technique designed to break a baby's cry spell and engage their natural calming reflex. The rhythmic shush reminds baby of being inside mom, where they were inundated 24 hours a day with loud sounds of blood flow and other in utero noises (up to 85 dBs, or the sound of a very loud vacuum cleaner). What may sound harsh at first is actually very calming to a baby. The Baby Shusher™ has two timer options, 15 and 30 minutes. It also easily attaches to car seat, stroller, swing or crib and works for newborns and up.
You can read more on the Baby Shusher website, or you can purchase one directly if you don't want to wait to see if you've won!
12 lucky winners – one for each day of the giveaway- will receive a Baby Shusher. *This prize is available to U.S. and International entrants.
Understanding newborn sleep can be simple, as long as you keep one basic principle in mind: everything about a newborn is connected. Many factors influence a newborn's sleep, including feeding patterns, routines, temperament, and overall health. In Essential Keys to Your Newborn's Sleep, Baby Sleep Site® founder Nicole Johnson and sleep consultant Miriam Chickering discuss at length each factor that influences sleep. They also offer practical, hands-on tips about how you can influence some of these factors and set the stage for better newborn sleep, both now and throughout the first year. Nicole and Miriam also explain what to expect at each stage of growth, and how to cope with difficulties and challenges that will arise. Essential Keys to Your Newborn's Sleep is a complete toolkit of tips, advice, and sample schedules to help your baby establish healthy sleep habits today and throughout the first year.
One winner will receive an instant download of Essential Keys To Your Newborn's Sleep.
Zipadee-Zip Slumber Sack
The Zipadee-Zip is the next big thing in Baby Sleep! This wearable blanket was designed by a mom, like you, specifically to help transition a baby off of the swaddle and teach them to sleep freely! It prevents a baby's hands from getting cold at night and is also designed to help babies who scratch their faces while sleeping (perfect for babies with eczema!). The cozy, enclosed environment teaches babies to self-soothe and learn to fall asleep on their own! Zipadee-Zip… Taking babies from swaddle-time to sleep time in no time!
The Baby Sleep Site® Reader Special: Baby Sleep Site® Readers can receive $2 off the purchase of a Zipadee-Zip. Visit the Zipadee-Zip website and enter promo code 'SLEEP' at checkout.
Find out more and watch a video on how the Zipadee-Zip works on the Zipadee-Zip website. One winner will receive a Zipadee-Zip of their choice.
Basic E-Mail Baby Sleep Consultation
What better way for Mom to pamper herself than to get more sleep! Your baby's sleep shouldn't be stressful and The Baby Sleep Site® strives to provide a strong, non-judgmental, support network to help you and your family sleep better. Our website has helped countless families through free online articles, step-by-step e-Books, and private and personalized sleep consulting services.
One winner will win the Basic E-mail Consultation Package (Personalized Sleep Plan™ Plus One Follow-Up) to help with your sleep struggles. You'd be surprised how far you can get in just two e-mails! If you already have an account, your account will be credited.
BobbleRoos Toddler Pillow/Blanket
BobbleRoos is a mom-owned company that offers unique and yet practical gift items for babies, toddlers, and preschoolers. All BobbleRoos products are professionally sewn on a small scale in the USA. Their product line includes toddler pillows, playard sheets, baby blankets, toddler blankets, burp cloths, crib sheets, and more. All products are designed with input from parents and children. BobbleRoos offers personalization (embroidery) on most of their product to truly create a custom item that your child will love for years to come.
We are giving away a Personalized Toddler Pillow with matching Toddler Blanket in the winner's choice of fabrics. This popular set features a toddler pillow set (12×16 toddler pillow insert plus pillowcase) with a matching toddler blanket (supersize 60″ x 44″). This set is a unique gift that toddlers can cuddle up with. Many BobbleRoos customers also purchase this toddler pillow and toddler blanket set for daycare or preschool nap time, also makes a great travel pillow set. Personalization included to add your child's name! Winner can choose their fabric from in-stock fabrics, as well as font and thread color for personalization.
One winner will receive the Personalized Toddler Pillow and matching blanket.
This book helps you design a step by step a sleep coaching plan that works for you and your family. It also includes a quick reference guide with age-specific sleep guidelines and sleep log for tracking your child's sleep patterns. Whether you are interested in co-sleeping, crying it out, setting schedules, night weaning or feeding at night, this book covers it all!
One winner will receive a copy of The 3-Step System to Help Your Baby Sleep.
Bitta Blankie
Bitta Blankie is ready to start a sleep revolution for your entire family! It's a patented baby sleep garment and security blanket all in one. Now you can provide comfort and stay within the guidelines for safe sleep. Bitta Blankie is always in reach as your baby goes in and out of sleep cycles. Plus, as your baby becomes increasingly active in the crib, Bitta Blankie cannot be thrown on the floor where other comfort items always end up. Bitta Blankie is the tool that helps your baby learn the art of self-soothing and independence in the crib. Find out more and watch a video to see Bitta Blankie in action on their Bitta Blankie website.
Created by a loving grandmother for her then 4 month old grandson, Bitta Blankie has been brought to life by one very well rested young family with 3 small children who love to sleep in their Bitta Blankies! Some great ideas are just meant to be shared, and this is one of them. Sleep Well, Mom & Dad!
The Baby Sleep Site® Reader Special: Baby Sleep Site® Readers can receive 10% off their orders if placed before Christmas. Visit the Bitta Blankie website and enter discount code "Baby Sleep Site" upon checkout.
Two readers will receive a Bitta Blankie of their choice.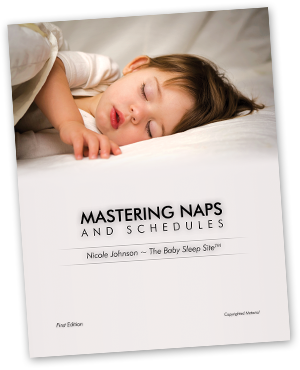 If naps are a struggle or if you have questions about how much and how often your baby or toddler should be napping, then this is the book for you. This book covers how to help your child learn to nap longer, why naps are so important for nighttime sleep, how to break baby's dependence on you to fall asleep, how to help your early riser learn to sleep later, and includes over 40 sample schedules…plus much more!
One reader will receive an instant download of the Mastering Naps and Schedules e-Book.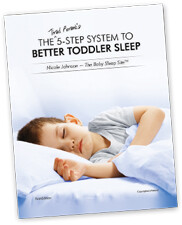 Many parents are surprised to learn that it is not that uncommon for a toddler to not be sleeping through the night or have other sleep related issues. With this toddler sleep book, you can learn how to get back in control with this comprehensive toddler sleep guide. This ebook includes a toolkit of strategies, sample schedules, and sleep logs will put your toddler on the right sleep track.
One winner will receive an instant download of The 5-Step System to Better Toddler Sleep
Nomie Baby Cozy Stroller Blanket
This cozy stroller blanket will help keep your little one warm when out and about in the stroller. The universal fit makes it easy to slip on and off any stroller but the design is also meant to help keep it from slipping and getting caught in the wheels. The outer layer is wind resistant and the inner layer is snuggly soft fleece. We also love that it's washing machine and dryer friendly!
One winner will receive the Nomie Baby Coze Stroller Blanket

Babies change a lot in the first few years and what works for a 8 week old may not work for a 6 month old or a toddler. When you are a member of The Baby Sleep Site you have sleep solutions at your fingertips for all ages, giving you unlimited access to all our e-Books, worksheets, sample schedules, weekly expert chat, tele-seminars, and more! Members also have the option to purchase sleep consultation services at a 20% discount.
One winner will receive a 3 month Baby Sleep Site Membership
*************************************************************************************
Remember, the deadline to enter is Thursday, December 12, 2013, 8:59 p.m. EST. So don't wait – enter today!
(*Please note that all shipped prizes, with the exception of the Baby Shusher, are available to US residents only.)