For the 12 days of Christmas, our true loves gave to us,….12 awesome gifts! That's right, it is that time of year and we want to start off the holiday season with a Sweepstakes!! We will be hosting our 12 Days of Christmas Sweepstakes on Facebook this year since many of you have already joined us on Facebook and we would love to have more of our Baby Sleep Site friends also join our community on Facebook. We've made it easy to enter and just as easy to invite your Facebook friends to join in the fun. You do not have to have a Facebook account to enter. Online entries to the sweepstakes are accepted HERE.
Here's how it works, starting today and until 11:59 pm (EST) on Friday, December 10, you can submit your entry in the 12 Days of Christmas Sweepstakes online. (Be sure to read the official rules and guidelines). Starting on Tuesday, December 7, we will randomly draw one winner from all entries and award a prize for that day. The Grand Prize (a $250 gift card to either Target or Amazon) will be awarded on the final day, December 18.
Listed below is the complete list of all our prizes we'll be giving away each day during the Sweepstakes. As you can see, we have some really great prizes and we're making every effort to make sure all shipped prizes will arrive in time for Christmas! (*Note: Shipped prizes available to US Residents only. International winners will be offered an alternative Baby Sleep Site prize that does not require shipping.) The prizes listed below are not necessarily in the order that they will be awarded.
Grand Prize- $250 Gift Certificate to Target OR Amazon
The Grand Prize Winner for our 12 Days of Christmas Sweepstakes will have their choice of either a $250 Gift Card to Amazon or to Target.
Either gift card can be use to order easily online or the Target Gift Card can also be used in a Target Retail Store. *Please note that the Target gift card option is only available to US Residents. If you are outside of the US and are drawn for the grand prize, you will receive the Amazon Gift Card.
Fisher-Price Rainforest Jumperoo The Fisher Price Rainforest Jumperoo is sure to delight any child who will get a kick (and a jump!) out of playing with the brightly colored figures and listening to the fun music during play time. The Rainforest Jumperoo provides a safe and secure way for baby to jump and play while enhancing your baby's small and large motor skills. The Jumperoo folds easily for storage and comes with three height adjustments.
The Good Nite Lite is the perfect nightlight for helping toddlers get into a healthy sleep pattern. This nightlight features a nighttime moon light that is set at bedtime to give off a soft blue glow that provides enough light to soothe your child but is not too bright as to inhibit sleeping. Parents can then set the light for a specific wake-up time and the sun lights up letting your baby or toddler learn and understand that until the sun lights up, it is still sleep time. The Good Nite Lite is a great visual cue for young children to begin moving from waking up too early and interfering with getting a full night's rest. A Good Nite Lite will go to one lucky winner.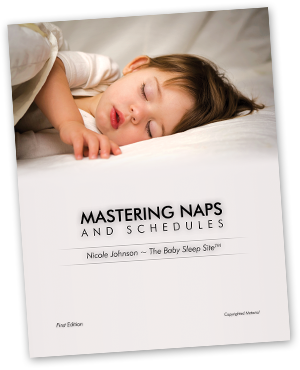 Mastering Naps and Schedules e-Book– One copy of our Mastering Naps and Schedules e-book will be awarded. If naps are a struggle or if you have questions about how much and how often your baby or toddler should be napping, then this is the book for you. This book covers how to help your child learn to nap longer, why naps are so important for nighttime sleep, how to break baby's dependence on you to fall asleep, how to help your early riser learn to sleep later, and includes over 40 sample schedules…plus much more!
Consider it baby's first MP3 player but with classical tunes that will enhance baby's love for music. Comes with an easy to hold handle and a large, easy to press button that will let your child toggle through the different tunes. Lights up with rhythm of the songs and comes with high/low volume control. Good for at home or on the go!
The 3 Step System to Help Your Child Sleep
We will also be giving away a copy of this ebook. This book helps you design a step by step a sleep coaching plan that works for you and your family. It also includes a quick reference guide with age-specific sleep guidelines and sleep log for tracking your child's sleep patterns. Whether you are interested in co-sleeping, crying it out, setting schedules, night weaning or feeding at night, this book covers it all!
It's never too early to be prepared to toilet training. The Baby Bjorn Toilet Trainer seat adjusts easily to any size toilet and sits firmly in place with soft curves on the seat making it a comfortable and safe place for your baby or toddler. The seat is easy for children to place on or off the toilet. Comes with an angled splash guard and a convenient handle so you can hang it up out of the way when not in use.
The Fisher Price Rainforest Waterfall Peek-a-Boo Soother is great for helping relax and soothe your baby as part of your sleep time routine. A glowing blue waterfall with a mesmerizing motion flows down into a real pool of water. Colorful lights slowly glow on and off while a playful monkey and frog play peek-a-boo. Comes with a fun toucan button that makes it easy for an older baby to learn how to turn on and off. Classical music, lullabies and rainforest sounds play up to 18 minutes using the adjustable volume control features. Attaches easily to baby's crib.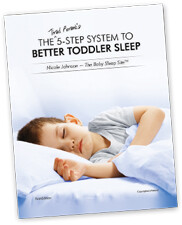 Many parents are surprised to learn that it is not that uncommon for a toddler to not be sleeping through the night or have other sleep related issues. With this toddler sleep book, you can learn how to get back in control with this comprehensive toddler sleep guide. This ebook includes a toolkit of strategies, sample schedules, and sleep logs will put your toddler on the right sleep track.

All the elements that made the first two Toy Story movies so fun are back in this 3rd adventure for Woody, Buzz and all the other lovable toys. The toys' beloved Andy is all grown up now and getting ready to head for college. Even if you haven't seen the first two episodes, Toy Story 3 is a fun filled movie for kids and adults alike. (Suggested for children ages 7 and up so may not be appropriate for babies or younger toddlers.)
This is one adorable turtle that lights up and projects different star constellations in three soothing colors that can help calm babies and children while they wind down to go to sleep. This cuddly soft turtle also works as a great night light and projects real star constellations so you and your child can identify different star patterns. Comes with a Star Guide and 8 constellations. It also has a 45 minute shut off to help save on batteries!
Your baby's sleep shouldn't be stressful and The Baby Sleep Site strives to provide a strong, non-judgmental, support network to help you and your family sleep better. Our website has helped countless families through free online articles, step-by-step e-Books, and private and personalized sleep consulting services.
One winner will win the 2 e-mail sleep consultation package to help with your sleep struggles. You'd be surprised how far you can get in just two e-mails! If you already have an account, your account will be credited.
Deadline to enter is Friday, December 10, 2010, 11:59 p.m. EDT.
Enter Here: Baby Sleep Site 12 Days of Christmas Sweepstakes