'Tis the season, dear readers — the season for FREE STUFF! We are beyond excited to kick off The Baby Sleep Site's 6th annual 12 Days of Christmas Giveaway. Of all the giveaways we do each year, this is by far one of our favorites. That's why we load it up with so many awesome prizes — including a $250 Amazon Gift Card! We can't think of a better way to kick off the holiday season and (more importantly) to say a big 'thank you' to you, our fabulous readers and clients!
So, here's how it works…
Interested yet? Here's what you need to know: you can enter the giveaway via the widget below. We will be accepting entries from today through 8:59 pm EST, December 11, 2015. Starting on Monday, November 30th, we will draw a winner each day with the Grand Prize winner being drawn on December 12th. Obviously, the earlier you enter the better chance you have of winning a prize. Oh, and this is important: there are several ways to earn more than one entry. So be sure to read through all of the options! Want to know what you could win? Scroll through the list below to see the list of awesome prizes we're offering this year!
(*Note: In instances in which international shipping is not included, international winners will be offered an alternative Baby Sleep Site prize that does not require shipping. Prizes listed below are not necessarily in the order that they will be awarded).
Grand Prize – $250 Gift Card to Amazon.com
This year's Grand Prize winner will receive an Amazon.com gift card worth $250. Order virtually anything quickly and easily online, using your Amazon gift card, and receive your shipment quickly.

One grand prize winner will receive a $250 Amazon Gift Card. This prize is available to U.S. and international entrants.


The Baby Shusher™ has been called a "Sleep Miracle" and was created by real parents with a genuine passion to help babies sleep. This is a doctor-approved and thoroughly tested technique designed to break a baby's cry spell and engage their natural calming reflex. The rhythmic shush reminds baby of being inside mom, where they were inundated 24 hours a day with loud sounds of blood flow and other in utero noises (up to 85 dBs, or the sound of a very loud vacuum cleaner). What may sound harsh at first is actually very calming to a baby. The Baby Shusher™ has two timer options, 15 and 30 minutes. It also easily attaches to a car seat, stroller, swing or crib and works for newborns and up.
You can read more on the Baby Shusher website, or you can purchase one directly if you don't want to wait to see if you've won!
One winner will receive the new and improved Baby Shusher™ collection, and two winners will receive Baby Shushers™. This prize is available to U.S. and international entrants.


A Visit from the Good Night Fairy weaves five clinically-proven techniques, which set the stage for a good night's sleep, into a beautifully written children's picture book! This Mom's Choice (Gold) Award-winner is perfect for little ones who are moving into their 'big kid room' or for the 'reluctant sleeper' in your family! The clever and engaging tale unfolds with a typical night-time routine; however, this night is special because, after waking up early and finding her child still in his own bed, Mommy has a chance encounter with the "Good Night Fairy" herself, who places a small gift at the foot of the still-sleeping child's bed. The gorgeous watercolour illustrations are a beautiful complement to the story's soothing cadence and rhyme scheme that your child is sure to love. So dim the lights, settle in, and let the Good Night Fairy bring your child a good night's sleep!
Three (3) lucky winners from the 12 Days of Christmas Giveaway will receive an autographed, paperback copy of "A Visit from the Good Night Fairy". This prize is available to U.S. and Canadian entrants only.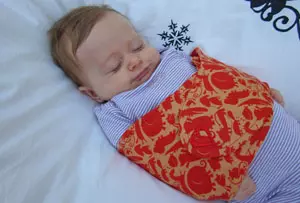 The Swaddle Strap® by Anna & Eve is one of our favorite swaddling products. This "arms only" swaddling product is a great way to swaddle your baby without overheating her; it also makes middle-of-the-night diaper changes a snap! It's also a great tool to help you wean your baby from swaddling, when you want to start with allowing the legs to be free, first. The Swaddle Strap's unique two-strap design ensures baby's safety, while the little "arm pillows" fit snugly over baby's arms, making it virtually impossible for baby to break free of the swaddle. As Anna and Robert (creators of the product) put it, even their own daughter, a "baby Houdini", couldn't worm her way free from the Swaddle Strap!
But the Swaddle Strap® isn't Anna & Eve's only cool product: meet the Life Changer™! The Life Changer™ is the only portable 3-in-1 diaper bag, portable changing station, and lap top changer. Use the Life Changer™ to carry your baby-care essentials (the convertible straps allow it to be used as a backpack, a shoulder bag, or a messenger bag), to do quick and hygenic diaper changes on the go, and (if no sanitary changing area is available) to transform your lap into a portable changing station! The Life Changer™ is like the Swiss army knife of diaper bags – you'll be amazed at how functional it is, as well as how sleek and stylish it looks.
Don't want to wait and see if you win? Visit the Anna and Eve website and use the coupon code BABYSLEEP10 at checkout to save 10% on any Swaddle Straps® you order!
One lucky winner will win both a Swaddle Strap® and a 3-in-1 Life Changer™ Available to U.S. residents only.


The Express Sleep Plan™ provides tired families just like yours with effective, customized sleep training help….and it provides it instantly. No waiting! Simply complete a brief questionnaire about your unique sleep history and challenges, submit your answers, and your plan will be available to download or print within just a few moments. It's that simple! With the Express Sleep Plan™, you don't have to wait days for a sleep plan; instead, you can get started as soon as you and your child are ready.
Two winners will receive an Express Sleep Plan™. Available to U.S. and international entrants; for families with healthy babies or toddlers age 4 months and older.


What do you need for better baby sleep? For starters, you need the right equipment – and the Zipadee-Zip is a great place to start! Why is the Zipadee-Zip THE must-have wearable blanket for your baby? Simple – the unique star-shape design provides your baby enough range of movement while still creating that snug, cozy, womb-like feeling that translates into deeper, longer sleep. It keeps little hands warm, it helps teach baby to self-soothe to sleep, it's easy to buckle into infant carriers or carseats, it keeps baby warm in the baby carrier…the list goes on! Long story
short, the Zipadee-Zip is a product that will truly grow with your baby, and it's high-quality construction will last for years – meaning you can pass it down from one baby to the next!
And now, there's a brand-new Zipadee-Zip product to love – the Zippy OneZ! The Zippy OneZ will let you say goodbye forever to snap-up onesies, and say hello to stylish and convenient comfort. The Zippy OneZ has a convenient and comfy zippered seam along the legs, making late-night diaper changes a breeze and preventing the cold drafts that snap-up inseams allow.
Don't want to wait? Eager to grab your ZipadeeZip or Zippy OneZ now? For a limited time, you can save 10% on your purchase when you enter the code SleepSite at checkout.
One winner will win both a ZipadeeZip AND a Zippy OneZ in the size and fabric of their choice. Available to both U.S. and international entrants.


What better way for Mom to pamper herself than to get more sleep! Your baby's sleep shouldn't be stressful and The Baby Sleep Site® strives to provide a strong, non-judgmental, support network to help you and your family sleep better. Our website has helped countless families through free online articles, step-by-step e-Books, and private and personalized sleep consulting services.
One winner will win the Basic E-mail Consultation Package to help with your sleep struggles. If you already have an account, your account will be credited. Available to both U.S. and international entrants.


"Care for each other
As much as yourself
And never lose sight,
That love is true wealth."
These are the wise words of "Zen Pig", the critically-acclaimed children's book character that teaches children compassion, gratitude, and mindfulness in easy to understand language and is brought to life in beautiful minimalist art.
"Zen Pig" also teaches the fulfillment that comes with giving back; partnering with the non-profit Know.Think.Act. each copy sold provides 10 people access to clean water for 1 year! We adore this book, and think it provides a perfect way to introduce your young child to the concepts of gratitude, compassion, and mindfulness.
FIVE winners will each win a set of Zen Pig books. Available to U.S. residents only.


Kippins modern organic cotton baby and toddler comforters are a tribe of best buds for cool babes, made for squeezing, hugging and good times – perfect for sleep and play. They're gentle on new skin and planet-friendly, made from 100 percent organic cotton and hand printed using organic ink. Spots, dots and cracks are part of the fun and no two Kippins are exactly alike!
Inspired by nature, storybooks and a wild imagination, each Kippin has been designed with simple, graphic prints – a high contrast pattern that babies love! Each Kippin is machine-washable & safety tested. They are designed in Australia, GOTS certified, and ethically made.
One winner will receive TWO Billie Kippins like the one shown here. Available to U.S. and international entrants.


Our Members Area is a do-it-yourself sleep coach's dream come true! Baby Sleep Site members receive unlimited product access – read all our e-Books at no additional charge, access special members-only articles, enjoy a large library of recorded tele-seminars, browse our selection of case studies…it's like having your own sleep resource library! This is truly a resource that grows with your child. What's more, members enjoy weekly chats with expert sleep consultants (which provides the perfect chance to ask your pressing sleep questions and get answers from a pro). And the icing on the cake? Members receive 20% off all personalized consulting services!
Three winners will receive a 2-month membership to The Baby Sleep Site®'s Members Area. This prize is available to U.S. and international entrants.


Story-time made magical! This unique children's book comes to life with magical animations right on the pages of the book. Point the FREE app at the book and the characters pop right off the pages of the book and begin to dance and play. Interact with them and find hidden secrets on every page. Follow the story of the young boy who won't get tired, and his family who travels the world to tire him out. Will he get tired before he turns into a beast? You'll have to find out by experiencing this fun new adventure as a family. We adore this super-cool bedtime book, and we think you will, too!
Three winners will each receive a Goodnight Lad storybook. Available to U.S. entrants only.


Bits of Joy was founded in 2011 by Kathy Austin. Kathy specializes in handcrafted polymer clay creations. Bits of Joy was brought to fruition months before Kathy's husband's first Navy deployment, in an attempt to keep busy and also be able to stay home to raise their toddler. Kathy's first items were Navy charms in honor of her family's military roots. By the time her husband returned, she had expanded to hand stamped items, characters, custom ornaments and wedding pieces, earrings, and much more! Fast forward a few years and Kathy is now a work-at-home mother of two, still creating one-of-a-kind pieces that are meaningful and hold a high personal value to her customers.
Kathy is generously giving away a darling baby reindeer ornament with a custom heart and glittery bow accent. Your ornament comes on a matching ribbon to hang on your tree.
One winner will receive a custom reindeer ornament. Available to U.S. residents only.

Remember, the deadline to enter is Friday, December 11, 2015, 8:59 p.m. EST. So don't wait – enter today!
MOBILE FRIENDLY LINK FOR THE ENTRY WIDGET: http://gvwy.io/2pagbx0
(*Please note that all shipped prizes, unless otherwise specified, are available to US residents only.)