Happy New Year! If you're like us, you've probably spent the last few days making resolutions for the coming year. Some of us are vowing to get more organized, or to lose a little weight, or to learn a new skill.
One resolution that we know is popular is the resolution to eat healthier. This one's easy to understand; the holidays are ending, and if we look back, we've probably spent the last 6 weeks eating plenty of tasty, fatty, calorie-packed food!
You may be making a resolution to eat healthier yourself, but have you stopped to consider your baby's food? Your baby may have enjoyed some holiday treats, too; maybe her diet could use some cleaning up as well!
If that's the case, then you've come to the right place. We're offering up 10 delicious, healthy baby meals that will help your little one start 2013 off on the right food — the "healthy food choices" foot!
For information on when to introduce specific fruits into your baby's diet, along with serving sizes, visit our solid food charts.
For information on whether or not you should invest in organic fruits and veggies, visit our post comparing organic and non-organic produce.
Warm-Me-Up Soup
Healthy and easy to prepare? What parent doesn't like that? The low sodium broth provides plenty of taste without added salt, and the whole wheat pasta will deliver more protein and fiber than traditional white pasta.
1.5 cups low-sodium broth (chicken, beef, or vegetable)
2 Tablespoons uncooked whole wheat pasting (like Earth's Best brand)
2 Tablespoons cooked (diced vegetables (optional))
Bring the broth to a low boil.
Add pasta.
Boil, stirring frequently, 7-8 minutes, or until pastina is fully cooked and tender.
Stir in cooked, diced vegetables, if desired.
Allow to cool; serve warm.
Source: www.parenting.com
Peaches-N-Cheese
This healthy meal takes just seconds to prepare. It would make a great lunch, or even a hearty snack! Be sure to stick with low-fat cottage cheese, to make this an even healthier dish. And feel free to experiment — try mixing in strawberries, or pineapple.
1 or 2 Tablespoons very ripe peaches (diced)
1/4 cup low-fat cottage cheese
Blend diced peaches and cottage cheese. Serve.
Chicken and Bean Casserole
A homemade, from-scratch casserole that's sure to please your baby's taste buds. Use boneless, skinless chicken breasts to cut the fat, and be sure to use low sodium or sodium-free tomatoes, beans, and chicken broth.
1 tbsp olive oil
2 boneless chicken breasts
1 onion (sliced)
2 tbsp butter
1/2 tbsp flour
2 fl oz (1/4 cup homemade chicken stock)
8 oz 1 cup salt/sugar free canned tomatoes – finely chopped
8 oz 1 cup salt-free kidney beans, drained
pinch freshly ground black pepper
Pre-heat the oven to 350 deg F, 180 deg C.
Heat the oil in a frying pan and cook the chicken until golden brown.
Place the chicken into an oven-proof dish.
Saute the onions in the butter until tender, then stir in the flour.
Slowly add the stock, then bring to the boil.
Add the tomatoes, beans and black pepper.
Bring to the boil, then pour over the chicken.
Cover, then cook in the oven for 45 mins.
Source: http://www.homemade-baby-food-recipes.com
Crispy Chicken Strips With Broccoli and Sweet Potato Mash
Make your little one a delicious dinner, complete with a main dish and a side! These homemade crispy chicken strips are far healthier than fried nuggets, and the sweet potato and broccoli mash packs a ton of nutrients into each tasty bite.
Crispy chicken:
1 chicken breast
1 clove garlic (chopped fine)
1 tsp mixed dried herbs
pepper to taste
pinch of paprika (optional)
bread crumbs (home made with whole meal bread)
Parmesan cheese (as per requirement)
Sweet Potato and Broccoli Mash:
1 cup chopped sweet potato 4 florets of broccoli
1/4 cup low-fat milk
1 slice cheese
dried herbs/pepper to taste
Cut chicken breast into long strips, marinate with chopped garlic, paprika, pepper and dried herbs.
In a separate bowl, mix bread crumbs and Parmesan cheese. Coat marinated chicken pieces with the mix.
Shallow fry in olive oil.
Cook sweet potato and broccoli until well done. Add milk, herbs and pepper and mash until you get a smooth consistency.
Return to heat, add a slice of cheese and mix till cheese has melted.
Serve warm along with the chicken strips for a nutritious meal
Source: http://www.homemade-baby-food-recipes.com/
Baby Banana Pudding
Everyone loves healthy desserts — including babies! This banana pudding is packed with potassium, but it has far fewer calories and grams of fat than traditional puddings.
1/2 cup mashed banana (one medium)
1/3 cup approx 3oz well-crushed graham crackers
1/4 cup 2oz unsweetened apple sauce
2 Tbsp milk
1/2 tsp vanilla extract
Mash banana in a small, microwavable bowl.
Make sure graham crackers are crushed to dust, and pour them over the banana.
Add apple sauce, milk and vanilla and stir well.
Tastes great cold, but even better hot. So place bowl in microwave on high for one minute.
Stir again, and check that it isn't too hot.
Sprinkle a tiny bit of cinnamon or orange zest on top.
Source: http://www.homemade-baby-food-recipes.com
Baby Berry Yogurt Smoothie
Antioxidant-packed berries make a great breakfast day. Combine them with smooth, creamy yogurt and crispy rice cereal, and you've got a healthy breakfast treat that baby's sure to devour!
3/4 cup 3 oz plain puffed or toasted rice cereal
2 Tbsp fresh blueberries
2 Tbsp fresh raspberries (when appropriate for your baby)
2 Tbsp plain (unsweetened yogurt)
1 Tbsp milk
1/4 tsp – lemon juice (optional)
1/8 tsp – vanilla extract (optional)
Pour 1/4 cup (1oz) of cereal into blender, then add yogurt, blueberry, raspberry, milk, and lemon juice.
Blend until creamy smooth.
Place remaining 1/2 cup (2oz) of cereal in a small bowl.
Pour berry mixture in and gently stir together.
Source: http://www.homemade-baby-food-recipes.com
Veggie Pasta Toss
This makes a great meat-free main dish. The whole wheat pasta provides plenty of protein, and the addition of vegetables make this a truly complete meal. Be sure to use salt-free seasoning; your baby doesn't need any salt at this stage.
1/4 cup whole wheat pasta
1/4 cup cooked mixed vegetables (peas, carrots, corn, etc.)
Butter
Salt-free seasoning
Cook pasta according to package directions. Place in bowl.
Add a small amount of butter to hot pasta. Toss to coat.
Add mixed vegetables to buttered pasta. Toss to coat.
Sprinkle on seasoning (herbs, parmesan cheese, etc.) Toss to coat.
Serve warm.
Sweet Potato and Apple Pancakes
Apple and sweet potato make a naturally delicious (and healthy!) combination. Serve these pancakes for breakfast, or whip them up for a mid-afternoon snack. The pancakes can be stored in the freezer for up to a month, so if you have time, make a double batch and freeze some for later.
4 oz 1 cup whole wheat flour
2 oz 1/2 cup all purpose flour
3 heaped tbsp rolled oats
2 1/2 oz about 2/3 cup wheat germ
2 tsp baking powder
1/2 tsp nutmeg
1/2 tsp cinnamon
2 large beaten eggs
16 fl oz (2 cups milk – we used whole milk)
4 oz 1/2 cup mashed, cooked sweet potato
1 apple (cored and chopped into bite sized pieces (remove skin for younger babies; you can leave it on for older babies))
little oil
Lightly steam the chopped apple or simmer it in a very little water until tender.
Mix the all purpose flour, whole wheat flour, oats, wheat germ, baking powder and spices together in a bowl.
Place the sweet potato in a separate bowl and slowly stir in the milk. Add the eggs and mix well.
Pour the wet ingredients into the dry and stir until everything is just moist, then stir in the cooked apple.
Heat a little oil in a frying pan and spoon in the mixture to form individual pancakes. Remember – this recipe produces a fairly thick mixture… if you like yours to be runnier, then thin with a little more milk.
Cook for a few minutes on each side until golden, then cool and serve.
Source: http://www.homemade-baby-food-recipes.com
Baked Salmon with Cous Cous
Turn your baby into a fish fan! This salmon dish is loaded with omega-3 fatty acids, known to improve heart and brain health.
1 small salmon fillet
1/2 small red bell pepper (sliced)
2 or 3 cherry tomatoes (if your baby is sensitive to tomatoes, you may wish to use this recipe later in your baby's first year)
1/2 tsp unsalted butter
1/2 tsp lemon juice (optional)
1 tsp fresh parsley (chopped)
3 oz 1/2 cup couscous
Preheat the oven to 350 deg F, 180 deg C.
Place the salmon on a piece of foil.
Top with the red pepper and tomatoes, then dot with the butter and drizzle over the lemon juice (if using).
Add the parsley, then wrap carefully in the foil and seal.
Place in the oven and cook for 20-30 mins, until the salmon is cooked through.
Meanwhile, prepare the cous cous and set aside.
Remove salmon from oven.
Place salmon filet on plate, and top with vegetables.
Serve cous cous on the side
Source: http://www.homemade-baby-food-recipes.com
Baked Applesauce
This warm baked applesauce contains no added sugar, making it a healthier choice than store-bought cinnamon applesauce.
4 Gala apples (or other sweet variety)
4 teaspoons baby oatmeal cereal
4 teaspoons unsalted butter
1/4 teaspoon cinnamon
1/4 tsp. brown sugar (optional)
Preheat oven to 400 deg F (200 deg C).
Peel, halve & core the apples.
Tear off 4 squares of foil – (large enough to make 4 apple packets).
Place 2 halves – flesh up, on each piece of foil (will become a packet).
Place 1 tsp. butter on top of apple packet.
Sprinkle cinnamon/sugar on each packet, then sprinkle 1 teaspoon oatmeal on each.
Pull up and pinch corners of foil together – sealing in the apple.
Place all 4 apple packets on baking sheet.
Bake @ 400 deg F for 30 min.
Remove apples along with any liquid in packets and place in food processor until smooth (good Chunky style for toddlers)
Serve warm or cold.
Source: http://www.homemade-baby-food-recipes.com
For tips on proper food storage, visit our food storage page.
Want to make the baby food making and serving even easier? Check out our list of recommended products for tools that'll make baby feeding a breeze!
Everything You Need To Know About Starting Solids – All In One e-Book!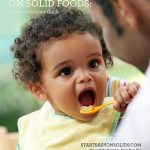 What if you could find everything you needed to know about starting your baby on solid foods – when it's best to start solids, how to introduce solids, complications, food allergies, etc. – in one easy-reference guide? Now you can! Your Baby's Start To Solid Foods: A Comprehensive Guide will walk you through every step of starting solids. Plus, your e-Book package includes several bonus materials, designed to maximize your success in starting solids. You'll get a thorough guide to treating constipation, a dietitian's advice on how to avoid 5 common solid-foods mistakes, and a weekly meal plan for your baby's first year. Grab your e-Book today, and ensure your baby has the healthiest possible start to solid foods!
What are your baby's favorite healthy meals? Share them below!