Happy New Year! If you're like us, you've probably spent the last few days making resolutions for the coming year. Some of us are vowing to get more organized, or to lose a little weight, or to learn a new skill.
One resolution that we know is popular is the resolution to eat healthier. This one's easy to understand; the holidays are ending, and if we look back, we've probably spent the last 6 weeks eating plenty of tasty, fatty, calorie-packed food!
You may be making a resolution to eat healthier yourself, but have you stopped to consider your baby's food? Your baby may have enjoyed some holiday treats, too; maybe her diet could use some cleaning up as well!
If that's the case, then you've come to the right place. We're offering up 10 delicious, healthy baby meals that will help your little one start 2013 off on the right food — the "healthy food choices" foot!
For information on when to introduce specific fruits into your baby's diet, along with serving sizes, visit our solid food charts.
For information on whether or not you should invest in organic fruits and veggies, visit our post comparing organic and non-organic produce.
For tips on proper food storage, visit our food storage page.
Want to make the baby food making and serving even easier? Check out our list of recommended products for tools that'll make baby feeding a breeze!
Everything You Need To Know About Starting Solids – All In One e-Book!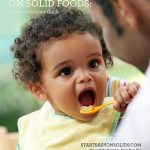 What if you could find everything you needed to know about starting your baby on solid foods – when it's best to start solids, how to introduce solids, complications, food allergies, etc. – in one easy-reference guide? Now you can! Your Baby's Start To Solid Foods: A Comprehensive Guide will walk you through every step of starting solids. Plus, your e-Book package includes several bonus materials, designed to maximize your success in starting solids. You'll get a thorough guide to treating constipation, a dietitian's advice on how to avoid 5 common solid-foods mistakes, and a weekly meal plan for your baby's first year. Grab your e-Book today, and ensure your baby has the healthiest possible start to solid foods!
What are your baby's favorite healthy meals? Share them below!