Readers, we are excited to bring you this interview today, with Miracle Blanket founder Mike Gattan. We are BIG fans of the Miracle Blanket around here – we recommend it to many clients, and Nicole used it with her two boys, when they were babies! And we're quite pleased that Nicole is now listed as one of the resident sleep experts on www.miracleblanket.com – check out our page there!
In our work with the crew over at Miracle Blanket, we had the chance to talk a bit with Miracle Blanket founder and creator Mike Gatten. Read on, and hear in Mike's own words why the Miracle Blanket is such a 'miracle' of a product!
An Interview With Miracle Blanket Founder Mike Gatten
Mike, let's start with the background stuff first. Tell us a little bit about yourself and your family!
"While the Miracle Blanket has won numerous awards and received thousands of testimonials from satisfied customers, the best honor I've received so far has been "#1 Dad" for 18 years running (I have a coffee mug to prove it!).

I have three sons Chandler (18), Taylor (16), and Jake (12). In fact, my son Jake inspired the invention of the Miracle Blanket as an infant.

I am a California native, but today call New Mexico home. When I'm not swaddling infants, I enjoy spending time with my sons, weightlifting, camping, hiking, and going to the movies."
So, what led you to create the Miracle Blanket?
"Our first and third sons were extremely colicky babies; the first was the embodiment of severe colic. Needless to say, no one in my house slept for four months that first time around. When our third son, Jake, came along and began to show signs of colic, I knew there had to be a way to stop it.

By the time Jake was eight weeks old, I had come up with the concept for what today is known as the original Miracle Blanket design. I felt I was lucky enough to have invented the "magic" combination of ingredients to create a veritable "off switch" for crying and sleepless babies.

Since my family had the advantage of the Miracle Blanket, I am very aware of the effectiveness of the blanket. And because Chandler, our first son, didn't experience the Miracle Blanket, I have an incredible perspective on life with the blanket compared to life without it. We knew we had to get this into as many hands as possible as soon as possible and help families around the world get a better night's sleep."
As you know, there are a ton of swaddling blankets on the market today. How is the Miracle Blanket different from other swaddling blankets out there?
"The Miracle Blanket is the #1 pediatrician recommended blanket on the market. Research has shown that the best two eliminators for fussiness in babies are classic swaddling and gentle abdominal pressure.

A lateral belly wrap, a very old Irish remedy for fussiness, is a long band of "stretchy" fabric that is wrapped around a babies abdomen to provide a gentle, even, lateral pressure around the baby's mid-section. Ours is the first and only product that combines these two incredibly effective solutions in one product.

Because of the way our design combines the perfect classic swaddle with the even, horizontal pressure of the lateral belly wrap, it seems to work better than anyone ever thought possible.

It is also important to point out that the Miracle Blanket can't impede the development of a baby's hips and knees. As baby grows, her legs extend beyond the tight portion of the wrap for free movement and healthy joint development."
What problems does the Miracle Blanket solve for families?
"Simply put, the Miracle Blanket helps families get a better night sleep. Our blanket is the only one successfully designed to help a baby sleep better, deeper and longer. When baby sleeps longer, the whole family can be more rested, refreshed and relaxed in the morning.

What kind of response do you hear from parents, regarding their use of the Miracle Blanket?

There is nothing better than receiving positive feedback from a happy and well-rested parent! We've heard from parents that have told us the Miracle Blanket is the only swaddle that keeps baby tightly wrapped and relaxed. Some parents have told us that their baby relaxes just at the sight of the Miracle Blanket!"
Okay, let's end with a fun question – as a parent, if you could offer one piece of advice to a first-time mom, what would it be?
"I recommend that a first-time mom focus on helping her baby self-soothe. It's important that a baby can calm herself down and fall asleep on her own. Swaddling a newborn is the first step and tool to teaching baby to fall asleep on her own."
Help Your Baby Sleep Better, With Resources From The Baby Sleep Site®!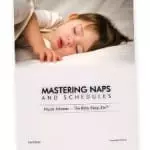 If you're looking for ways to get your baby or toddler into a healthy sleeping routine during the day, I encourage you to explore Mastering Naps and Schedules, a comprehensive guide to napping routines, nap transitions, and all the other important "how-tos" of good baby sleep. With over 45 sample sleep schedules and planning worksheets, Mastering Naps and Schedules is a hands-on tool ideal for any parenting style.
For those persistent nighttime struggles, check out The 3 Step System to Help Your Baby Sleep. Using the same unique approach and practical tools for success, this e-book helps you and your baby sleep through the night.


Or, join our Members Area packed with exclusive content and resources: e-Books, assessments, detailed case studies, expert advice, peer support, and more. It actually costs less to join than buying products separately! As a member, you'll also enjoy a weekly chat with an expert sleep consultant. And the best part – members receive 20% off all sleep consultation services!
If you are looking for a more customized solution for your unique situation, and want plenty support along the way, please consider one-on-one baby and toddler sleep consultations. Your consultation package will provide you with the chance to interact one-on-one with a trained sleep consultant, who will create a Personalized Sleep Plan™ for your family and then work to help you implement it at home.

Can't decide which product or service is right for you? Visit our Getting Started Page for help.

*******************************************************************************************

Want FREE sleep help that you can put to use right away? Download a copy of our free guide, 5 Ways To Help Your Child Sleep Through The Night! The guide is available to download instantly, which means you can start using the techniques in it as early as tonight. So download now, and learn why your baby is waking at night – and what you can do about it.


Click here to learn more about how to get your free guide.
A better night's sleep could be just a few clicks away. So don't wait – download now, and start your journey to better sleep tonight!
*******************************************************************************************

Disclosure: The Miracle Blanket link included in this post is an Amazon affiliate link. As an Amazon affiliate, The Baby Sleep Site® earns a small percentage of each sale that happens via our affiliate link. This will not affect your purchase price in any way.