Fact: being a parent has never been easy. It wasn't easy thousands of years ago, and it isn't easy today! Throughout history, babies have always been exhausting, and parents have always been exhausted.
But here's some good news for those of us who are parenting in the twenty-first century: we have technology on our side! Our mothers and fathers didn't have an entire virtual storefront packed full of apps to help them navigate the early days of parenthood, but guess what? We do. 🙂
Parents, there are literally hundreds of apps out there designed to make your life easier — everything from apps that will create your grocery list to apps that will direct you to the nearest baby-diaper-changing spot when you're out and about.
Today, though, we're going to focus on 6 apps that deal with our favorite topic — baby sleep! We know you're all eager for your babies to sleep through the night and to take regular, scheduled naps. Is there an app for that?
Read on!
Baby Connect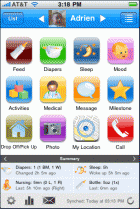 There are many baby-tracking apps out there, but if you want the most comprehensive and most detailed (not to mention most popular) one, check out Baby Connect. With features that allow you to track feedings (breast, bottle, and solids), diaper changes, activities and milestones, and medicine, it's truly a one-stop app for all things related to your baby.
And let's not forget about tracking sleep. Baby Connect lets you track sleep cycles and then turns your information into graphs, helping you to spot trends and patterns. Truly helpful for those sleep-deprived parents who couldn't for the life of them remember when baby took her last nap. (And hey, if you're a "numbers nerd" like BSS reader Beth, turning your baby's sleep information into beautiful graphs might just make you squeal with joy! 😉 )
Baby Connect can be used on both Android and iPhones. For a more detailed analysis of all its features (including the ability to sync between multiple devices, like dad's iPhone or babysitter's iPad).
White Noise Ambience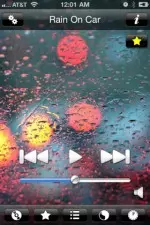 We've written a lot about the power of white noise to induce sleep. One of the best ways to counteract irritating background noises is to simply mask them with another, "whiter" noise.
Now, trust me when I say that if there are many baby-tracking apps floating around the internet, there are even more white noise apps. You have lots to choose from here! Our favorite, though, is one called White Noise Ambience which is available for iPhone. (For Android users there is this White Noise app, which is very similar).
The White Noise Ambience Lite version is free and offers 12 sounds options, like Thunderstorm, Ocean Waves, and Sprinkler (we think that one sounds fun!) The paid version, however, offers a whopping 50 ambient sounds. Your baby's bound to like one of those, right? Both versions allow you to set timers and to create sound playlists (in case your baby has a few favorites.)
Another reason we love this app: the fantastic story behind it. It was developed Matthew Nitfield, a bleary-eyed father of twins who found that certain sounds helped his daughters fall asleep faster. Read more here about how his sleep deprivation sparked him to create one of the most popular white noise apps on the web.
(An aside: we have to mention another white noise app we think is very, very cool. It's called Sound Sleeper, and it's available for iPhone and iPad. Its "listen" feature is what sets it apart: when the phone "hears" your baby cry, it automatically starts playing one of the white noise tracks.)
Baby Lullaby Apps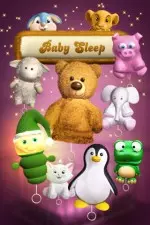 Nothing beats you softly crooning lullabies into your little one's ear. But let's face it — if little one requires you to perform encore after encore, you'll eventually reach your limit! Enter a lullaby app. These apps come with lovely pre-recorded lullabies that will enchant and soothe your baby long after your own voice has given out.
We love the adorable Lullabies and Teddies app for the iPhone; it comes with 21 lullabies along with a variety of cute "plushies" for baby to look at. And the best part — you can set the lullabies to play for as long as you want! Win!! Android users can download the Lullaby for Baby app to get a similar range of songs and features.
Baby Shusher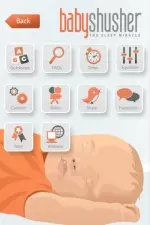 Ever "shushed" a baby to sleep? I have. And I'll bet those of you who read even a little bit of The Happiest Baby on the Block have tried it, too! Contrary to appearances, shushing isn't a desperate attempt by parents to get a baby to stop crying; the rhythmic shushing noise actually re-creates a womb sound that young babies find comforting (and sleep-inducing.)
Here's the catch, though — you may have to shush for quite awhile before it begins to affect your baby. And you have to shush LOUDLY, over the sound of your baby's crying. And that can make for some painful, hoarse shushing after awhile.
Thank goodness for the Baby Shusher app (available for use on both Android and iPhones). Not only does the app create the rhythmic shushing noise your newborn needs to relax; it also comes with a timer feature (you can shush for hours) and a sound equalizer (when your baby gets louder, so does the shush.) Fancy!
Baby Monitor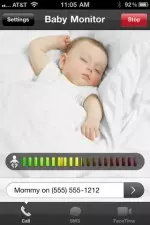 Baby monitors offer a great way for parents to hear (and even see) their babies without having to constantly hover over the crib. But it would be nice to have a more portable option than a traditional baby monitor, especially for those times you're away from home.
Turns out there's an app for that! This Baby Monitor app for the iPhone is an excellent portable choice. Simply place the phone near baby and you can program it to call you (on another phone, obviously) when baby begins crying. You can even use the iPhone's Facetime feature to turn this into a video monitor. Android users can download this similar Baby Monitor app.
This definitely won't replace a traditional baby monitor (and it certainly won't replace good parental supervision!), but for those times when you're traveling and a baby monitor simply isn't a practical option, this app will prove useful.
Flipboard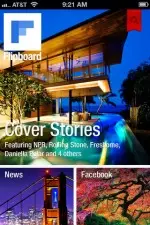 Confession: This app won't do a blessed thing to make your baby sleep better. But it can make things a little nicer for you. 🙂 If you're a tired parent (and many of our readers usually are), you know all about those long, middle-of-the-night marathons of sleeplessness, right? The feedings that feel like they're taking forever, the endless rocking, the insomnia that kicks in right after you've finally gotten baby to drift off…
Those hours of sleeplessness can be a little easier to bear when you have something to do. And the Flipboard app (available for both Android and iPhone/iPad/Apple Watch) offers just that. Flipboard is a social news magazine; it allows you to import feeds from all your social media sites as well as content from online magazines and niche blogs (like this one! Shameless plug!!)
Not only does Flipboard put everything you want to read in one place, but it also lays it out in a gorgeous, graphic, magazine-type spread. It's truly lovely to look at.
This most definitely isn't a comprehensive list. There are way too many baby apps out there for one blogger to review, but this should be a great start!
Hope these awesome apps help your family sleep a little easier!
Disclosure: The Baby Sleep Site was in no way compensated for our reviews of these apps. All opinions expressed here are entirely our own.