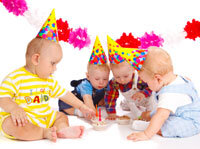 My husband never had a birthday party until I threw him a surprise 40th birthday party last year. I can't tell you how shocking that was when I met him. I still find it astounding, since my boys have had a birthday party almost every year since they were born! I'm sure my Mother-In-Law thinks it's way over-the-top!
To this day, my husband couldn't care less about his birthday. Yes, he loved his surprise party, but overall he just doesn't care about his birthday. It doesn't seem to bother him one way or the other and he has a great relationship with his mother.
I, on the other hand, have always LOVED my birthday and remember many birthday parties very fondly. Do I remember when I turned 1 or 5? No. I think the first one I remember was sometime around 12 or 13. I remember being at the kitchen table with my friends and little brother sitting around watching me open presents. I also remember going to Vegas when I turned 30, but what happens in Vegas stays there, so that's all I have to say about that.
When I ask my son whether he remembers any of his parties, he always says "no" except for the one last year, when he turned 5. I'm sure he will forget that party one day, too.
My younger son also remembers his last year, when he turned 3, because Dora came to visit. Instead of paying for a "place" to have a party, we opted to have it at home and spend the money on Dora, instead. This year he wants Diego to come. 🙂
What do birthday parties have to do with cry it out and sleep training?
I considered whether we should stop throwing so many birthday parties, especially now that we have two kids and parties get pricey! They won't remember them and my husband is no worse off NOT having parties. But, I just can't stop giving my boys parties. I think we've decided on doing it every other year or for "big" birthdays, but I can't imagine never having one for the boys, again. The reason I came up with is this:
Our relationships are complex and a combination of many small and big things that happen in our lives make us who we are today. Sure, a few ex's were jerks, but without them I may not know or appreciate how special my husband is. No, my sons may not remember their birthday parties, but since this is one way that I, personally, show them they are special…that they have a special day…I want them to know that Mommy loves them and they are indeed as special as I think they are. My husband's mother did it in different ways and I'm sure we all have our own ways. The men our boys end up to be will come from their experiences, even if they don't remember all of them. It's the journey, not really where you end up.
This brings me back to sleep training and cry it out. Depending on your baby's temperament, sleep training or cry it out may be a big or small thing. Some babies cry 10 minutes and sometimes cry it out doesn't even work! Some people don't want to sleep train at all. Others will use a no-cry sleep training method and be very successful while others just can't get that to work no matter how committed they are.
My point is that your relationship with your child is way bigger and way more complex than the sleep training method you choose and this one facet of parenting. There are many big and small things that you do every day, all day with your baby or toddler that will frame who they are in life in the future. It's the combination of all of our experiences with our children that makes the journey.
A lot of weight is put on a (usually and relatively) short-term experience and others want you to believe that it will make or break your child. Yes, relationships can be fragile, but at the same time they are very robust just the same. If you find a way to help your baby sleep through the night, help your baby nap better, transition away from co-sleeping, or help your toddler sleep in a big bed…alone, while also fostering your relationship, there is no reason to think that your relationship will be damaged forever. There are a wide variety of strategies or combination of strategies that can help you do just that.
So, I ask you today to consider whether you are the Mom or Dad that you want to be while you are sleep-deprived? I, personally, feel like I'm a worse parent when I am sleep-deprived or stressed. If you do too, do something about it and don't be afraid to help shape the child in front of you. For all you know, you can help him be a better sleeper, and person, for his future, and give him the parent you want him to have.
What do you think? How will sleep training help or hurt your child?
If you're looking for ways to get your baby or toddler into a healthy sleeping routine, please be sure to pick up your FREE copy of 5 Ways to Help Your Child Sleep Through the Night, our e-Book with tear-free tips to help your baby sleep better. For those persistent nighttime struggles, check out The 3-Step System to Help Your Baby Sleep (babies) or The 5-Step System to Better Toddler Sleep (toddlers). Using a unique approach and practical tools for success, our e-books help you and your baby sleep through the night and nap better. For those looking for a more customized solution for your unique situation with support along the way, please consider one-on-one baby and toddler sleep consultations, where you will receive a Personalized Sleep Plan® you can feel good about! Sometimes it's not that you can't make a plan. Sometimes you're just too tired to.