It's the last week, readers – the last week to meet another incredible mom in our Family Features stories! Over the past few weeks, we've met Jenny, Vikki, and Whitney, and learned how, with the help of The Baby Sleep Site® sleep consultants, they helped their babies learn to sleep independently, through the night, and nap well. Scroll down to read their stories, if you missed them.
Today's final story is brought to you by Jennifer. And let me tell you – Jennifer's story is awesome. See, we weren't the first sleep consulting organization she contacted. Jennifer had worked with THREE other sleep consultants, trying to solve Maddy's persistent sleep struggles, and NONE of them had been able to help her. NONE. Not surprisingly, she didn't hold out much hope that her Personalized Sleep Plan™ would help much, either, but she bought it anyway, just to try.
I'm happy to report that Jennifer was wrong about her Personalized Sleep Plan™. It proved to be exactly the solution she needed. Read on, and learn how Jennifer, with the help of her consultant Liz, finally found sleep coaching success!
Meet Jennifer, and Hear How, After 3 Sleep Consulting Failures, She Finally Found The Help She Needed At The Baby Sleep Site®
(written by Jennifer Smith)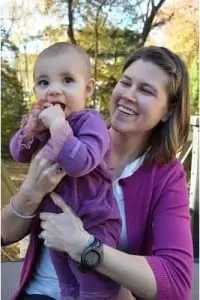 Oh, how I remember the day I signed up for the personalized sleep plan on The Baby Sleep Site. Tears rolled down my face as I hit the payment button. I had just read the testimonials of other parents and knew, without a doubt, that I would never, ever be in their company. After Maddy's severe colic finally abated, we had a window of about three weeks where she slept just like all the books said she would.
And then, it stopped. She would only sleep if she was on me in the baby bjorn and I was moving, or in my arms and I was bouncing on the exercise ball. I remember bouncing as my husband left for work early in the morning; when he returned late in the evening, I was still there, still bouncing. Thank heavens for my iPad, my Netflix subscription, and "30 Rock."
The worst, though, was when neither bouncing, nor the baby bjorn, nor vigorous gliding would work. Hour upon hour of screams and cries. We re-read every book and tried every method. When that didn't work, we contacted sleep consultants. Two fired us because their methods should have worked but didn't. The third just stopped responding. I spent long days checking and consoling Maddy through naps she never took. At night, it would take at least 90 minutes and sometimes more than three hours of absolute misery for her to find the sleep we so desperately wanted her to get. I tried to remember my mom's advice: "if mom isn't relaxed, baby cannot be relaxed." But nothing seemed to work. Until we found co-sleeping. Relieved, we gave ourselves over to it. It wasn't restful, it was completely disruptive to our household, but at least Maddy was sleeping and we were getting more sleep than we were used to.
And then that, too, stopped working, and we were back to square one.
When I confessed to my husband that I had engaged yet another sleep consultant, I sobbed. "It's just more good money after bad, but I can't live like this any longer. I have to have something, even if it's just false hope." If that sentence reads dramatic, you're getting sleep. Sleep deprivation, as my friend told me, is the thief of perspective. It is also the thief of joy. We loved Maddy desperately, and we desperately needed her to sleep so we could get the rest we needed.
When the personalized sleep plan arrived, I devoured it and felt a huge rush of relief. I showed it to my husband, who also took heart. It was helpful, understanding, and clear. Context was provided for all the suggestions and there was enough wiggle room for us to tailor it to our specific parenting styles and abilities.
As we proceeded, guess what? It didn't work. And so I dropped it. Having been dismissed before, I just didn't have the heart to be turned away again. But I came back because I had to—I just had to try again. That's when we found out that "generous" doesn't begin to describe The Baby Sleep Site's email support. I explained what happened to our consultant, Liz, and she picked it right up, asked questions, conferred with me, and together we tweaked the plan. In the ensuing weeks, I emailed over large issues and very small questions. I mean, I wanted ALL MY BASES COVERED so I asked every single question I could come up with—sometimes more than once. Liz responded in a timely way and always addressed both the questions asked and those that were implied—the questions I was too sleep-deprived to form. The kindness and care Liz showered on us surprised me. With other sleep consultants, they were certain and directive. "Do this, and Maddy will sleep." But the suggestions didn't always work. And sometimes, we proved fallible (as people—sleep-deprived or otherwise—are prone to be). Liz walked me through every little detail, cheered us on for every success, and reassured me with every misstep.
With the counsel of Liz and The Baby Sleep Site, Maddy went from co-sleeping to sleeping through the night in her own crib with the least amount of tears of any sleep training program. What seemed to me an insurmountable mountain was summited one step at a time. I really felt roped to Liz and knew that she had my back if I slipped or was unsure. The directions from her were so helpful and clear that every night, I knew going in exactly what to do. When Maddy had trouble clearing a new hurdle, and I started to feel helpless, I just reminded myself, "your only job right now is to do x." Knowing that Liz was keeping an eye on the big picture allowed me to just do the next thing. I didn't have to worry about how on earth Maddy was EVER going to sleep in her crib ALL NIGHT. I just had to do x. I just had to do y. And then, as the successes started piling up, I became more confident. And as I became more confident, so did Maddy.
It's hard to put into words just how much our lives have changed. I become quite emotional when I think about it. My husband and I can now talk without Maddy present—a huge gift. He and I can sleep in the same bed all night long. By ourselves. Instead of trying to figure out how to make it through another day, I am rested and happy when I hear Maddy stirring in the morning. We can think about expanding our family. I can read a book, or a magazine, or watch a show.
A few weeks after successfully sleep training Maddy, she became ill with a bad cold. She was terribly congested and could only find rest if I held her upright in my arms. Once she was well again, who was happy to get back to their respective sleep spaces? EVERYONE.
I thought our case was hopeless, I really did. With the help of The Baby Sleep Site, I am another proud member of the satisfied client list. And I am as well-rested as any mother of a strong-willed and independent 18 month-old can be.


WOW – just wow. Jennifer's story is proof that our sleep consultants really can help just about any baby sleep – even a baby who has baffled three other sleep consultants! And they will do it in a supportive, non-judgmental way that leaves you feel encouraged and empowered instead of defeated and abandoned. And as Jennifer's story shows, it's not an overstatement to call a consultation with The Baby Sleep Site® life-changing. In Jennifer's case, it absolutely changed her life, and saved her from spiraling even further into exhaustion and despair. A consultation with a Baby Sleep Site consultant really is an investment – in your baby's (and your) health, in your sanity, in your relationship with your partner, in your overall quality of life…this is more than just a purchase. It's an investment in your family. And we hope it's an investment you'll consider making today!



****************************************************************************************
****************************************************************************************
Meet Whitney, and Hear How She Took Her Daughter From Screamer To Sleeper!
Meet Whitney, a loving and engaged mom whose daughter was a decent sleeper for the first 18 months of her life. Sure, she'd wake up once, or maybe twice, during the night, but it wasn't anything Whitney and her husband couldn't handle.
But then a double-ear infection struck, and everything fell apart.
Keep reading to find out how, with unlimited help from Nicole, Whitney and her husband were able to help their toddler re-learn how to sleep – and to start sleeping through the night for the first time in her life!
The Baby Sleep Site: Welcome, Whitney! So – you had a tough little sleeper at home before you contacted The Baby Sleep Site, right?
Whitney: You bet! In terms of sleep, things had gotten so out of hand in our household that we weren't sure what we needed more–a baby sleep expert or an exorcist! For most of her life, our daughter had "only" been waking once or twice a night–but at 19 months she came down with infections in both ears. By the time she was well again we had completely undone any sleep progress we had made–she was now waking up 4 or 5 times a night and screaming for a half hour at a time.
The Baby Sleep Site: Holy cow, Whitney – I understand the urge for an exorcist! How discouraging, especially since you'd enjoyed 19 months of decent sleep. So frustrating!
Whitney: It really was. After three weeks of this, my husband and I were tense, cranky, and exhausted to the point where I was hesitant to get behind the wheel of the car, I was so tired. Of course, we got lots of (conflicting) advice, which we did our best to follow–until the sheer exhaustion and confusion wore us down. We knew that we needed a clear, consistent road map–and fast. I posted a desperate message on Facebook and a friend pointed me to The Baby Sleep Site.
The Baby Sleep Site: Woohoo! We love it when we hear about referrals like that – so awesome to see moms helping other moms, and spreading the word about The Baby Sleep Site! So, once you visited the site and saw what we had to offer – what did you think?
Whitney: Honestly, at first we were hesitant to hire a sleep consultant. It seemed like such an extravagant luxury…and things weren't really that bad, were they? Well, we went through one more night of screaming–and got in touch with a consultant the next morning!
The Baby Sleep Site: Ha! I love that – you're right that sometimes, in the light of day, things seem more manageable, but then when you're up all night again the next night, it's back to feeling desperate. Totally understandable. So, tell us – what package did you buy?
 
Whitney: We opted for the unlimited 30-day e-mail package and sleep plan, which turned out to be a godsend. Nicole held our hands for the entire journey. She began by taking a thorough history of our issues and goals. Then she sent us a lucid, step-by-step plan to remedy the various individual problems that were collectively contributing to our daughter's poor sleep. We could tell she had a lot of experience with frustrated, sleep-deprived parents–the way she communicates is so clear, gentle and easy to follow.

Thanks to our e-mail subscription, we were able to reach out to Nicole any time day and night (I sometimes emailed her multiple times during the night and by the next morning she would have answered every single email!). She validated our frustrations and offered genius advice. Because she had spent so much time getting to know how we work as a family, all of her suggestions were tailored to us (for instance, she knew that I couldn't stand more than a few minutes of crying at a time, and she knew that we were willing to take several weeks to get to our goal if need be). Above all, she offered humor, empathy and a hearty dose of encouragement to get us through the roughest patches.
The Baby Sleep Site: Yep – that sounds like Nicole! Her heart is huge – especially for sleep-deprived parents. 😉 Tell us, Whitney: after a few weeks of working with Nicole on an unlimited basis, what happened?
 
Whitney: Today, I am astounded at how far we've come. We wrapped up our consultation a few weeks ago, and the past few weeks have been some of the best of my life. Nope, angels haven't descended from the sky and I haven't won the lottery–but my husband and I have been sleeping (drumroll, please…) 8 or 9 hours a night–really! Now that we're replenishing the sleep debt, we're finally communicating like the loving, compassionate couple we were before. We've also had the energy to cook, clean, go to the park and play with our daughter–and even catch up with our friends. In short, we have gotten our lives back. At almost 21 months old, our daughter is now truly sleeping through the night for the first time in her life!! The results are incredible–she's much more cheerful during the day and has blossomed under our eyes. Signing up with The Baby Sleep Site has been one of the best investments we have ever made!


Pretty amazing, right? Whitney's story is further proof that it's never too late to sleep train – even if your toddler has never slept through the night a day in his life, we can help. And, it's also proof that sleep can fall apart with any setback – that's why it's great to have us as a trusted resource to turn to! And did you catch that last line? Whitney referred to her consultation purchase as an investment. That's really what this is, readers. A consultation with a Baby Sleep Site consultant is an investment – in your baby's (and your) health, in your sanity, in your relationship with your partner, in your overall quality of life…this is more than just a purchase. It's an investment in your family. And we hope it's an investment you'll consider making today!



****************************************************************************************
****************************************************************************************
Meet Vikki, and Hear Her Sleep Coaching Story
Readers, meet Vikki! Vikki's little Lyla was a pretty good sleeper early on, and she was a GREAT napper! But then the 4 month sleep regression hit, AND Lyla began to learn how to break free of her swaddle…and at that point, Lyla's great sleeping habits were history. First night sleep started to suffer…then nap sleep…and pretty soon, no one was sleeping much at all. Add to this the fact that Lyla was one of those babies who just actively fought sleep (as Vikki described it to me, Lyla fought sleep "like a little prize fighter"!), and you can understand why Vikki contacted us for help! She had tried sleep training on her own, but it just wasn't working, and she knew she needed some personalized help. Fortunately, Vikki and her sleep consultant, Jen, were able to get Lyla's sleep back on track. Read on to learn more!

The Baby Sleep Site: Thanks so much for sharing your story with us today, Vikki! Let's start by getting a better sense of what brought you to The Baby Sleep Site® in the first place. You mentioned to me that sleep really started to suffer when Lyla was a few months old – before that, sleep was better, right?
Vikki: Yes. From the time she was about 6 weeks old, Lyla was sleeping in her crib, swaddled. And she was sleeping through the night, all on her own, from 7-8 p.m. until about 6 a.m. It was great! But then, when she was about 3 or 3.5 months old, she started to break free of her swaddle on a regular basis. We knew that wasn't safe, so we stopped swaddling her. At that point, all hell broke loose!
The Baby Sleep Site: Oh, no! That must have been frustrating for you and Brian. 🙁 Now, you tried to do some sleep training you your own at this point, right? When Lyla was about 4 months old? Tell us about that.
Vikki: Oh, boy – where to start! Well, to begin, Lyla used to be a world-class sleeper. She would fuss very little, and had a great nap schedule. But then, once the Great Swaddle Break of 2013 took place, she got fussier. We tried nap training with her when she was about 4 months old, and it actually went very well – by the time she was 5 months old, she'd go down for naps drowsy but awake and not fuss at all.
The Baby Sleep Site: Wow – that's great, Vikki!
Vikki: Well, it would have been great – if it had lasted! Unfortunately, everything fell apart once we started trying to work on nighttime sleep training, when Lyla was about 5.5 months old. It was a nightmare. We tried various hybrids of sleep training methods – we did the check-and-console method, we tried picking her up to calm her and then putting her back down in her crib for sleep, we tried Ferberizing – nothing worked. Lyla just screamed and screamed and screamed. For hours. Finally, things got so bad that she started clawing at her head and neck, and actually drawing blood. At that point, I threw in the towel and did whatever I needed to in order to help Lyla fall asleep. That's when I started rocking/walking/feeding her to sleep at night and for naps.
The Baby Sleep Site: Vikki, this must have been awful for all of you!
Vikki: It was heartbreaking to see her so upset. Lyla is normally such a happy, engaged, adorable baby – the only time she really wailed was when it came to go to sleep. Honestly, she would just fight sleep – it was so frustrating!
The Baby Sleep Site: So this was about the time that you reached out to The Baby Sleep Site, correct? Tell us a bit about the start of your consultation.
Vikki: I filled out my sleep history form and sent it off to Jen, my consultant. This was on a Thursday night – by Monday afternoon, I had my Personalized Sleep Plan™ waiting in my inbox! I was honestly so excited about it – I knew it was just what Brian and I needed. Brian and I read over the plan together and then got to work putting into practice at home.
The Baby Sleep Site: Great! So, tell us about what happened once you started using Jen's recommendations at home.
Vikki: The plan was pretty gentle in nature, which I liked – I know we would have to expect some crying, but I didn't want Lyla to have to endure long stretches of crying, especially since we knew from our past attempts at sleep training that it wouldn't go well! So, we started off by gradually weaning Lyla away from her need to breastfeed to sleep. Following the plan, I was able to get Lyla to fall asleep without breastfeeding pretty quickly, which was a huge victory! However, we had some setbacks early on, too. We quickly figured out that if I stayed in the room with Lyla while she was falling asleep, it just made things worse! After e-mailing back and forth with Jen, though, we came up with some modifications to the plan, and that really helped.
The Baby Sleep Site: Awesome! So glad you took the time to follow up with Jen and work with her on modifying the plan as necessary. That's the beauty of the follow-up help that comes built in to the packages; it lets parents and consultants work together to continually improve the plan, and to adjust things that aren't working well.
Vikki: Yes! We ended up making a few tweaks to our plan, based on what my husband and I were seeing with Lyla. One of those was to actually work on nights and naps at the same time – we started out trying to work on them separately, but we quickly realized that was confusing for Lyla. We talked it over with Jen, and everyone agreed that we should try sleep coaching for naps and nights together. That change to the plan ended up making a big difference! It still took Lyla awhile to learn how to fall asleep on her own, but once Brian and I began using the same approach at naps and at night, and stuck to it consistently, Lyla began to get the hang of it.
The Baby Sleep Site: Woohoo!
Vikki: Ha – woohoo indeed! I think the best thing about the consultation process with Jen was that, with her help, Brian and I realized that we needed to set up 'rules' (for ourselves and for Lyla) about how we were going to handle Lyla's sleep challenges. For example, going through this process made Brian and I realize that it was key for us to leave Lyla in her crib once we had put her down for sleep – picking her up to comfort her was only making things worse. Now, when she's fussing in her crib, we get down on eye-level with her and offer hugs and pats through the crib slats, and talk to her, but everyone understands that she has to stay in the crib when it's time to sleep. We have a few other rules like that, too, which have been a key part of helping us improve Lyla's sleep. We worked closely with Jen and Nicole in developing these rules, and Brian and I have worked hard to stick to them and stay consistent. And it's paying off!
The Baby Sleep Site: Okay, so speaking of 'paying off', let's move on to the part that everyone is most interested in – did your consultation work? Is Lyla sleeping better now?
Vikki: In a word – yes! I am delighted to report that now, thanks to the sleep coaching we did with Jen's help, Lyla is successfully going to sleep on her own (and happily, for the most part!) for her naps AND for bedtime. What's more, she is completely night-weaned now – and it only took me 10 days to get her to drop that last, unnecessary night feed! Getting Lyla to this point was definitely work, and the process wasn't always smooth. There are still nights when, persistent little girl that she is, she protests at bedtime. But when I think about the fact that we went from having a little girl who screamed for hours and didn't want to sleep, and would only fall asleep if I nursed her, to having a little girl who understands the rules, knows what to expect, and sleeps 12 hours a night and takes great naps – I have to say, I'm so proud!

Lyla's quality of sleep is better, my brain is better, our household is happier, and our overall quality of life is so improved, thanks to the plan that Jen and Nicole created and all the support they provided. I honestly can't thank them enough for their help – I am forever grateful!
The Baby Sleep Site: Awwww…thanks, Vikki! Stories like these are what all the hard work worth it. 🙂 Sounds like your consultation experience with Jen was really, really positive.
Vikki: Yes! I especially loved how accessible Jen was through the entire process. I bought the Deluxe package, so I had three follow-up emails to use, but we exchanged more than three e-mails. When I would ask a quick follow-up question, or when I needed clarification on something in the plan (or even when I just needed some encouragement!), Jen would reply with a short email that she didn't count against my 3 e-mail total. She 'charged' only for lengthier e-mails in which she was giving me new sleep advice. This really made me feel like we were in it together, and that I could approach her when I needed to without having to worry about using up my emails too quickly.
The Baby Sleep Site: I'm so glad, Vikki! Okay, as we wrap up – any final words you want to share?
Vikki: Can I say thanks one more time? Ha! Thanks again for being such an amazing, trusted resource. You guys rule!!
So that's how Vikki was able to help her little sleep "prize fighter" learn to sleep through the night (12 straight hours, thankyouverymuch – pretty impressive!) and nap like a champ. Vikki couldn't do it on her own, but she had the wisdom to realize that this didn't mean she was doing anything "wrong" – it just meant she needed some expert hep! That might be just what you need, too – some expert, personalized guidance. Our sleep consultants are standing by, eager to help you tackle your sleep challenge. What are you waiting for? Get your Personalized Sleep Plan™ today!



****************************************************************************************
****************************************************************************************
Meet Jenny, and Hear How She Helped Alexis Learn To Sleep!
We're kicking off our summertime Family Features by introducing Jenny. Jenny first approached us for help when her adorable little Alexis was just 10 weeks old. That's fairly young to sleep train (although our consultants often work with parents of newborns and young babies), but you see, Jenny is a teacher, and she only had about 5 weeks of maternity leave left. And given the fact that she she was having to hold Alexis pretty much 24-7, and that Alexis was napping a ton and up often at night, it's understandable why Jenny wanted to sort out Alexis's sleep before returning to to the classroom!
However, Jenny's consultation didn't go quite as she expected. Her little Alexis threw her a few curveballs. But with the help of her consultant, Elaine, Jenny was ultimately able to make BIG changes to Alexis's sleep. But don't take my word for it – read on, and hear from Jenny herself!
The Baby Sleep Site: Jennifer, tell us what prompted you to purchase a consultation package from The Baby Sleep Site®.
Jenny: Alexis was very young when I bought my consultation package – she was just about 10 weeks old. The main reason I wanted to work on her sleep early was because, at the time of my purchase, I had about 5 weeks left before I had to return to my teaching job. I knew that once I started back to work, I would need more sleep, and I also knew that I needed a better daytime routine for Alexis, so that my mom (who regularly babysits Alexis) would have an easier time caring for her.
The Baby Sleep Site: Going back to work can definitely be daunting when you have a sleepless little one at home, that's for sure! So what was Alexis's sleep like before you started your consultation?
Jenny: Well, first of all, Alexis needed to be held pretty much constantly. That's not unusual for a 10 week old, of course, but it was getting exhausting, having to hold her all the time. I always needed to hold her in order to her to fall asleep. Alexis also slept off and on a lot during the day (at random times, though – I was letting her pretty much nap on demand), and then she would be up a lot at night. I felt like she might be sleeping too much during the day, but I wasn't sure.

When I went into the consultation with Elaine, I was really looking for a more structured daytime schedule (although I didn't want anything rigid), and I was hoping that Elaine would help me to lengthen Alexis's nighttime sleep. I knew Alexis obviously needed to keep feeding at night, and I actually really enjoyed the nighttime feeds – but I just wanted fewer of them! I loved holding Alexis too, but I knew that we couldn't continue with me having to hold her all day long.
The Baby Sleep Site: Makes sense! Now, what happened once your consultation started?
Jenny: I was really excited about the plan after I first read it – it was so detailed! I started by asking some clarifying questions on a few points of the plan that I needed help with. Once I got her responses, I felt ready to start!
The Baby Sleep Site: Great! And what happened next, Jennifer? Did you start to see progress?
Jenny: Ha! Not really – the opposite, actually! Within 2 days of trying sleep coaching, Alexis's sleep seemed worse. I was so discouraged at that point. I wasn't sure if what was happening was normal – maybe things were supposed to get better before they got worse? I felt uncertain about whether to continue on with the Plan, to speed things up, or to slow things down. Fortunately, I was able to email Elaine and share my concerns with her, and she replied with a really encouraging email. She gave me some general pointers and loads of support, but she also gave me permission (in fact, she urged me!) to follow my gut. She also pointed out that I was starting sleep coaching pretty early, so it might be best to slow down or to stop altogether and just wait a bit longer to sleep coach. This was so comforting to me! Honestly, sometimes it is hard to sort through all the info that's out there, and to just listen to my instincts.

At that point, I slowed way down in the sleep coaching. I didn't want to push Alexis too fast. I took it slow for about 6 weeks. Then, not too long after I returned to work, I decided it was time to try sleep coaching again. Alexis had been through the 4 month sleep regression by that point, and her sleep was even more challenging. She was napping a lot during the day, but then restless at night. I had to hold her every night until she fell asleep, which made it tough to grade papers or write lesson plans, or to have any time with my husband. We were also co-sleeping every night, since that was the only way Alexis would sleep well. It finally got the point where I just couldn't do it anymore, so I decided to pick up my Personalized Sleep Plan™ and try again.
The Baby Sleep Site: Fantastic! So glad you followed your gut, Jennifer. So – how did attempt #2 go? Better than attempt #1?
Jenny: SO much better! I was still using a gentle approach, the way I had the first time, but within 3 or 4 nights, we had made so, so much progress. I was putting her to bed drowsy but awake, and she was settling on her own, without much fussing at all, and falling asleep on her own. It was great!

A few weeks later, I decided to try working on naps (I had still been rocking her to sleep for naps up to that point). I wasn't sure Alexis was ready, but my mom had been laying her down for naps awake for a little while, and she said it was going well. So one day, I laid Alexis down awake for all of her daytime naps. Sure enough, she fell asleep and slept great!

But that's not the best part: that night, after three great naps, I put her down for bed awake, and SHE SLEPT 11 STRAIGHT HOURS IN HER CRIB! I couldn't believe it! I hadn't been trying for sleeping through the night at that point – I was fully expecting to feed Alexis at some point during the night. My guess is that, now that Alexis knew how to put herself to sleep, she was able to fall back to sleep on her own quickly when she woke during the night. It was so encouraging to see what a great sleeper she had become!
The Baby Sleep Site: WOW, Jennifer – talk about a big change! Seems like waiting to sleep coach was a great decision!
Jenny: Yes, it was! I literally went from holding her for every nap and every night (and not having any time to talk to my husband, do school work or house work), to co-sleeping during the 4 month sleep regression to putting her down awake and now actually have time to get things done at night and during the day (wow!). I thought it would take much longer since I held her so much, but she really amazed me.
The Baby Sleep Site: We are so, so happy for you, Jennifer. This is such an encouraging story – it's a great example of why sometimes it makes sense to wait a few weeks before sleep coaching, especially with young babies. It does seems like, by getting your plan early, you were able to instill a good foundation with Alexis, and then that foundation paid off when, about 6 weeks later, you were able to sleep train her in about a week. Congratulations again! Any last words you want to share with our readers before we wrap up your interview?
Jenny: I would love to thank Elaine again! Elaine, thank you SO MUCH for developing a plan for us that was so detailed and matched my comfort level with crying (which was minimal). I also appreciate you encouraging me to follow my instincts about waiting. Thank you for educating me on this process and for helping Alexis become an independent sleeper. I also can't thank you enough for giving me back some time during the day and at night to tend to the household and my lesson planning/grading. You truly have given me a gift! Thank you, thank you, thank you!
There you have it, readers – there may have been a few speed bumps along the way, and the pace may have ended up being slower than Jenny was anticipating, but with Elaine's help, she was able to help Alexis create healthier sleep associations, and to get her little one sleeping soundly! And you can, too. Our sleep consultants are standing by, eager to help you tackle your sleep challenge. What are you waiting for? Get your Personalized Sleep Plan™ today!