Inertia. Remember that word from your high school physics class? (If you're shaking your head, don't worry — I didn't remember it, either!) For those of us who slept through physics in school, a little refresher course may be in order.
What's Inertia, Anyway?
My eyes tend to glaze over when I start hearing technical terms, so let me give you a basic definition: inertia means that if something isn't moving, it'll continue not moving until something or someone moves it. Inertia also means that if something is moving, it'll continue moving until something or someone stops it. Basically, a thing will keep doing what it's doing (resting or moving). That's inertia.
Imagine a pen lying on a table. The pen will lie there, not moving, until someone comes along and moves it. But once that pen's rolling across the table, it'll continue rolling until it eventually slows down and stops (due to friction), or until it rolls right off the table and falls to the ground.
This principle of inertia applies to physical objects, but we can apply it to ourselves, too. In fact, thinking about inertia may help us understand our own behavior a little better.
Inertia and Finances
For example, we could use the principle of inertia to understand our financial behavior. Finance expert Dave Ramsey has a lot to say about inertia from a financial point of view. He explains that often, when people have five or six loans to pay off, logic tells them to pay off the biggest one first, since that'll save them money in the long run.
Nope, says Dave. Pay off your smallest one first. Why? Because it'll get you moving.
Make sense? Maybe not logically, but what gets you moving is what matters. Even though logic tells you to tackle the enormous, "monster" task first, wisdom and experience tell you that won't work. The task is just too big; you'll feel defeated before you even start. So why start at all? And so you continue to sit on the couch, eating potato chips and not doing the thing you should be doing. (Rest assured that I'm not judging you here — I spend plenty of time sitting on the couch and snacking instead of tackling my to-do list!)
So what do you do? Here's Dave's advice: start small. Don't attempt to lose 50 pounds; attempt to lose 5. Don't try to clean every room in the house; instead, make your bed. Don't try write all 200 pages of your work report; write for 15 minutes and then stop. If you break your huge task into small, manageable goals, you'll eventually get it done.
Nicole's Note
"I love Dave's 'baby steps' approach to finances. It's not a quick fix, which makes it more likely to be successful. We paid off two car loans thanks to Dave's philosophies and being 'gazelle' like. 🙂 Those looking for get-rich-quick schemes won't like it, much like the parents looking for quick fixes for their baby's sleep problems may be disappointed, if their baby doesn't learn to sleep through the night in 3-4 nights."
Inertia and Sleep Training
Guess what? Inertia applies to sleep training, too. How many of you reading this have felt like your baby's sleep issues were just too big to tackle? That your toddler's sleep associations and bad sleep habits were so numerous and strong, they'd be impossible to ever fix?
That's the sleep-related version of staring at the 50 pound overage on the scale (or the whole messy house, or the 200 page report) and thinking, "This is impossible. I can't do this." And if you let yourself think that way, you'll never sleep train. Ever. You'll continue to wake, night after night, longing for your little one to sleep through the night but feeling convinced that the problem's too huge to fix.
So let's take a page from Dave Ramsey's book and start small. Instead of feeling like you have to solve all your baby's sleep issues RIGHTNOWTHISVERYMINUTE, break them down into manageable, measurable goals:
Is your baby or toddler waking 5 or 6 times each night? Don't make your goal zero nighttime waking. Instead, your goal could be to work for two weeks on eliminating just one of those nighttime wakings.
Is your baby or toddler taking 20 minute micro-naps? Your goal probably shouldn't be to increase every nap to 2 hours. 😉 Instead, at first, try to extend each nap by 5 or 10 minutes. Or, for those of you with babies, you could focus on one nap, and pour your energy into making that nap a good one.
Is your baby's schedule or toddler's schedule completely nonexistent? Don't try to institute a rigid, highly-structured schedule on day 1. Rather, spend the first week trying to make sure the morning nap happens at roughly the same time each day.
Sure, these goals are tiny, and they don't solve all your problems. But guess what? Once you've started working on a small sleep training goal, you're up. You're "off the couch", metaphorically speaking, and you're moving. You're doing something to improve your baby's or toddler's sleep.
And inertia works two ways, doesn't it? Once you've started down the sleep training path, you'll keep moving. You'll conquer the next small goal, and the one after that. You'll keep going, all the way to a better night's sleep.
Nicole's Note
"I really think that the success we see with families is because we take a family's goals (short-term and long-term) and set up steps to achieve that goal. We lay it out in a very systematic day-by-day approach that may not go exactly according to plan, but it helps them see how to get it done. You may remember when I ran my first 5K and talked about baby steps in sleep training. This concept is not only to keep stress lower for the baby, but also to keep parents moving forward."
So if you're struggling with inertia, and feeling so overwhelmed by your kiddo's sleep challenges that you just keep on putting off sleep training, remember: start small. And remember this, too: we can help! Our team of compassionate, caring sleep consultants are ready and waiting, eager to create a Personalized Sleep Plan™ for your family that will walk you through every single step of the sleep coaching process. With help from a consultant, you don't have to tackle this alone – your consultant will do it with you, and she'll create your sleep training "road map".
Browse our list of consultation package options here.
Once you make your choice and purchase, you will immediately receive an e-mail with your Helpdesk login information. You'll be able to log in and get started right away!
Want more information about how personalized help works? Check out our FAQ page here, and get answers.
Did you experience any sleep-training inertia? How did you conquer it? Share your tips below!
Our VIP Members Area is packed with exclusive content and resources: e-Books, assessments, detailed case studies, expert advice, peer support, and more. It actually costs less to join than buying products separately! As a VIP member, you'll also enjoy a weekly chat with an expert sleep consultant. And the best part – members receive 20% off all sleep consultation services!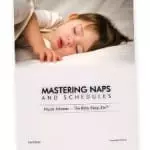 If you're looking for ways to get your baby or toddler into a healthy sleeping routine during the day, I encourage you to explore Mastering Naps and Schedules, a comprehensive guide to napping routines, nap transitions, and all the other important "how-tos" of good baby sleep. With over 45 sample sleep schedules and planning worksheets, Mastering Naps and Schedules is a hands-on tool ideal for any parenting style.


For those persistent nighttime struggles, check out The 3 Step System to Help Your Baby Sleep. Using the same unique approach and practical tools for success, this e-book helps you and your baby sleep through the night.



For those persistent toddler sleep struggles, check out The 5 Step System to Better Toddler Sleep. Using the same unique approach and practical tools for success, this e-book helps you and your toddler sleep through the night and enjoy a better daytime schedule.