Happy New Year's Eve, readers! Whether you have fun plans for a night on the town tonight, or whether you will be ringing in 2014 from the comfort of your couch, know that all of us here at The Baby Sleep Site wish you and yours the happiest possible New Year! 🙂
In the spirit of counting down, we thought it would be fun to do a countdown of our own. That's why, today, we are presenting you with the top 13 Baby Sleep Site blog articles of 2013.
So, without further delay — here are the blog articles that proved to be most popular this year. Enjoy, readers — and happy 2014!
The Top 13 Baby Sleep Site Blog Articles of 2013
13. 3 Signs Your Toddler is Done Napping
Ever heard the expression 'all good things must come to an end'? It proves true in many cases, doesn't it? Good books, beach vacations, chocolate cake…sooner or later, good stuff ends.
We could add something else to that list – naps. It's true, parents; the naps that were (or perhaps are) a regular part of your baby's life will gradually decrease, and at some point in your little one's toddlerhood, they will stop altogether.
But how do you know when your toddler is ready to drop the last nap, and to stop napping completely? We are answering that question in today's article. We will outline signs that your toddler is ready to stop napping, as well as tips for how to handle this transition. Click here to read the full article.

12. The Best Time To Sleep Train Your Baby: Ideal Sleep Coaching Windows
As parents, we always want sleep coaching to go as well as possible, right from the start. That's why we make sure to wait until our babies are old enough for sleep training (4 months or older), why we carefully select sleep training methodsvthat fit our parenting styles and our babies' temperaments, why we don't sleep train during big transitions or illnesses, and why we prepare for sleep coaching before we start.
One of the ways to ensure that sleep coaching goes as smoothly as possible is to do it during a window of time in which it will be easier. That's right — there are times during your baby's growth and development when she is better prepared for sleep training (and, conversely, times when sleep training may be bit harder).
What are these 'ideal sleep coaching windows'? Let's take a look! Click here to read the full article.
11. How To Handle Your Toddler (Or Baby!) Climbing Out Of The Crib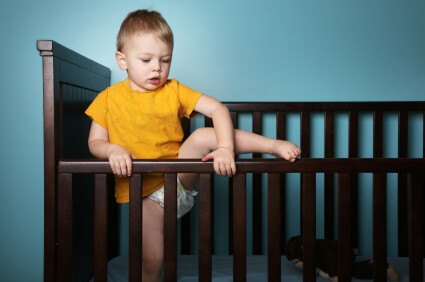 "He pulled a jailbreak!"
Those were my friend's words one morning, when I met her for coffee. She looked frazzled and a little panicky; turns out her 18 month old toddler had climbed out of the crib the night before, and had nearly scared his poor parents to death.
Not that her experience was anything unusual, of course; plenty of parents have experienced those disconcerting "jailbreaks"! Our little ones somehow channel their inner monkeys and figure out how to climb (or maybe even vault!) right out of the crib.
But how do you handle this? What are you supposed to do when you find your toddler (or even worse, your baby) on the wrong side of the crib bars? In this article, we'll examine your options to prevent or eliminate those middle-of-the-night jailbreaks. Click here to read the full article.
10. Top 15 Reasons Why Your Baby or Toddler Wakes At Night
We love providing free resources for our readers – just take a look at the 'FREE' tab above, on our main menu bar! 🙂 And so, in the spirit of offering free help, we have designed this checklist, to help you understand why your baby is waking at night.
Because let's face it – night waking isn't always straightforward. Is it hunger? Discomfort? Something else? It's enough to drive a sleep-deprived parent crazy! Fortunately, you don't have to lose your mind over your baby or toddler's night waking. Instead, use our checklist so figure it all out! Click here to read the full article.
9. 5 Things You Need to Know About Naps
We've written quite a bit about baby and toddler naps here on the blog, so if you've been following our site for awhile, you've had the chance to read a lot of baby and toddler nap tips and tidbits. But, some of you are new moms or are new to The Baby Sleep Site®, and we strive to educate all of our parents on the importance of good sleep and how to achieve it!
Today, we're presenting you with 5 must-know facts about your baby's or toddler's naps. Think of it as your nap "cheat sheet". 😉 Click here to read the full article.
8. Breastfeeding and Baby Sleep Training – Can They Really Go Together?
Readers, you probably know by now that we're a little (or maybe a lot) passionate about sleep training at the Baby Sleep Site®. But here's something we're equally passionate about: helping breastfeeding moms sleep train in a way that won't jeopardize their commitment to breastfeeding.
In this article, we bring you a fresh perspective. It comes from one of our sleep consultants, Miriam. Miriam is highly qualified to speak on this subject, since she's a certified lactation consultant with experience as a labor and delivery nurse.
We're excited to have Miriam as part of our team, and we're especially thrilled about the expertise she's able to provide to our nursing moms! In this article, Miriam will be answering a few common questions that many breastfeeding moms have about sleep training, and offer her insights as to why breastfeeding and sleep training really can go together. Click here to read the full article.
7. How and When To Nap (Sleep) Train Your Baby or Toddler
If there's one thing we've written A LOT about here at the Baby Sleep Site®, it's sleep training. Dare we say we're sleep training experts? 😉
And usually, when we talk about sleep training, we're talking about sleep in general — both nap time sleep and nighttime sleep. Today, however, we're going to consider the two separately. We'll compare nap training and night training, and we'll explore when it's best for nap training to happen. Click here to read the full article.
6. 7 Tips for Handling Your Baby or Toddler's Leaky Nighttime Diapers
As parents, we're all familiar with the standard reasons for a baby or toddler's night waking. Newborns and young infants often wake at night out of hunger. Many babies wake out of habit, because they've formed sleep associations. Toddlers may wake up in the middle of the night because they've had a nightmare.
Let's add another cause for nighttime waking to our list: leaky diapers. Have any experience with that? I'll bet most of you have. If so, you know how it goes — you wake to find your little one wet and cold and wailing loudly. Sometimes, one leaky diaper is all it takes to turn a peaceful night of sleep into a chaotic mess!
So, what's a parent to do? How do you stop leaky diapers from waking your baby or toddler at night? Today, we're spotlighting 7 tips that'll help you banish those leaky diapers and keep your little one sleeping peacefully. Click here to read the full article.
5. How (and When) To Transition Your Toddler From a Crib To a Bed
Here's a common toddler-related question we hear often:
"When should I transition my toddler from his crib to a 'big kid' bed? And how exactly am I supposed to do it?!"
Is that a question that's been on your mind lately? If so, never fear — it's the question we're answering in today's article! We'll examine when – and how – to move your toddler out of the crib and into a big-kid bed of his own. Click here to read the full article.
4. Is Your Baby or Toddler Napping Too Much?
I know. Some of you are probably laughing hysterically at the title of today's article. Too much nap time sleep?! Lots of you would probably give anything to have that the problem in your house!
And we understand that. Most of the parents we work with have babies and toddlers who struggle with nap time sleep, and who need to take longer, more restorative naps. Those babies and toddlers desperately need a solid daytime nap schedule to help them get the nap time sleep they need.
Still, a number of parents end up asking themselves the "is my child sleeping too much?" question at one point or another. After all, a baby or toddler who spends long periods napping each day may not have time to work on the gross motor and cognitive skills they need to be developing. And, a baby or toddler who naps a lot could wake more frequently at night.
So, how much nap time sleep is too much? Let's answer that. Click here to read the full article.
3. Your Baby's Short Naps Explained
Catnaps. Mini-naps. Micro-naps. Whatever name you give them, short naps can feel like the bane of your existence as a mom or dad. It may seem like you spend an eternity trying to help your baby fall asleep at nap time, only to have her wake 20 minutes after you lay her down. Not exactly restful for anyone!
So why do some babies tend to take short naps? Is there an underlying reason? And (most importantly) – is this a problem you can fix? Click here to read the full article.
2. How To Avoid Common 'Babywise' Pitfalls
So let's just get it out in the open right away: we're talking about the book On Becoming Babywise today. And if you've been a Baby Sleep Site® reader for any length of time, you know that's bound to create some controversy.
We've written about Babywise before, and about the cry-it-out method in general. And we know all too well that this is an emotionally charged topic for many of our readers. Some of the parents in our Baby Sleep Site community are proponents of cry-it-out methods like Babywise; others denounce these kinds of methods completely. And many of you fall somewhere in the middle.
The purpose of today's article isn't a controversial one, though. This article doesn't denounce Babywise methods (like crying it out.) But it doesn't attempt to convert parents to those methods, either. No, we're not doing either of those today.
What are we doing? We're taking a look at how to apply Babywise methods properly and safely, and how to avoid some of the common pitfalls associated with Babywise. Click here to read the full article.
***************************************************************************************
And the number one most popular Baby Sleep Site article in 2013? Drumroll please………
***************************************************************************************
1. Is Swaddling Your Baby Now Dangerous (and Illegal)?
We've always recommended swaddling as a good (and safe) way to help soothe fussy newborns and to promote better baby naps and longer nighttime sleep. But do we need to rethink our position on swaddling babies?
At this point, many daycares are banning swaddling and the American Academy of Pediatrics has labeled swaddling an "unsafe" practice in childcare settings. In fact, since December 2012 it is now illegal for child care centers in Minnesota to swaddle at all! Click here to read the full article.
So – did your favorite 2013 articles make the list? What topics are you hoping we'll cover in 2014? Share your suggestions below — we're all ears!
Want to make sure that 2014 is a sleep-filled year for your family? We can help you do just that! Check out these Baby Sleep Site products and services…
Need more sleep training resources? We have a ton! Browse our list of e-books and e-book packages, designed to help your baby, toddler, or newborn develop better sleeping habits. We even have a book that's designed just for parents who want to work on naps! These are perfect solutions for parents who want to sleep train on their own, but need more information.
Want Unlimited Access to ALL Our Products, Including E-Books? Join our Members Area packed with exclusive content and resources: e-Books, assessments, detailed case studies, expert advice, peer support, and teleseminars. It actually costs less to join than buying products separately! And as a member, you have access to a once-a-week chat with one of our expert sleep consultants – ideal for those times when you need some expert advice!.
Need Personalized Help? For those looking for a more customized solution for your unique situation with support along the way, please consider one-on-one baby and toddler sleep consultations, where you will receive a Personalized Sleep Plan™ you can feel good about! Sometimes it's not that you can't make a plan. Sometimes you're just too tired to.