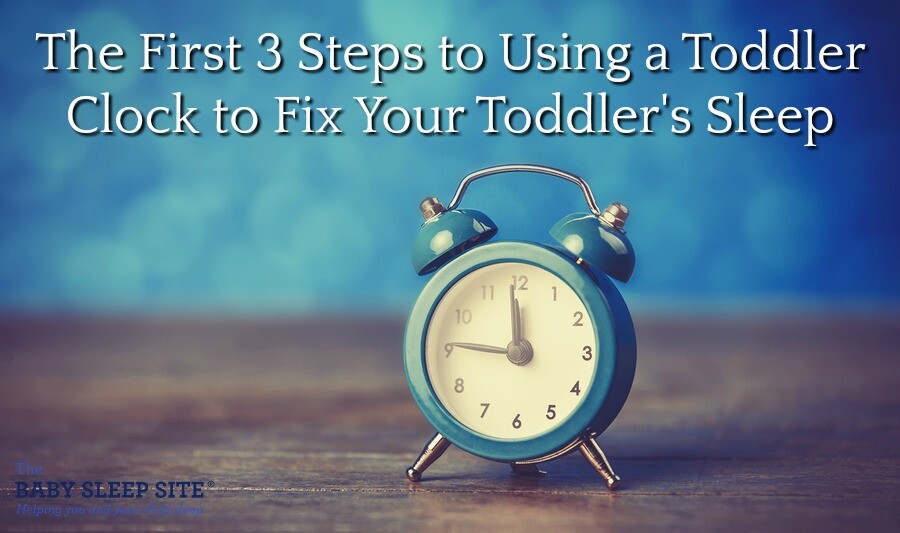 One of the most common sleep problems we hear in our Helpdesk with clients is their toddler is getting out of bed at the "wrong" time, whether they are "jack in the box" at bedtime, in and out of their bed all night, or whether they are waking up too early in the morning. Today, I am sharing an intro to a day-by-day plan to follow to get your toddler or preschooler to stay in bed all night, using a toddler clock.
What is a toddler clock?
First, I should clarify what I mean by a toddler clock. A toddler clock is a special type of clock that changes colors or has some other visual clue that it is "okay" to wake up and get out of bed. Since toddlers generally can't always understand the concept of a typical clock, it makes it easy for them. Here are a couple examples called the OK to Wake Clock and My Tot Clock (click the image to learn more):
Why can't you just set up the clock and be done with it?
It's just not that simple, unfortunately. We see numerous mistakes parents make when they start using a toddler clock. And, it highly depends on where you are in your sleep journey. If you are near the end where your toddler goes to sleep independently, sleeps most of the night independently, and is ONLY waking up too early, AND if they are fairly cooperative, in general, it may be as simple as setting up the toddler clock and telling her to stay in bed until it turns the right color. Voila! If only all toddlers were that easy!
Is a special toddler clock necessary?
No, not necessarily. Some families can set up a super simple digital clock with large numbers. You can cover up the minutes, if your toddler is younger, and if he or she knows her numbers, you can say something like "You need to stay in bed until the number is a 6 (or 7, if you dare!). Just be sure not to set the alarm – can you imagine that blaring at the wrong time of day…or night!?
How to Sleep Train Your Toddler Using a Toddler Clock
STEP 1: The first thing NOT to do with your toddler is show her how to work it or show him you CAN change it! You'd be surprised at how many smart toddlers there are who learn that it can and will be changed by human hands. Plan to have it already set when you introduce it.
STEP 2: If you haven't already, establish a bedtime routine that will be consistent every day. Most parents with whom we work one-on-one have already implemented this step, but if you haven't, it's nothing to gloss over. You'd be surprised how effective a good routine is at setting expectations about what's coming next.
STEP 3: You might want to consider a sticker chart for positive motivation. You will want this in place at least a few days before you start sleep training.
I hope this intro helps you get started using your toddler clocks to help your toddlers sleep better!
If you are interested in learning the last Step, #4, and read the day-by-day sleep coaching plan to get your toddler sleeping all night, you can find this article in our Members Area, the source for your premium baby sleep content. Already a member? Sign-in here. Not a member? Not a problem! To gain access to this and many other resources, including live chat with a sleep consultant, sign up today! Learn more here.
* Disclosure: We only recommend products that we believe are quality products, good for our readers and, mostly, that we have used ourselves. The Baby Sleep Site® is a participant in the Amazon Services LLC Associates Program and other product affiliate programs. If you click on a product link above and make a purchase, we may (but not always) receive a small commission from the company selling the product. This commission will not affect your purchase price.