Essential Keys to Your Newborn's Sleep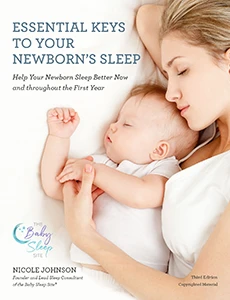 Having a newborn can be overwhelming. We understand! That's why we created our latest e-book, Essential Keys to Your Newborn's Sleep. In it, we give you a complete toolkit of tips, advice, and sample schedules to help your baby establish healthy sleep habits today and throughout the first year. Learn about your baby's sleep today so you can really enjoy this special time!
Essential Keys to Your Newborn's Sleep gives you specific strategies and visible results, and gives you practical answers to tough questions, such as:
How much sleep does my newborn need?
Where should my newborn sleep?
What do I do when my newborn cries?
What do I do if my baby is awake a lot at night?
My newborn sleeps only in my arms. What should I do?
How can I help my newborn be as healthy as possible?
What can I do now to avoid future sleep problems?
There is no "one size fits all" when it comes to what will work for you and your baby. It is our goal to help you on your parenting journey, so that you can discover what works best for your baby. Get started today on helping your newborn form healthy sleep habits that will last a lifetime. Grab your newborn resources now!
Includes:
Instant e-Book PDF Download of Essential Keys to Your Newborn's Sleep
Includes:
Instant e-Book PDF Download of Essential Keys to Your Newborn's Sleep
Newborns to 6 Month Olds: Getting Started On The Right Foot, audio course by founder/author, Nicole Johnson ($25 Value)
Establishing Healthy Sleep Habits In Your Newborn, audio course by founder/author, Nicole Johnson ($25 Value)
Includes
Digital access of Essential Keys to Your Newborn's Sleep
Audio courses and member-only articles related to building healthy newborn sleep habits
Sleep coaching case studies featuring real-life families like yours
Breastfeeding, co-sleeping, and night weaning resources
Printable sleep plan workbook
"Ask the author" feature with expert sleep consultants
….and more! Enjoy unlimited access to a library of resources that grow with your child.
What Parents Are Saying…
As a soon-to-be second-time parent having already utilized the personalized services of the Baby Sleep Site® with my first son starting when he was 8 months old after I hadn't slept in, well, 8 months, I was thrilled to find out that they were releasing materials to address what to do with a newborn to help prevent a lot of the issues we faced the first time around. With my first son, I did not realize that what we were going through was both normal but also potentially avoidable, and I am so thankful that when my next son is born, we will have more of a plan for how to help him learn to sleep independently earlier in his little life.

Perhaps I was naïve, but I was one of those parents who thought that babies sleep when they're tired and just learn how to do it on their own. But with my first son, at least, I could not have been more wrong! I did a
lot of the research myself, starting when he was 4 months old and was up every 3 hours after my doctor informed me that it could be better and told me to start CIO with him. I knew there had to be a way that felt more in line with my parenting, but I remained overwhelmed from the time Owen was 4 months until he was 8 months old and I started working with Nicole. After that, things got SOOOOO much better with him, thanks to the help of the Baby Sleep Site®.

When I found out I was expecting again, I reached out to Nicole to ask what to do from the start, which is when she introduced me to Essential Keys to Your Newborn's Sleep. WOW, this resource is extremely helpful!! As I was reading, I found that it was addressing a lot of the "mistakes" I made with Owen. The book then took it a step further and also offered preventive measures and ideas.

One of my main concerns as a mother who loved breastfeeding the first time around and is looking forward to doing this with my next son was how I was going to still enjoy the experience despite knowing the eventual need to remove sleep props (which was our biggest problem with Owen). Again, prior to reading Essential Keys to Your Newborn's Sleep, I had attempted research on my own, but I found so many conflicting ideas that I was overwhelmed. Thank you, Baby Sleep Site®, for this easy-to-read, comprehensive document that saved me time and stress! I feel confident going down this road again armed with tools to help my newborn son, my family, and me all get better sleep!
– Abby Czaja, Rockton, IL
How I wish I had this book available to me when my son was born 2 years ago! However, it came at a perfect time, as my newborn daughter just turned 6 weeks. This book contains so much amazing information that any parent (whether new or seasoned) will benefit from it.

Nicole and Miriam share their own experiences and provide essential tips on newborn sleep, feeding and overall care and needs in the earlier months and throughout the first year. There is a lot of information, including sample schedules and steps on how to help your baby get the sleep he or she needs. I love that the book is easy to read and focuses on all types of parenting.

Once again Nicole has done an amazing job, and I'm sure Essential Keys to Your Newborn's Sleep will help you and your newborn get the sleep you both need!
– Kinga Loforte, Milton, Ontario Canada
About the Book…
Understanding newborn sleep can be simple, as long as you keep one basic principle in mind. Everything about a newborn is connected. Many factors influence a newborn's sleep, including feeding patterns, routines, temperament, and overall health. In Essential Keys to Your Newborn's Sleep, Miriam and Nicole discuss at length each factor that influences sleep. They also offer practical, hands-on tips about how you can influence some of these factors. This helps you set the stage for better sleep, both now and throughout the first year. Nicole and Miriam also explain what to expect at each stage of growth, and how to cope with difficulties and challenges that will arise.

Written by The Baby Sleep Site® founder Nicole Johnson and sleep consultant Miriam Chickering, Essential Keys to Your Newborn's Sleep contains the combined knowledge and parenting experience of two bonafide baby experts! As a sleep expert with years of experience in helping tired families sleep better, Nicole shares her wealth of practical knowledge and proven sleep coaching methods in the pages of this book. And Miriam, a Registered Nurse, and International Board Certified Lactation Consultant, offers comprehensive information on feeding (both breast and bottle) and bonding, as well as tips on how to recognize and address common medical concerns. What's more, throughout the book, both Nicole and Miriam share their personal experiences in caring for their own children.
Our Guarantee
We know that, as parents, you have literally hundreds of options online and in bookstores when it comes to finding a way to help your newborn sleep better.

That's why your e-book purchase comes with a 100 percent guarantee! Our guarantee is free of the hype and traditional e-book sales pitches you don't have time for. We genuinely want to bring about important changes in your home. We also want you to find a program that allows you to get your baby to sleep in a way that fits with your parenting style. If you find that the e-book does not match the way you want to raise your children, or if it fails to get your baby on the road to better sleep, we will provide you with a full refund within 30 days of your purchase. Please feel free to read more about the terms of our refund policies here.