Once you've baked, roasted, boiled, or steamed food for your baby, you'll need to make it a little more "baby-friendly" by pureeing (or mashing) it. Remember, your baby's age will determine the consistency of the food he eats: younger babies need smooth, runny purees, while older babies can handle lumpy, mashed mixtures.
Use the tips and techniques below to puree or mash your homemade baby food:
4-6 Months ("Stage 1" food):
Babies this age need smooth, runny purees.
Tools to use: A blender (free-standing or immersion) or food processor work well for this stage. Set your device to "puree" or "liquefy" to get the smoothest purees possible.
7-9 Months ("Stage 2" food):
At this age, babies are ready for lumpier, thicker purees.
Tools to use: Blenders and food processors work well; you can also begin using a food mill or ricer, as well a mashing device (anything from a potato masher to a fork!) If you're using a blender or food processor, set your device to "mix" or "blend" and pulse food.
10-12 Months ("Stage 3" food):
Babies this age are ready for chunky, lumpy textures as well as small bits of table food.
Tools to use: The tools listed above will work for this stage as well. Set your device to "chop" or "mix" and pulse food a few times to keep it chunky. You may also want to consider hand-slicing food into small pieces; this will provide your baby with an opportunity to feed herself (an important skill at this age).
Pureeing and Mashing Tips
When using a blender or food processor to puree food, keep the following tips in mind:
Don't overload! Never fill your blender of food processor more than halfway full; adding too much food makes pureeing difficult.
Don't "overthin"! To puree foods, you'll likely need to add at least a little liquid. Don't add to much, however — many foods become watery the longer they're stored, so if they're too watery to begin with, they'll be downright soupy when it comes time to serve them! Instead, add a scant amount of liquid to start and then add in a little at a time, as needed, while you puree.
Allow food to cool. Hot foods expand quickly, so it's best to allow your foods to cool before placing them in a blender or food processor. You don't want your freshly-steamed peas ending up all over your kitchen walls, after all! (Note: If you're using an immersion blender, you can puree hot foods with no problem).
Pureeing and mashing baby food is easier when you have the right tools. Consider investing in a good blender or food processor if you plan on making lots of homemade baby food. Or, you could purchase a product specially-designed for homemade baby food, like The Baby Bullet.
Everything You Need To Know About Starting Solids – All In One e-Book!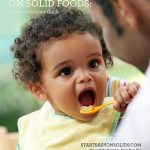 What if you could find everything you needed to know about starting your baby on solid foods – when it's best to start solids, how to introduce solids, complications, food allergies, etc. – in one easy-reference guide? Now you can! Your Baby's Start To Solid Foods: A Comprehensive Guide will walk you through every step of starting solids. Plus, your e-Book package includes several bonus materials, designed to maximize your success in starting solids. You'll get a thorough guide to treating constipation, a dietitian's advice on how to avoid 5 common solid-foods mistakes, and a weekly meal plan for your baby's first year. Grab your e-Book today, and ensure your baby has the healthiest possible start to solid foods!
Have any tips on how to perfectly puree or masterfully mash homemade baby food? Share them below!