Once your baby's gotten used to eating fruits and vegetables, it's time to start thinking about adding proteins into her diet. Keep in mind that for the first year of your baby's life, breastmilk and/or formula will be her main source of protein. But starting around 7 months, you can begin adding in other protein sources, too.
Proteins are a key part of your baby's diet, since they'll help him grow and develop properly. And introducing protein into your baby's diet will help him experience some new textures and flavors — always exciting!
For information on when to introduce specific fruits into your baby's diet, along with serving sizes, visit our solid food charts.
Ready? Time to whip up some proteins!
Simple Meat and Poultry Recipe (introduce poultry at 8 months; introduce meat at 9-10 months)
3/4 – 1 cup cooked meat (chicken, turkey, beef, or pork, cut into small chunks)
1/4 cup water (if you'll be pureeing the meat)
If your baby's familiar with finger-food, you can simply serve her the small chunks of meat and let her self-feed.
If your baby isn't quite ready for finger-food, put the chunks into a food processor and mix to desired consistency. For older babies, the meat can be ground; for younger babies, add water and puree to a thinner consistency.
When cooking meats for your baby, be sure that they are well-cooked. Never feed your baby rare or undercooked meats.
Simple Egg Recipes (introduce at 8 months)
1 egg
1 1/2 – 2 cups water (if boiling egg)
For hard-boiled eggs:
Boil the egg until firm (16 minutes for large egg; 19 minutes for extra-large egg). Allow to cool completely.
Carefully peel the shell from the egg. Mash, dice, or slice egg, depending on the age of your baby.
For scrambled eggs:
Crack egg into a bowl and beat.
Grease a small sautee pan and heat over medium heat.
Add egg to hot pan; scramble until egg is set.
Allow to cool before serving to your baby
Eggs are a highly allergenic food, and experts used to recommend waiting to introduce them into a baby's diet until 12 months (or, at least, waiting to introduce egg whites, since that's the "allergenic" part of the egg. Now, however, health experts suggest introducing them earlier, since there's no link between delaying eggs and preventing egg allergies. If your family has a history of egg allergies, however, ask your doctor if you should wait and start eggs later.
Simple Fish Recipe (introduce at 11-12 months)
1 fillet of boneless whitefish (like cod, haddock, pollock, or tilapia)
1/4 cup water (if you'll be pureeing the fish)
Bake, broil, or grill the fillet, until fish is done and flakes easily.
If your baby's familiar with finger-food, you can simply flake the fish and serve it to him that way.
For younger babies, grind the fish in a food processor. You can leave it ground or add in a bit of water and puree it to an ever thinner consistency.
Of course, animal products like the ones listed above aren't the only sources of protein. If that were the case, vegetarians wouldn't stand a chance! No, there are plenty of vegetable products that are packed with protein, too. Beans, legumes, whole grains, nuts and seeds, and soy products are all great sources of protein.
Simple Lentil Recipe (introduce at 7-8 months)
1/4 cup lentils (red, green, or brown)
3/4 cup water or low-sodium stock (vegetable, beef, or chicken)
Sort lentils, removing any discolored/damaged ones. Then, rinse lentils.
Bring water or stock to a boil. Add lentils.
Cook until tender (15 minutes for red lentils, 20 minutes for green lentils, or 30 minutes for brown lentils).
Brown lentils are typically the easiest to find in the grocery store. However, red and green are also good choices. Red in particular are great for babies — they're naturally sweet, and they cook fast.
Simple Bean Recipe (introduce at 7-8 months)
1/2 cup soft (cooked beans (use dried or canned — see below for details))
If using dried beans, cook according to package directions. Be sure to sort and rinse dried beans carefully. If using canned beans, drain and rinse.
If your baby's familiar with finger-food, you can simply serve her the beans and let her self-feed.
For younger babies, mash beans gently. You can also place beans in a food processor, add water, and puree.
If you plan to use dried beans, allow plenty of prep and cooking time. Dried beans must be soaked overnight and then boiled for at least an hour before they're soft enough for baby to eat.
Homemade Hummus Recipe (introduce at 7-8 months)
This recipe came from www.homemade-baby-food.com, which no longer exists.
1 – 1 1/2 cups chickpeas or garbanzo beans
2 tbsp. tahini paste*
2-3 T lemon juice*
2 cloves garlic*
2-3 T olive oil
*For younger babies (simply leave these ingredients out and puree chickpeas with oil.)
Drain the beans (if using canned). If using dried, follow package directions to prepare and cook beans. Be sure to sort and rinse dried beans carefully.
Puree all ingredients in a food processor.
Serve this to younger babies as is; for older babies, spread this on crackers or bread.
If you're using dried beans, be sure to allow plenty of prep and cooking time. Dried beans must be soaked overnight and cooked for at least an hour before they're soft enough for baby.
Simple Tofu Recipes (introduce at 9-10 months)
1 package of tofu (silken, soft, firm, or extra-firm, depending on which recipe you use)
For self-feeding babies:
Cut tofu (firm or extra-firm) into small cubes and offer them to your baby.
For mashed tofu mixtures:
Mash tofu (soft) into desired consistency.
Stir into fruit or vegetable purees.
For tofu smoothies:
Blend silken tofu with fruit juices and purees to create a delicious, protein-packed drink for your baby.
Tofu is made from soy, and soy tends to be a common allergen. If soy allergies run in your family, ask your doctor about waiting to introduce soy to your baby.
Protein mashes and purees are just fine on their own, of course. But stirring in some other ingredients can make for a delicious and complete meal! For example, toss chicken cubes with a vegetable puree and serve alongside brown rice. And it's not just vegetable purees that combine well with meat — fruits can, too! Pork and applesauce? Tilapia with pureed mangoes? Sounds good to us!
For tips on how to safely and conveniently store your baby's homemade proteins, visit our food storage page.
Want to make the baby food making and serving even easier? Check out our list of recommended products for tools that'll make baby feeding a breeze!
Everything You Need To Know About Starting Solids – All In One e-Book!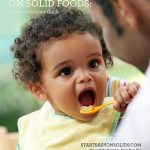 What if you could find everything you needed to know about starting your baby on solid foods – when it's best to start solids, how to introduce solids, complications, food allergies, etc. – in one easy-reference guide? Now you can! Your Baby's Start To Solid Foods: A Comprehensive Guide will walk you through every step of starting solids. Plus, your e-Book package includes several bonus materials, designed to maximize your success in starting solids. You'll get a thorough guide to treating constipation, a dietitian's advice on how to avoid 5 common solid-foods mistakes, and a weekly meal plan for your baby's first year. Grab your e-Book today, and ensure your baby has the healthiest possible start to solid foods!
What are your baby's favorite proteins? Any favorite protein recipes? Share them below!