Once your baby's gotten used to eating fruits and vegetables, it's time to start thinking about adding proteins into her diet. Keep in mind that for the first year of your baby's life, breastmilk and/or formula will be her main source of protein. But starting around 7 months, you can begin adding in other protein sources, too.
Proteins are a key part of your baby's diet, since they'll help him grow and develop properly. And introducing protein into your baby's diet will help him experience some new textures and flavors — always exciting!
For information on when to introduce specific fruits into your baby's diet, along with serving sizes, visit our solid food charts.
Ready? Time to whip up some proteins!
Of course, animal products like the ones listed above aren't the only sources of protein. If that were the case, vegetarians wouldn't stand a chance! No, there are plenty of vegetable products that are packed with protein, too. Beans, legumes, whole grains, nuts and seeds, and soy products are all great sources of protein.
Protein mashes and purees are just fine on their own, of course. But stirring in some other ingredients can make for a delicious and complete meal! For example, toss chicken cubes with a vegetable puree and serve alongside brown rice. And it's not just vegetable purees that combine well with meat — fruits can, too! Pork and applesauce? Tilapia with pureed mangoes? Sounds good to us!
For tips on how to safely and conveniently store your baby's homemade proteins, visit our food storage page.
Want to make the baby food making and serving even easier? Check out our list of recommended products for tools that'll make baby feeding a breeze!
Everything You Need To Know About Starting Solids – All In One e-Book!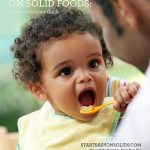 What if you could find everything you needed to know about starting your baby on solid foods – when it's best to start solids, how to introduce solids, complications, food allergies, etc. – in one easy-reference guide? Now you can! Your Baby's Start To Solid Foods: A Comprehensive Guide will walk you through every step of starting solids. Plus, your e-Book package includes several bonus materials, designed to maximize your success in starting solids. You'll get a thorough guide to treating constipation, a dietitian's advice on how to avoid 5 common solid-foods mistakes, and a weekly meal plan for your baby's first year. Grab your e-Book today, and ensure your baby has the healthiest possible start to solid foods!
What are your baby's favorite proteins? Any favorite protein recipes? Share them below!