Night weaning. It's a popular topic around The Baby Sleep Site
®
! Countless parents have contacted us over the years and asked, "Is my baby ready for night weaning?"
The answer, of course, varies from baby to baby. So much depends on age, but we can't offer a simple 'if your baby is this age, then yes, it's time for night weaning'. Because we have to account for health factors, too – some babies simply need night feedings longer than others, especially if they have medical problems. And parent preference plays a huge part in this as well – some moms want to hang on to night feedings even after they're no longer "necessary", simply because they love that special time with their child!
The night weaning question has come up often enough recently, however, that we thought it was time we brought you this great tool to help you get a better sense of whether or not you and your baby are ready to night wean. Take this simple, 5-question quiz, and learn whether or not night weaning is something you can consider right now.

Night Weaning Articles
The night weaning quiz, below, will provide great insights, but if you want to do some extra reading on night weaning, take a look at these resources:
Night Weaning Quiz: Is Your Baby Ready For Night Weaning?
The quiz below is very easy to take – only 5 questions, and you simply need to mark a number from 1-5 for each question. Once you have answered each question, click Submit.
Night Weaning Resources From The Baby Sleep Site®
Night weaning isn't always easy, even if you know your baby is ready and have read all the right baby sleep books. You may need night weaning help! And we offer just that! Our team of caring and compassionate consultants is ready to provide the personalized help you and your family need. Your consultant will provide you with your very own Personalized Sleep Plan® which contains specific night weaning plans and schedules.

Browse our list of consultation package options here.

Want more information about how personalized help works? Check out our FAQ page here, and get answers.
Have an interesting night weaning story? Already a night weaning champion?
For those persistent nighttime struggles, check out The 3 Step System to Help Your Baby Sleep. This e-book helps you and your baby sleep through the night.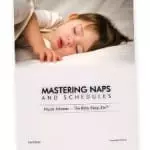 If you're looking for ways to get your baby or toddler into a healthy sleeping routine during the day, I encourage you to explore Mastering Naps and Schedules! This is our comprehensive guide to napping routines, nap transitions, and all the other important "how-tos" of good baby sleep. With over 45 sample sleep schedules and planning worksheets, Mastering Naps and Schedules is a hands-on tool ideal for any parenting style.
Or, join our VIP Members Area packed with exclusive content and resources: e-Books, assessments, detailed case studies, expert advice, peer support, and more. It actually costs less to join than buying products separately! As a VIP member, you'll also enjoy a weekly chat with an expert sleep consultant.

Can't decide which product or service is right for you? Visit our Getting Started Page for help.