Let me tell you a story.
6.5 years ago, I was gigantically (and I do mean gigantically) pregnant with my oldest child. I had gained almost 70 pounds, and the baby was pressing on my sciatic nerve, so I walked with a pretty pronounced limp. I was exhausted all the time, I couldn't take deep breaths, I was sleeping in my living room recliner, I had to use the bathroom every 15 minutes…
Not a pretty picture, is it? So it's no wonder, then, that if you'd asked me right in that moment if I wanted to have more children, I probably would've slapped you across the face!! 😉
Fast forward 19 months later. Guess what? I was (slightly less gigantically) pregnant with my second child. I was exhausted all the time, I couldn't take deep breaths, I was sleeping in my living room recliner, I had to use the bathroom every 15 minutes…
I'll bet lots of you can relate, can't you? Somehow, we forget the pain and exhaustion and stress that came with having our first babies, and at some point, we look at our partners and say, "Let's do it again!" (Or, in my case, you look at your positive pregnancy test and think, "Oh, wow…okay…I guess we're doing it again!")
Of course, the second (and third, and fourth…) time around, things are a bit different — now, you have older children to care for, too. And it's not just the ins and outs of managing two daily nap and feeding schedules (as daunting as that can seem). You also have to think about your older child's emotional well-being in all of this. After all, suddenly having a brother or a sister is a pretty earth-shattering experience!
So, how do you prepare a toddler or preschooler for a new sibling? And, just as important – how do you prepare yourself?? That's what we're discussing today, readers!
How To Prepare Yourself For A New Baby
That's a pretty general headline, and there are lots of things we could say about how parents-to-be should prepare for the arrival of a new little one. However, since this is a sleep-focused blog, let's talk sleep preparation, shall we? 😉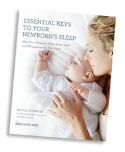 First and foremost, before your new baby arrives, brush up on your own knowledge of newborn sleep. It may have been a few years since you've had a newborn to care for, and there is a lot to forget in that period of time! (Heck, even if it's only been a year, you may still have forgotten a lot!) Our latest e-book, Essential Keys to Newborn Sleep, is packed with the practical information and hands-on tips and tricks you need to establish healthy sleep habits with your newborn, right from the start. You could also download our free guide, 15 Baby Sleep Facts New Parents Need To Know, and review the basics before delivery.
You'll also want to think through how you'll schedule sleep after the baby arrives. Gone are the days of 'sleeping when the baby sleeps', once you have multiple children to care for! But don't despair – even though sleep may be a bit harder to come by, with some planning on your part, you can probably get your children's schedules to overlap somewhat. For example, try to time your newborn's feedings so that you can line up one of your baby's naps with your toddler's afternoon nap. Create fixed points in your newborn's schedule (that's a topic which we discuss at length in the Essential Keys book, actually), and then time them up so that they coincide with fixed points in your toddler's schedule. This will go a long way towards helping you maintain your sanity and get some rest.
For a detailed look at how to juggle multiple sibling schedules (and for info on why configuring your baby's schedule with your toddler's becomes a whole lot harder once your baby is about 4 months old), check out this past article.
Finally, start lining up help now, before the baby comes. Even if you didn't feel like you needed much help with your first, trust me when I say that it's a whole new ballgame when you have two at home! (Not to mention three or four!!) Plus, if nothing else, you'll at least need an extra set of hands every now and then so that you can take a nap!
How To Prepare Your Toddler or Preschooler For A New Baby
Suddenly being presented with a brand-new brother or sister is no small thing, so rest assured that, even if you do ample preparation with your toddler or preschooler, there will inevitably be some feelings to sort through after the new baby arrives. However, that ample preparation does make a difference, and can make the transition a bit smoother for your toddler or preschooler.
Prepare your older child for the fact that changes are coming (although keep in mind that if your toddler is younger than 2, you probably won't need to do much "prep work"). There are loads of books out there that can help you do this; see the resources list below for details.
Plan a few special outings with your older child before the baby comes, since you will almost certainly have less time and attention to give to your toddler or preschooler after the baby comes.
Engage your toddler or preschooler in the new baby preparations – things like folding baby clothes, cleaning the nursery, organizing the diaper changing area, etc.
Help your toddler or preschooler understand how she can interact with the new baby. No, the baby can't play, but your older child can show the baby her toys and book.
Designate your toddler or preschooler as the Official Baby Helper, and describe all the ways he or she can help you care for the new baby. This will help generate some excitement, and may give your toddler or preschooler something to look forward to.
Practice! Toddlers and preschoolers love role playing. Have your toddler practice feeding, burping, and diapering a baby doll.
Nicole's Note:
"We get a lot of questions about when a toddler and baby can share a room. Because toddlers can be unpredictable, we recommend waiting until the baby is at least a year old, if it's an option. Even if a toddler is trying to be helpful, it can be dangerous such as giving the baby Cheerios when she's hungry or covering him up with a blanket, because he was cold. Better safe than sorry."
Resources To Prepare Your Toddler or Preschooler (and You!) For the New Baby
It can feel difficult (and even overwhelming) to try and prepare your big kid for a new baby. Thankfully, there are a ton of resources out there that will help you do just that! Below is a list of books (credit to Heather and Whitney at rookiemoms.com for inspiring this list!):
I'm a Big Brother or I'm a Big Sister, by Joanna Cole. A 'big sibling' classic!




We Have A Baby by Cathryn Falwell. This one is great to read as a family — it shows how the new baby will affect everyone in the entire family.



My New Baby by Annie Kubler. This is a 'pictures only' book — no words! This makes it a great choice for young toddlers.




The Berenstain Bears and Baby Makes Five by Stan and Jan Berenstain. Excellent book for preschoolers and young elementary children.



Hey parents — your turn! Any tips or resources to add to our list? Share them below!
Of course, you may be too preoccupied with your toddler's nighttime waking or short naps to even begin to think about your newborn baby's sleep! If that's true, take a look at these Baby Sleep Site® resources:
Disclosure: The Baby Sleep Site® is a participant in the Amazon Services LLC Associates Program and other product affiliate programs. If you click on a product link above and make a purchase, The Baby Sleep Site® may (but not always) receive a small commission from the company selling the product. This commission will not affect your purchase price. We only recommend products that we believe are quality products and are good for our readers.