Ever held a newborn or young baby in your arms and watched him sleep? Many babies are pretty "expressive" sleepers. During deep sleep, they twitch and jerk, they grunt and grimace, they make faces, they smile. All of that expression can make parents wonder, "Is my baby dreaming?"
And it's a valid question! You dream, after all – why not your baby?
In today's post, we'll take a look at just this question: do babies dream? We'll hear from some of the experts, and then open it up to you, to share your thoughts and experiences!
Baby Dreams: A Background Lesson On Sleep Cycles
First, though, let's go over a little background info. To understand dreams, you first have to understand how sleep cycles work. Human sleep is divided up into 2 cycles – REM (which stands for rapid-eye movement) and Non-REM. Throughout the night, you and I cycle through Non-REM and REM sleep. We have a period (usually 90 minutes) of Non-REM sleep (this tends to be deep sleep, and our body uses it to rebuild and repair tissue, to strengthen our immune systems, etc.), followed by a short period of REM sleep, in which our sleep is more restless. Our REM cycles lengthen as the night goes on – our last REM cycle is up to an hour.
Why all this talk about REM vs. Non-REM? Because we dream during REM sleep. What does this have to do with our babies? Well, simply put, your baby spends a lot more time in REM sleep than you do – her sleep cycles are a lot different than yours! While you spend about 20% of your night in REM sleep, your baby will spend up to 50% (maybe even more, in the newborn stage) of sleep in REM sleep.
(Side note: REM sleep tends to be lighter, more active sleep than non-REM sleep. We wake more easily in REM sleep, as well as in the first two stages of non-REM sleep. This is one answer to why your baby wakes frequently at night, and has naps that are too short!)
So, based on this – it's certainly possible for our babies to dream. Goodness knows they have enough REM sleep for it!!
Do Babies Dream?
Of course, no one can answer this question with absolute certainty, because…well, because babies can't talk! However, experts have suggested theories as to whether or not babies dream. On the one hand, some experts point out that babies must dream, given how much time they spend in REM sleep. Because the capacity for dreaming is there, these experts say that it's logical to assume that babies likely do dream – and that just because our babies can't tell us about their dreams, that doesn't mean that the dreams aren't happening!
On the other hand, other experts are quick to point out that babies probably don't dream – at least, they don't dream in the way we do. If you think about your dreams, they are most likely dramas or stories, that involve a chain of events (either past events from your life, or events you've read about or heard about), and that involve you, or people in your life. These dreams have settings, they have a storyline, they contains dialogue….but some experts are quick to point out that babies don't have the mental skills necessary to construct such dreams. Babies don't have language skills, for one thing; babies also don't have a strong sense of themselves, of other people, or of objects around them. So how, these experts ask, could babies dream?
Another point these experts point out is that it's not really fair to compare a baby's REM totals to an adult's, because what's happening during those REM cycles is so different. A baby experiences a truly vast amount of growth and development during the first few years of life – and much of it happens during sleep. During REM sleep, a baby's brain is busy developing new neural pathways, and all that learning and growing and developing leaves very little brainpower left over for dreaming. (It also disrupts sleep in a big way, and can cause sleep regressions – but that's another topic for another article! 😉 )
What Do Babies Dream About?
So, if you're one who believes that babies do, in fact, dream, what might they be dreaming about? Well, most of us would probably agree that we dream about those things with which we've had experience – either events we've experienced, or events that we have read about, or heard about.
So, if we apply that logic to babies, baby dreams probably include a lot of pooping, sucking, and crying – at least at first! As a baby grows, however, and becomes more aware of her surroundings, who knows? Maybe the mom and dad show up in her dreams – maybe the dog does, too! 😉
What do you think, parents? Do you believe your baby dreams? Why or why not? Share your thoughts with us!
For those persistent nighttime struggles, check out The 3 Step System to Help Your Baby Sleep. Using the same unique approach and practical tools for success, this e-book helps you and your baby sleep through the night.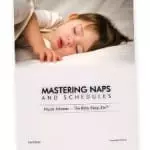 If you're looking for ways to get your baby or toddler into a healthy sleeping routine during the day, I encourage you to explore Mastering Naps and Schedules, a comprehensive guide to napping routines, nap transitions, and all the other important "how-tos" of good baby sleep. With over 45 sample sleep schedules and planning worksheets, Mastering Naps and Schedules is a hands-on tool ideal for any parenting style.
Or, join our Members Area packed with exclusive content and resources: e-Books, assessments, detailed case studies, expert advice, peer support, and more. It actually costs less to join than buying products separately! As a member, you'll also enjoy a weekly chat with an expert sleep consultant.
If you are looking for a more customized solution for your unique situation, and want plenty support along the way, please consider one-on-one baby and toddler sleep consultations. Your consultation package will provide you with the chance to interact one-on-one with a trained sleep consultant, who will create a Personalized Sleep Plan™ for your family and then work to help you implement it at home.

Can't decide which product or service is right for you? Visit our Getting Started Page for help.
Want FREE sleep help that you can put to use right away? Download a copy of our free guide, 5 Ways To Help Your Child Sleep Through The Night! The guide is available to download instantly, which means you can start using the techniques in it as early as tonight. So download now, and learn why your baby is waking at night – and what you can do about it.


Click here to learn more about how to get your free guide.
A better night's sleep could be just a few clicks away. So don't wait – download now, and start your journey to better sleep tonight!