Once your baby reaches the 8 or 9 month mark, she's ready to move past single-ingredient purees and on to food combinations.  These combos can be simple, of course (mixing mashed blueberries into oatmeal, stirring pureed broccoli into brown rice, etc.)  Or, if you're feeling fancy, you can whip up more sophisticated meals.
For information on when to introduce specific fruits into your baby's diet, along with serving sizes, visit our solid food charts.
Here are 5 nutritious, tasty homemade baby food recipes that we think you'll love, and that are sure to be both fun to prepare and fun to eat!
Broccoli and Cheddar Cheese Nuggets (introduce after 8 months)
This recipe is adapted from Momtastic's Wholesome Baby Food.
1 16- oz  package frozen broccoli (cooked, drained, and chopped?)
1 cup seasoned bread crumbs (You can also use powdered baby cereal. See our homemade baby cereal post (LINK TO POST for information on how to make your own cereal powders.))
1 ½ cups  shredded cheddar cheese
3 large eggs (It's now considered safe to offer babies both egg yolks and whites around 8 or 9 months. Ask your pediatrician if you're uncertain about offering eggs at this age.)
Heat oven to 375 and lightly coat a baking sheet with olive oil.
Combine all remaining ingredients and mix well. Add seasonings if you  like – garlic powder, pepper, extra basil, & oregano, for example.
Shape mixture into nuggets or fun shapes such as squares, "squiggles", etc. Place on greased baking tray. Bake for 15 minutes; flip nuggets over, and bake for another 5 – 10 minutes (20-25 minutes total baking time.)
Serve warm.
These are great for babies who are able to chew and mash food with their gums. They're also great for toddlers and big kids — they're like vegetarian chicken nuggets!
Sweet Potato and Apple Pancakes
Apple and sweet potato make a naturally delicious (and healthy!) combination. Serve these pancakes for breakfast, or whip them up for a mid-afternoon snack. The pancakes can be stored in the freezer for up to a month, so if you have time, make a double batch and freeze some for later.
4 oz 1 cup whole wheat flour
2 oz 1/2 cup all purpose flour
3 heaped tbsp rolled oats
2 1/2 oz about 2/3 cup wheat germ
2 tsp baking powder
1/2 tsp nutmeg
1/2 tsp cinnamon
2 large beaten eggs
16 fl oz (2 cups milk – we used whole milk)
4 oz 1/2 cup mashed, cooked sweet potato
1 apple (cored and chopped into bite sized pieces (remove skin for younger babies; you can leave it on for older babies))
little oil
Lightly steam the chopped apple or simmer it in a very little water until tender.
Mix the all purpose flour, whole wheat flour, oats, wheat germ, baking powder and spices together in a bowl.
Place the sweet potato in a separate bowl and slowly stir in the milk. Add the eggs and mix well.
Pour the wet ingredients into the dry and stir until everything is just moist, then stir in the cooked apple.
Heat a little oil in a frying pan and spoon in the mixture to form individual pancakes. Remember – this recipe produces a fairly thick mixture… if you like yours to be runnier, then thin with a little more milk.
Cook for a few minutes on each side until golden, then cool and serve.
Source: http://www.homemade-baby-food-recipes.com
Hawaiian Pork and Rice Dinner (introduce after 9 months)
This recipe is adapted from homemade-baby-food-recipes.com.
1/4 cup ground pork
2 cups water
1/4 cup rice (uncooked)
1/2 cup peaches (peeled and sliced (fresh preferred))
1/4 cup pineapple chunks
Bring pork and 1 cup of the water to boil. Reduce heat, and simmer 2 minutes.
Drain, refrigerating reserved liquid.
Add rice, remaining 1 cup water, peaches and pineapple to meat. Simmer 15 minutes.
Remove any grease from reserved liquid and return juices to pot.
Continue to cook mixture for another 5 minutes. Mash or puree before serving.
With flavors of peach and pineapple, this dinner offers baby a taste of the tropics!
Italian Green Veggie Pasta (introduce after 11 months)
This recipe was originally published on Weelicious.com
1 Medium Zucchini (sliced?)
1 Cup Broccoli Florets?
1/4 Cup Tomato or Marinara Sauce?
2 Tbsp Parmesan Cheese (grated)
Prepared pasta (Small pasta shapes are best for babies who are ready for finger-feeding.)
Place the zucchini and broccoli florets in a steamer pot over boiling water, steam for 5 minutes and allow to cool.?
Place all of the ingredients in a food processor and puree until smooth.?
Toss with prepared pasta. Serve.
Even if your baby isn't normally a fan of broccoli or zucchini, we're betting she'll gobble up this pasta. Combining these veggies with tomato sauce and cheese makes them event tastier!
Whole Wheat Chocolate Muffins (introduce after 11 months)
This recipe was originally published on NurtureBaby.com.
½ cup 100% whole wheat flour
¾ cup All-Purpose flour
¼ tsp. kosher salt
½ tsp. baking soda
1-¼ cup brown sugar
¼ cup vegetable oil
2 eggs
1 tsp. vanilla
3 ounces unsweetened chocolate (melted)
½ cup plain or vanilla Greek yogurt* (2% or full fat recommended)
½ cup hot water
*Greek yogurt is recommended (as it has a much richer consistency. If you can't find Greek yogurt, you can substitute with sour cream.)
Preheat oven to 375 degrees.
Mix flours, salt, and baking soda together in a medium-sized bowl and set aside.
In a large bowl, combine oil, sugar, eggs and vanilla and whisk until golden brown. Add melted chocolate and stir until well blended.
Add flour mixture, alternating with yogurt. Stir just until combined and then add hot water a little bit at a time.
Mix thoroughly and dole into lined cupcake tins.
Bake for 19-22 minutes and make sure not to over bake, as the cakes will dry out.
Eat these warm as muffins, or frost with your favorite frosting.
Babies cannot live on fruits and veggies alone! Sometimes, a little dessert is necessary. To give your baby the healthiest start, avoid serving him foods with lots of sugar until he's a bit older; wait until 11 or 12 months to offer him these chocolatey muffins.
For tips on how to safely and conveniently store your homemade fruit purees, visit our food storage page.
Everything You Need To Know About Starting Solids – All In One e-Book!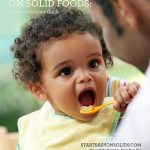 What if you could find everything you needed to know about starting your baby on solid foods – when it's best to start solids, how to introduce solids, complications, food allergies, etc. – in one easy-reference guide? Now you can! Your Baby's Start To Solid Foods: A Comprehensive Guide will walk you through every step of starting solids. Plus, your e-Book package includes several bonus materials, designed to maximize your success in starting solids. You'll get a thorough guide to treating constipation, a dietitian's advice on how to avoid 5 common solid-foods mistakes, and a weekly meal plan for your baby's first year. Grab your e-Book today, and ensure your baby has the healthiest possible start to solid foods!