Your little 2 month old baby is no doubt just the most adorable little being on the planet….but your 2 month old baby's sleep may be less darling! By the time your little one is 2 months old, naps may be all over the place, and night sleep may feel like a nightmare. Plus, we find in our work with parents that by the time your baby is 2 months old, all the adrenaline that was keeping you going through the newborn phase is wearing off quickly, and exhaustion is hitting full-force.
Yeah…to call 2 months old a tricky time would be an understatement.
Fortunately for you, we have tips!
2 Month Old Baby Sleep Tips: 8 Ways To Help Your 2 Month Old Sleep
Focus on the first and second naps of the day (the others may be all over the place). Nap schedule? Yeah, right…most 2 month old babies are still napping all over the place, and have little-to-no consistency in their daily feeding and nap schedules. That's okay – it's normal. Instead of worrying about making each and every nap a winner, just focus on the first and second naps of the day – those tend to be the most restorative. Make sure those happen at home, and that they are close to an hour.
Lots of night-waking is normal. At 2 months old, your baby's drive to eat still trumps the drive to sleep, and this is perfectly normal. Don't worry at all about sleeping through the night at this age – just focus on feeding your baby frequently. And take heart – night sleep will gradually start to lengthen in the next month or two.
Focus on rhythms and routines, not on the clock. This is HUGE. Most babies are in no way ready for a clock-based schedule at this age, and if you try to force one on your baby, the outcome will no doubt be disastrous (over-tired baby, anyone?) But that doesn't mean each day needs to be chaotic and unpredictable. What you CAN do is to focus on carving out routines for your 2 month old baby. At this age, the Eat-Play-Sleep routine is a great one – feed your baby, engage her in a short activity, and then lay her down to sleep (ideally, while she's still slightly awake). And focus on doing this routine in chunks of time, rather than by the clock – for example, aim for 3-hour blocks of time during the day, give or take 30 minutes or so.
Your 2 month old's newfound alertness means you need optimal sleep conditions. Gone are the days when you could count on your newborn to sleep anywhere, through anything – your 2 month old baby is much more alert these days! So now, it's key that you create a great sleep environment – keep the room dim during sleep, use soft white noise to block out ambient sound, try to avoid spending all day out and about so that your baby can catch sleep at home, in his sleep space.
The "witching hour" is definitely still 'a thing' for your 2 month old! If you find that your 2 month old baby is fussy in the evening, believe me, you are NOT alone – this is so common! Most newborns and young babies go through this "witching hour" fussy spell. It will start to get better soon, but for now, your best bet is to plan on lots of cuddling and feeding in the evening. Remember, this is a development spell…it's not something to "fix". And keep in mind, too, that many babies fuss frequently in the evening because they want to cluster feed before they go to bed for the night, so this can actually work to your advantage, if you offer frequent feeds right before bed. Many babies will follow up this spell with their longest stretch of night sleep.
You are still in the season of back-to-back-to-back growth spurts, so adjust accordingly. Speaking of fussy spells and cluster-feeding…growth spurt, anyone? Babies go through an eye-popping number of baby growth spurts in the first year of life, and guess what? One of those growth spurts happens right at 8 weeks. You may notice extra night-waking, shortened naps, and increased fussiness around this time – this is all normal. Respond by offering extra feedings as necessary. Just like the "witching hour", this growth spurt is a perfectly normal developmental stage, and is not a problem to solve; rather, it's a spell that you just have to wait out.
Work now on creating a strong, sleep-inducing bedtime routine. At 2 months old, your baby is still too young for formal sleep training (although you can certainly use our e-Book, Essential Keys to Your Newborn's Sleep, to work on laying a foundation of healthy sleep habits that will make sleep coaching about a million times easier in another few months!). However, it is NEVER, EVER too early to institute a great bedtime routine! Even though your baby is too young for a fixed bedtime each night, you can definitely start working out a consistent routine now. Then, by the time your baby is ready for sleep training, you'll already have this foundational step laid.
Work on "drowsy, but awake" at bedtime, and/or during the first nap of the day. As I mentioned earlier, your baby is too young for official sleep training at this age. However, if you want to start working on building a healthy foundation of good sleep habits now, you can slowly start to work on laying your baby down drowsy, but awake, a few times each day. You do not want to do this for every nap, and after each night waking (doing that will lead to an overtired and cranky baby!); rather, just work on drowsy but awake for one nap per day (preferably the first nap, when the drive to sleep is strong) and possibly at bedtime (again, when the drive to sleep is very powerful). Just remember not to push this – if your baby protests, it's perfectly okay to take a step back, and try again in another week or two.
Help Your 2 Month Old Baby Sleep Better, With Our Newborn-Friendly Sleep Help!
Being the parent of a 2 month old is simultaneously the most difficult and the most wonderful thing on earth, isn't it? But all of us at The Baby Sleep Site® know first-hand how exhausting and overwhelming it can be to try and help your newborn sleep well. Yes, your baby's night-waking and inconsistent naps are normal, but that doesn't mean you can't gently encourage better, deeper sleep from your baby. And we can help with that! Connect with a consultant today, and she will craft a newborn-focused Personalized Sleep Plan™ specifically for your baby, that aligns with your unique situation and challenges, and with your parenting goals.

Browse our list of consultation package options here.
Once you make your choice and purchase, you will immediately receive an e-mail with your Helpdesk login information. You'll be able to login and start your Family Sleep History form right away – it's that simple!
Want more information about how personalized help works? Check out our FAQ page here, and get answers. You can also take a tour of the Helpdesk.
Have sleep or feeding questions about your newborn? Ask, and we'll answer!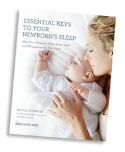 Essential Keys to Your Newborn's Sleep is THE newborn sleep book that will help you to not only improve your newborn's sleep using gentle, sleep-inducing routines – it will also answer your feeding and newborn care questions. You can even buy a bundle package that includes the e-book AND a Personalized Sleep Plan™ PLUS a follow-up email to use for further support!

Or, join our Members Area packed with exclusive content and resources: e-Books, assessments, detailed case studies, expert advice, peer support, and more. It actually costs less to join than buying products separately! As a member, you'll also enjoy a weekly chat with an expert sleep consultant. And the best part – members receive 20% off all sleep consultation services!
Can't decide which product or service is right for you? Visit our Getting Started Page for help.