Whether you begin your baby's solid food journey at 6 months or before, one thing's for certain: your 6 month old doesn't need much solid food.  She'll be getting by just fine on breastmilk or formula.  However, she can start sampling a few fruits and vegetables, and enjoying small amounts of solid foods.
Cereal Recipes
Infant cereal will be the main thing your 6 month old baby eats. You can purchase ready-made, powdered cereals at the grocery store, but you can also make your own (for a lot less money!) Visit our Baby Cereal Recipes for step-by-step instructions on how to make your baby's rice and oatmeal cereal from scratch.
Fruit Recipes
Visit our Baby Food Fruit Recipes to see a sampling of delicious fruit purees and your 6 month old baby is sure to love.  From mashed avocados to homemade applesauce to pear puree, we have the recipes that'll give your baby the tastiest possible introduction to fruit.
Vegetable Recipes
Visit our Baby Food Vegetable Recipes for a listing of veggie purees and mashes that'll give your 6 month old baby the healthy start he needs.  At 6 months, your baby is ready for sweet potatoes, squash, and green beans; use our simple recipes to get started on turning these veggies into yummy purees!
Feeding Fact
Remember to feed your 6 month old single-ingredient meals; at this age, you want her to get used to the taste of individual foods before you start combining them.  Remember, too, that your 6 month old baby needs smooth, runny purees; she's not ready to mash food with her gums quite yet.
For ideas that'll help you create a feeding and sleeping schedule for your 6 month old, check out the recommended 6 month schedule, available at BabySleepSite.com.
Everything You Need To Know About Starting Solids – All In One e-Book!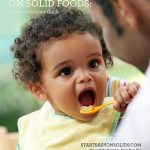 What if you could find everything you needed to know about starting your baby on solid foods – when it's best to start solids, how to introduce solids, complications, food allergies, etc. – in one easy-reference guide? Now you can! Your Baby's Start To Solid Foods: A Comprehensive Guide will walk you through every step of starting solids. Plus, your e-Book package includes several bonus materials, designed to maximize your success in starting solids. You'll get a thorough guide to treating constipation, a dietitian's advice on how to avoid 5 common solid-foods mistakes, and a weekly meal plan for your baby's first year. Grab your e-Book today, and ensure your baby has the healthiest possible start to solid foods!
What are your 6 month old baby's favorite foods?  Share your recipe and feeding ideas below!