By 9 months, your baby is eating three meals of solids each day, and is starting to eat more and more at each meal. This is an exciting season for your baby, since 9 months marks the time that you can start offering her "real" food and cooking actual meals for her! She'll still need plenty of baby food, but it's okay at this point to start offering her bits of table food (mashed or chopped carefully, of course!)
Cereal Recipes
Infant cereal starts become less a part of your baby's diet at 9 months. Instead, you can start to offer your 9 month old baby other types of grains, like bread, crackers, and pasta. However, you'll probably still want to offer a few tablespoons of baby cereal to your 9 month old. You can purchase ready-made, powdered cereals at the grocery store, but you can also make your own (for a lot less money!) Visit our Baby Cereal Recipes for step-by-step instructions on how to make your baby's rice and oatmeal cereal from scratch.
Fruit Recipes
Visit our Baby Food Fruit Recipes to see a sampling of delicious fruit purees and your 9 month old baby is sure to love.  By 9 months, your baby is eating a whole rainbow of fruit, including blueberries, melon, and kiwi!
Vegetable Recipes
Visit our Baby Food Vegetable Recipes for a listing of veggie purees and mashes that'll keep your 9 month old on the path to healthy, nutritious eating.  At 9 months, your baby's ready to start eating broccoli and spinach. (Don't jump to any conclusions; he may love those veggies!)
Protein Recipes
At 9 months, your baby's probably gobbling up poultry and beans (and possibly eggs, if she's not allergic.) Now, she's also ready to try meat (including beef) and even tofu! Visit our Baby Food Protein Recipes for tips on easy ways to prepare meat and tofu.
Meal Recipes
Up to this point, making homemade food for your baby has meant whipping up lots of single-ingredient purees and mashes. Well, it's time to change that mindset; as a 9 month old, your baby is ready for you to cook "real" food for her! This can mean offering her small amounts of table food (as long as that table food contains ingredients that she's already tried). It can also mean creating special dishes just for her. 🙂 Visit our 5 Great Recipes page for meal ideas. Your 9 month old will love the broccoli cheddar nuggets and the sweet potato pancakes!
Feeding Fact
We're way past the smooth, runny purees of just a few months ago; now, your baby should be comfortable with thick, chunky mashes. You can also start offering (very) small pieces of food at this point. Try chopping a chicken breast, or cutting a slice of cheese into tiny cubes. Your baby may not be able to feed himself yet, but you can feed him these tiny pieces.
For ideas that'll help you create a feeding and sleeping schedule for your 9 month old, check out the recommended 9 month schedule available at BabySleepSite.com.
Everything You Need To Know About Starting Solids – All In One e-Book!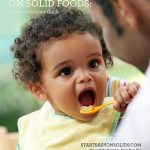 What if you could find everything you needed to know about starting your baby on solid foods – when it's best to start solids, how to introduce solids, complications, food allergies, etc. – in one easy-reference guide? Now you can! Your Baby's Start To Solid Foods: A Comprehensive Guide will walk you through every step of starting solids. Plus, your e-Book package includes several bonus materials, designed to maximize your success in starting solids. You'll get a thorough guide to treating constipation, a dietitian's advice on how to avoid 5 common solid-foods mistakes, and a weekly meal plan for your baby's first year. Grab your e-Book today, and ensure your baby has the healthiest possible start to solid foods!
What are your 9 month old baby's favorite foods?  Share your recipe and feeding ideas below!