By 7 months, your baby's becoming used to eating solids. You may notice that mealtime is getting a little neater, as your baby figure out how to slurp food from his spoon, and how to keep it in his mouth (instead of spitting it all over you!) By 7 months, your baby is also ready to start experiencing a wider variety of foods.
Cereal Recipes
Infant cereal will still be one of the primary foods your 7 month old eats each day. You can purchase ready-made, powdered cereals at the grocery store, but you can also make your own (for a lot less money) Visit our Baby Cereal Recipes for step-by-step instructions on how to make your baby's rice and oatmeal cereal from scratch.
Fruit Recipes
Visit our Baby Food Fruit Recipes to see a sampling of delicious fruit purees and your 7 month old baby is sure to love.  By 7 months, your baby is ready to try some tasty fruits, including peaches, nectarines, plus, mangos, and even papayas.
Vegetable Recipes
Visit our Baby Food Vegetable Recipes for a listing of veggie purees and mashes that'll give your 7 month old baby the healthy start he needs.  At 7 months, your baby gets to start eating two veggie "classics": peas and carrots. 🙂
Protein Recipes
Your 7 month old baby isn't quite ready for meat yet, but she is ready for beans. Visit our Baby Food Protein Recipes for tips on how to create delectable, protein-packed bean dishes that your baby will gobble up, including lentil stew, baked beans, and hummus.
Feeding Fact
Continue to feed your 7 month old mostly single-ingredient meals (although you can begin mixing together foods that your baby's already familiar with.) Your purees can be a bit less runny and smooth at this point. Slowly start to thicken purees with powdered cereal, and begin offering some chunkier textures. Just be sure you monitor your baby closely during feeding time, to prevent choking!
For ideas that'll help you create a feeding and sleeping schedule for your 7 month old, check out the recommended 7 month schedule, available at BabySleepSite.com.
Everything You Need To Know About Starting Solids – All In One e-Book!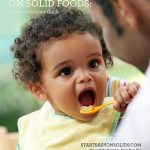 What if you could find everything you needed to know about starting your baby on solid foods – when it's best to start solids, how to introduce solids, complications, food allergies, etc. – in one easy-reference guide? Now you can! Your Baby's Start To Solid Foods: A Comprehensive Guide will walk you through every step of starting solids. Plus, your e-Book package includes several bonus materials, designed to maximize your success in starting solids. You'll get a thorough guide to treating constipation, a dietitian's advice on how to avoid 5 common solid-foods mistakes, and a weekly meal plan for your baby's first year. Grab your e-Book today, and ensure your baby has the healthiest possible start to solid foods!
What are your 7 month old baby's favorite foods?  Share your recipe and feeding ideas below!