Now that you've started your baby on solid foods, you're probably realizing that you have a few choices: you can either buy your baby's pureed food at the grocery store, or you can make it yourself . Which option is best? This article will explore the pros and cons of buying pre-made baby food and making your baby's food yourself.
Buying Pre-Made Baby Food: The PROS and CONS
THE PROS
It's convenient. Jarred baby food offers a convenience factor that homemade baby food simply doesn't. Sure, there are gadgets out there that make the process of producing homemade baby food much simpler (Baby NutriBullet, anyone? I personally used a regular blender and ice cube trays) but nothing's faster and easier than twisting the lid off a jar of pre-made baby food.
It stores and travels well. Another point in favor of jarred baby food — it's easy to store and easy to carry. Jarred baby food doesn't need to be refrigerated (or frozen and then defrosted); it easily keeps on a pantry shelf. And if baby needs to eat on the go, jarred baby food can be a great option, as it's so portable.
They're healthier now than they used to be. Decades ago, jarred baby food contained added thickeners and preservatives that made them less healthy options. Today, this is no longer the case — most jarred baby food is 100% natural and preservative-free.
THE CONS
It's pricey! At around $.30/ounce (on average), jarred baby food definitely isn't cheap. And when you factor in your baby's growing appetite, and the fact that she's only going to eat more as she gets older, the prospect of feeding her jarred food seems expensive indeed.
It limits your food options. You'll find jarred versions of the most common baby foods — carrots, peas, sweet potatoes, bananas, pears, etc. But once you get into some of the less common foods (apricots, blueberries, spinach) it'll be much harder to find beginner, pureed versions and sometimes there are only mixed fruit varieties that may not be all that appealing to your baby.  And if you're committed to eating organically, your options are even more limited. While some baby food companies have organic versions of their product, the organic options are not quite as abundant. Organic baby foods often cost more as well.
You have no control over the food-making process. It's a fact that steaming fruits and vegetables is a better, healthier option than boiling them (as it lets them retain more of their vital nutrients). But when you buy jarred baby food, you really can't be sure how the food you're about to feed your little one has been cooked.
Making Your Own Baby Food: The PROS and CONS
THE PROS
It's cheap! A small jar of pureed peas costs around $.30 per ounce. A one-pound bag of frozen peas costs around $.07 or $.08 per ounce. Cheaper to make your own pureed peas? You bet! If you want to save your hard-earned cash, making your own baby food is a great way to do it.
The sky's the limit. When you make your baby's food yourself, your food options are practically limitless. Pureed strawberries are hard (or maybe even impossible) to find in a baby food jar, but they're easy to make at home. And as your baby grows and is ready for more complex food combinations, making his food gets even easier: simply toss a bit of whatever your family's having for dinner into the food processor and mash it up! This is also a great way to expose your baby (when he's older) to the tastes and textures of real table food.
You have complete control. Want your baby to eat only local, organic foods? When you make your own baby food, you can ensure that happens. What's more, you have total control over how your baby's food is cooked and what's added (or not added) to it.
It's a healthier option. When you make your baby's food, you can be certain that you're using the freshest produce available, and that you're cooking it in a way that maximizes its nutritional content. That makes homemade baby food a healthier choice.
THE CONS
It's time-consuming. Making your own baby food doesn't have to take forever, especially if you use a combination of fresh and frozen food, or if you invest in a few of the gadgets that are designed to make the process quicker. But preparing your baby's food yourself still takes more time and effort than buying it at the store. And for some of you, that's extra time that you simply don't have.
It doesn't store or transport as well as jarred baby food. Homemade baby food needs to be refrigerated in order to keep or at least not left out very long. You can also freeze your baby food in small quantities for long-term storage, but this means having to defrost your baby's meals every time she's ready to eat. And if you and your baby will be on the go at mealtime, it's may make transporting the food a bit harder, especially if you need to pack it in a cooler.
Baby Food: Buy It or Make It?
Here's the thing — you don't have to choose. Why not both? It'd cost a lot to buy every bit of your baby's food; on the other hand, it might not be feasible for you to make every bit of it, either. You know your schedule and your budget better than anyone, after all. If you have time to make batches of baby food and freeze them for later, great! Your wallet will thank you, and you'll know your baby's diet is nutritious. But you may still need to keep some jars of baby food on hand for those occasional meals out.
Of course, if your schedule's really busy, you may have to rely a lot more on jarred, prepared baby foods. And that's okay!  As mentioned above, jarred, store bought baby food is better now that when you were a baby, so this is still a good option. Maybe you could pick a weekend here or there and spend an hour in the kitchen, making as much homemade food as you can. Working even a little homemade baby food into the rotation will save you money and help ensure that your baby is eating well.
Everything You Need To Know About Starting Solids – All In One e-Book!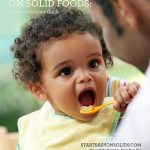 What if you could find everything you needed to know about starting your baby on solid foods – when it's best to start solids, how to introduce solids, complications, food allergies, etc. – in one easy-reference guide? Now you can! Your Baby's Start To Solid Foods: A Comprehensive Guide will walk you through every step of starting solids. Plus, your e-Book package includes several bonus materials, designed to maximize your success in starting solids. You'll get a thorough guide to treating constipation, a dietitian's advice on how to avoid 5 common solid-foods mistakes, and a weekly meal plan for your baby's first year. Grab your e-Book today, and ensure your baby has the healthiest possible start to solid foods!
Buy Baby Food?  Or Make Baby Food?  Hope this helps you decide!