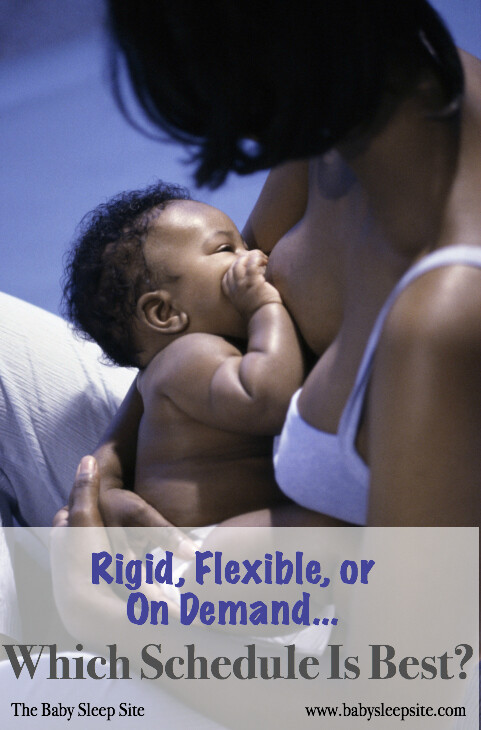 Figuring out your baby's sleep schedule can be tough – very tough! – but you know what can be just as challenging? Figuring out your baby's feeding schedule! While it's true that a small percentage of families will struggle with sleep while not having any issues with feeding, we've found that sleep and feeding are so closely connected that families usually have trouble with both. (That's just one of the reasons we created special content for starting your baby on solid food.)
Sleep and feeding problems usually become cyclical. Here's an example: an over-tired 3 month old may start to routinely take short, incomplete feedings, simply because he can't stay awake long enough to get a full feed. Then, he may wake too early from a nap, or wake too often at night, because he's hungry (he didn't get that full feeding in earlier, after all), so he needs to eat again – only he can't take a full feeding, because he's so tired, so he falls asleep after just fa few minutes of eating, but then he wakes too early from his next nap, too, because he's hungry…..
You get the idea. 🙂
So, along with sleep schedule help, our consultants often offer feeding schedule help, too, in cases where feeding schedules may be problematic. You just can't separate out feeding and sleep – they're so connected!
That's why we're talking about feeding schedules today on the blog. Specifically, we're looking at different kinds of feeding schedules, to help you determine which is best for you. When it comes to baby feeding schedules, is it best to go with a more rigid schedule? A more flexible schedule? Or should you throw out the schedule altogether and feed on demand?
Let's take a look!
Baby Feeding Schedule: A Rigid Schedule
Rigid schedules are generally clock-based – parents set times for feedings and then stick to those times, even if baby wakes early from a nap or at night. Some parents will even wake their child from a nap in order to stick to the schedule!
I'll say right now that if you try to implement a rigid schedule with a newborn, or a young baby, you're likely wasting your time – most newborns and young babies just aren't ready for a rigid baby feeding schedule. True, some very consistent babies may have no trouble sticking to a clock-based schedule, it's rare that a very young baby can do that. In fact, in our experience, most babies aren't ready for a rigid schedule until they're at least 6 months old. And a rigid schedule can be downright dangerous for young babies, since it may not allow for enough feeding to accommodate their growing bodies and brains.
Even past 6 months, whether or not a rigid schedule will work depends a lot on your baby's temperament. Consistent, predictable babies will likely do better with a rigid schedule than will inconsistent, unpredictable babies. Of course, what kind of schedule works best will depend at least in part on YOUR temperament, too! Type-A parents will likely do great with a rigid schedule, but if you're a parent who prefers to go with the flow, and loves it when each day is different, a rigid schedule may not work well (even if it works for your baby). It's all about finding balance and working out an arrangement that suits both of you. 😉
A final word about rigid schedules – remember that if you're using a rigid schedule to try and promote more sleep at night (for example, by only "allowing" a set number of night wakings), it may not work out as you plan. Some babies (especially newborns) actually need to eat more frequently during the day in order to get that long stretch of sleep in at night, but if you have carefully timed the day feedings, they may not get enough calories during daylight hours to get the long stretch at night.
Baby Feeding Schedule: A Flexible Schedule
A flexible schedule allow you to be just that – flexible. With a flexible schedule, you have general times in mind for feedings, but they may not be clock-based. Instead, you may focus more on the timing between feedings. With a flexible schedule, you may strive to feed at roughly the same time each day, but then you would also allow for interruptions – if baby sleeps through a feeding time, then you adjust the schedule. Or, if baby wakes too early for a nighttime feed, then you offer it but adjust the timing of the next day.
Flexible schedules work well at just about any age (although you may want to "tighten the reins" on flexible schedules once you reach the toddler stage; by the time your baby is a year old, she's ready to organize her feedings into meals and snacks). Flexible schedules are great during the newborn and young baby stages – they help build in a measure of predictability and routine, but they also for baby to get in all the feedings she needs. They also allow for the unexpected things in life – last-minute errands, visitors who just pop-in unannounced, etc.
Flexible schedules can help promote sleeping through the night, in that they can help to gently space out feedings that are too close together. And if your schedule allows for plenty of daytime feedings, then your baby may have a better chance of getting that long, nighttime stretch of sleep. However, flexibility is a balance – schedules that are VERY flexible may cease to look like schedules at all, and you may be more in the territory of feeding on demand.
And speaking of feeding on demand…
Baby Feeding Schedule: Feeding On Demand
When you feed your baby on demand, you basically forget about trying to establish a predictable schedule and instead use your baby as your guide. You feed whenever your baby seems hungry, and the feeding is over when the baby seems done. While on demand feeding is a hallmark of attachment parenting, you certainly don't have to be an attachment parenting to try feeding on demand.
Feeding on demand is probably the best approach to feeding during the very early newborn stage – in the first few weeks after birth. It ensures that your baby gets enough nourishment, and can provide a period of transition time before you move towards a more predictable schedule. On demand feeding is also great in those early days because it allows for the extra nourishment needed during growth spurts.
Of course, on demand feeding can become exhausting for YOU as your baby grows, and if your a parent who likes predictability, the lack of schedule may begin to wear on you if you feed on demand for more than a few months. And while on demand feeding may actually help promote longer stretches of sleep for young babies (since they will be able to cluster-feed in the evening), it may create sleep issues, too. If a baby gets into the habit of "snacking", for example, and taking in many, many short feedings, it can actually sustain a night-waking problem, or a short-nap problem.
Baby Feeding Schedule: Our Recommendations
First, let me be clear – the decision about which feeding schedule to use is best left up to you. 🙂 Second, I want to point out that while we have taken each one of these types of schedules separately, you don't have to view them that way. You can use these schedules in combination. You can also use different schedules at different points in your baby's development.
For example, if you have a 4 month old, you may choose to feed on demand during the day, so as to encourage plenty of daytime calorie intake, but then use a flexible schedule at night, and pay attention to the gaps between your baby's feeds, trying to encourage gaps of at least 2.5 hours. Or, you may use demand feeding with your baby when he is sick, or going through a growth spurt, but then return to a more fixed schedule after that. Perhaps you try to implement a flexible schedule if your baby is waking too much at night, or waking too early from naps — the schedule may help you lengthen those sleep times. Or maybe you use a flexible schedule until your baby is 9 or 10 months old, at which point you make an attempt at night weaning and then move to a more rigid schedule. The point here is that you don't have to pick one and use it forever – you can change it up as you see fit, and to fit your baby's needs at various stages.
Baby Feeding Schedule (and Baby Sleep Schedule) Help That Works – We've Got It!
Easy to talk about what kind of feeding schedule to use with your baby – harder to make the schedule happen! If you need baby feeding schedule help – or baby sleep schedule help – we are here for you! Our consultants are standing by, ready to offer their expertise and to create a Personalized Sleep Plan® just for you, that will contain important feeding and schedule information. Simply browse our list of consultation packages and choose the one that you like best.
Browse our list of consultation package options here.
Want more information about how personalized help works? Check out our FAQ page here, and get answers.
Special VIP Members-Only Nap Resources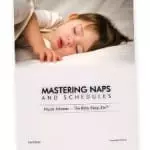 Mastering Naps & Schedules — For starters, all Baby Sleep Site® VIP members receive unlimited access to all our e-Books. That's right – for the price of your membership, you can read all our e-Books at no additional cost! That includes Mastering Naps & Schedules. With over 45 sample schedules (all available for you to view in the VIP Members Area), Mastering Naps & Schedules is THE e-Book for tired parents of non-napping kiddos! We tackle all your top napping issues, including how to get your baby or toddler to take longer naps, how to get your child's naps to be more consistent and predictable, how to manage nap transitions, how to encourage good napping while traveling – and more! Become a member today, and access the e-Book instantly – no download necessary!
Napping Audio Courses — Another great VIP members-only resource? Our audio courses. Hosted by Nicole herself, these 30-45 minute courses offer you insider information and our expert sleep coaching methods and techniques. And guess what? We have a special audio course that's completely focused on managing nap traditions. That's right – as a VIP member, you will have access to this coaching session with Nicole herself! She'll walk you through the basics of navigating nap transitions without destroying your existing daytime schedule, or ruining night sleep.
VIP Members-Only Nap Articles — And now, we've also offer a special VIP members-only article on this very topic: 5 Practical, Hands-On Tips For Managing Common Nap Transitions. Learn our 5 top secrets for how to gently and painlessly navigate nap transitions, and help them happen in a way that preserves your child's sleep while also preserving your own sanity! 😉
For more details about all our VIP member benefits, visit our membership page, and consider becoming a VIP member today!
Which type of feeding schedule do you prefer? Share your scheduling tips with us – we love hearing from you!