We talk a lot here at the Baby Sleep Site™ about how all babies are different (that's why we don't believe in any one-size-fits-all solutions for baby sleep problems!) Here's something else we believe: parents are different, too! Talk to 10 different sets of moms and dads, and you'll likely uncover a variety of parenting methods and philosophies. It's our belief that this diversity is a good thing. It keeps life interesting!
These differences among parents often extend to the ways that moms and dads handle schedules — particularly, how they handle daytime nap schedules. Some parents are schedule-oriented, "Type A" folks. These parents like to create firm schedules and then stick to them whenever possible. They tend to thrive on predictability and routine. (Full disclosure: I fall squarely into this category!)
Other parents, however, are more footloose and fancy-free with their schedules. These parents tend to be on-the-go types, whose schedules rarely look the same from one day to the next. (More disclosure: I wish I were more like this. I've even tried to be, but alas! It's just not me. 🙂 )
Both types are perfectly fine, of course, and then there is everything in between (i.e. predictable schedule with flexible days). But when it comes to creating healthy nap schedules for our babies — the kind of schedules that produce long, restful naps — is one type better than the other?
The Benefits of a Rigid Daily Schedule
The word "rigid" tends to sound a little negative, but when it comes to your baby's daily nap schedule, it can actually be a good thing! As Nicole wrote in a past article, there are some benefits to having a more rigid sleep schedule:
The main benefit of a rigid baby sleep schedule is the fact that it's predictable. This isn't just good for you to plan play dates or errands, but your baby will know what to expect every day, too. By prioritizing your baby's sleep and making sure she's in her crib at nap time and bedtime will make it that much more likely that she will sleep through the night and ensure your baby naps longer. You are making sure that you are putting her down during her "sleep windows" and helping "set" her internal clock.
This kind of predictability makes it easier to nap train your little one — remember, consistency is a huge part of any kind of sleep training! And once your baby is successfully nap trained, having a fairly rigid schedule in place can go a long way towards helping your baby get long, restorative naps on a regular basis.
The Benefits of a Flexible Daily Schedule
Of course, there are benefits to a highly-flexible daily schedule, too. Nicole pointed those out in her article as well:
But, what if your baby doesn't get sleepy at the same time every day? Or, what if your family life is such that your day simply is not very similar day to day? A flexible baby sleep schedule allows you to have much more flexibility in your day. Does your playdate want to meet at 10 instead of 11? No problem. That baby swim class is at 1 p.m. twice a week right when your baby's nap is. No problem. Grandma and grandpa come to visit for two hours making bedtime an hour later? No problem. Having a flexible sleep schedule is definitely appealing in many ways. It feels much less like your whole world revolves around your baby's sleep and schedule, that's for sure.
Don't Forget To Consider Your Baby's Personality and Temperament, Too!
Before we get any further, I have to stop and point something out. We started this discussion with a comparison between parent personality types. And that makes sense; we parents are the ones who create our babies' schedules, after all! But you'll need to consider your baby's temperament and personality as well.
Specifically, you'll need to consider your child's adaptability and regularity. Your little one's adaptability refers to his ability to "go with the flow", so to speak. Highly-adaptable babies adjust easily to changes in the schedule and routine; less-adaptable babies don't. What does this mean for you? If your baby is less adaptable, you'll probably need to develop a fairly consistent daily schedule. If your baby is more adaptable, however, you can probably have a more on-the-go lifestyle.
Your baby's regularity refers to the kind of consistency he shows from day to day. Very regular babies tend to eat and sleep at the same times each day. As Nicole points out, they may even poop at the same time day to day! Less regular children, however, are inconsistent in their eating and sleeping habits. What does this mean for you? If your baby is less regular, you'll need to build some flexibility into your daily schedule, in order to accommodate.
So, Which is Better: Rigid or Flexible?
Answer: it depends. It depends on your personality, on your child's temperament, on your goals for your baby's sleep, on your little one's current sleeping habits… But don't let that discourage you! Nicole has some tips to offer that may help those of you who are struggling with how to create a daytime nap schedule that will suit both your personality and needs, as well as your child's:
For highly inconsistent babies, it is usually best to keep a rigid sleep schedule from a sleep perspective (not necessarily feeding schedule), because it helps "set" their internal clock and biological rhythms. If you allow your inconsistent baby to drive the schedule, he is more likely to continue being even more inconsistent than what's "normal" for him.

For babies who are very sensitive to becoming over-tired leading to less and less sleep, it's important to keep their sleep at a high priority. It doesn't necessarily mean keeping a rigid schedule by the clock, but in terms of making sure they are not awake too long before sleep. It means that swim class might have to wait until they've changed their schedule.

For babies who can sometimes stay up longer and other times can't, having a rigid schedule where they are in the crib when they are not tired, could lead to other sleep problems and frustration for your baby. Maybe he needs a more flexible schedule that is driven more by his sleep needs and cues.
How To Create A Great Baby Nap Schedule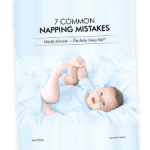 Short or non-existent baby naps can be so frustrating – but you don't have to suffer through them! We have a ton of nap resources – and one of those nap resources is our free guide, 7 Common Napping Mistakes. Are you making any of these common nap mistakes? If so, they may be the cause of your baby's non-napping. So download your free guide today, and start putting the tips to use as early as your baby's next nap!
*****************************************************************************************
Special VIP Members-Only Nap Resources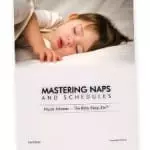 Mastering Naps & Schedules — For starters, all Baby Sleep Site® VIP members receive unlimited access to all our e-Books. That's right – for the price of your membership, you can read all our e-Books at no additional cost! That includes Mastering Naps & Schedules. With over 45 sample schedules (all available for you to view in the VIP Members Area), Mastering Naps & Schedules is THE e-Book for tired parents of non-napping kiddos! We tackle all your top napping issues, including how to get your baby or toddler to take longer naps, how to get your child's naps to be more consistent and predictable, how to manage nap transitions, how to encourage good napping while traveling – and more! Become a member today, and access the e-Book instantly – no download necessary!
Napping Audio Courses — Another great members-only resource? Our audio courses. Hosted by Nicole herself, these 30 – 45-minute audio courses offer you insider information and our trademark sleep coaching methods and techniques. We have several awesome nap-focused audio courses, including one on managing nap transitions, and one on lengthening short naps! Listening to these seminars is like getting a coaching session from Nicole! She'll walk you through the basics of dealing with common nap problems and give you tried-and-true strategies you can implement at home.
For more details about all our VIP member benefits (including weekly chats with a trained sleep consultant and our "Ask the Author" feature), visit our VIP membership page, and consider becoming a VIP today!
*****************************************************************************************
While our VIP Members Area is great for DIY moms who prefer to tackle sleep challenges on their own, we know that other moms much prefer to go straight to one-on-one help. Well, good news – we offer that, and you can start getting the personal help you need TODAY! You can teach your baby a new way to nap – and we can help. We have helped thousands of families around the world with their babies' nap trouble, and we can help you, too! Take a look at our consultation packages, and see which one looks like a good fit for you.
Click here to see all our personalized consultation packages.
Once you purchase, you will immediately receive access to the Helpdesk, and you can set up your account, fill out your Family Sleep History form, submit it to a consultant, and get started on the journey to better sleep!
Want more information about how personalized help works? Check out our FAQ page here, and get answers.
Rigid or Flexible: which are you? Share your "schedule type" below, and tell us about your experiences creating a nap schedule that works for you and your baby!