Baby Lovey – How and When To Introduce (and What Should The Lovey Be, Anyway?)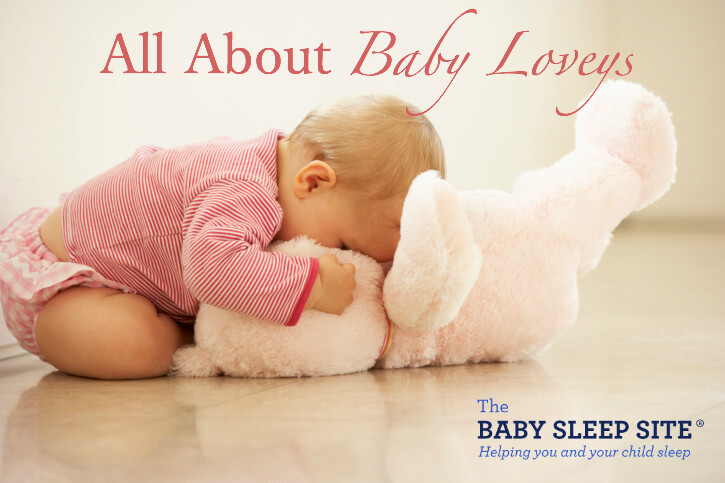 "Lovey". Have you heard that term before? We at The Baby Sleep Site® use the term lovey to mean any comfort object that a baby or toddler brings to bed, and which provides comfort and soothing. Some people also call them 'comfort objects', or 'transitional objects'. While not every baby or toddler attaches to a lovey, many do – and as many parents have found (maybe you're one of them!), loveys can be great, as they provide children with a physical object that they can use to comfort themselves.
Baby Lovey – What Is It?
Really, a lovey can be anything that's safe for a baby or toddler to have at sleep time. Most loveys are what you'd think of as "normal" comfort items – blankets, or stuffed animals. However, in our work with parents over the years, we've heard of some very strange loveys indeed! We've had parents tell us their babies used the following items as loveys:
throw pillows
pacifiers (or soothers, or binkies, or dummies – depends on your name for it!
toothbrushes
board books
spoons
washcloths and hand towels
puzzle pieces (big ones)
And of course, there's my personal favorite – a hair extension!!
Baby Lovey Safety
We are big believers in promoting safe sleep, and in sticking with the rules of creating a safe sleep space. For that reason, it's key to remember that if your baby is under a year old, you should avoid putting any items in the crib that may be a SIDS risk. Not sure if a particular lovey is safe for your baby? We always recommend checking with your baby's healthcare provider.
You'll also need to think about choking hazards – no loveys that have small, detachable pieces, or even pieces that are sewn on but could potentially detach (think stuffed animals with small, plastic eyes sewn on).
Baby Lovey – Why Have One At All?
Some of you may be wondering why you even need to offer a lovely in the first place. Well, the truth is, some of you won't – your babies will be able to self-soothe without any objects (maybe by sucking their thumbs, or stroking their faces or hair, etc.) Not every child needs a lovey.
But if your are sleep training, or working on helping your baby or toddler learn to self-soothe independently, without you in the room, a lovey can be a lifesaver. A lovey becomes a comfortable, familiar object that can serve to instantly soothe your baby or toddler. This is especially great when you're out and about, or when you're traveling – just bring the lovey along, and it'll go a long way towards helping your baby sleep!
What's more, a lovey can really help during sleep regressions – during those times, your baby is going through so many physical and developmental changes. And speaking of changes, loveys can really help your baby navigate any big life changes – like moving to a new house, the birth of a new sibling, etc.
Basically, a lovey is a positive sleep association that can help soothe and comfort your baby, and help them to relax and fall sleep. And who doesn't want that? 😉
Baby Lovey – When & How Should You Introduce One?
As for when to introduce a lovey, the short answer is that it depends on your baby. Some babies will naturally take to having a lovey at a fairly young age, and will develop an attachment to some object fairly early one. If so – then your job is done!
For others, though, the process may look different. So when should you introduce a lovey? Well, don't worry about offering a lovey during the newborn stage – your baby doesn't yet have the ability to form an attachment to an object, so a lovey won't matter at this point.
Beyond the newborn stage, the suggestions of when to introduce a lovely vary. Some pediatricians say it's fine at 4 months, while other caution to wait until 9 months or even a year. Again – if you're hesitant about when to introduce the lovey, and what kind of lovey to use, talk to your healthcare provider.
As for how exactly to introduce the lovey – there are a series of steps we typical recommend to consultation clients that are designed to help introduce the lovely gently, and to help ensure that baby accepts it and bonds with it. Want to read these steps? We lay them out in one of our members-only articles, The Baby Sleep Site®'s 5 Step System To Introduce A Baby Lovey, in our The Baby Sleep Site® Members Area.
Baby Loveys We Love
When it comes to loveys, there are loads to choose from! Here are two of our favorites:

The Angel Dear Blankie: We LOVE these adorable baby loveys! Choose from 37 (yes, THIRTY-SEVEN) different colors and styles. The super-soft blankie is attached to a super-cute stuffed friend, making these an ideal lovey for babies.





Breathable Baby: These breathable loveys are cute and soft, but because they're made of breathable mesh, they reduce the risk of SIDS. Cute AND safe – pretty nice!





How To Help Your Baby Attach To A Lovey and Learn To Self-Soothe
Need help getting your baby to learn to self-soothe? (Remember, being able to self-soothe is usually the first step towards longer naps and sleeping through the night.) Well, look no further – we're here to give you the help you need! Our caring, compassionate consultants are standing by, ready to create a Personalized Sleep Plan™ that will help your baby learn to create positive sleep associations and start waking less often.

Browse our list of consultation package options here.

Once you make your choice and purchase, you will immediately receive an e-mail with your Helpdesk login information. You'll be able to login and start your Family Sleep History form right away – it's that simple!
Want more information about how personalized help works? Check out our FAQ page here, and get answers. You can also take a tour of the Helpdesk.
Have questions about baby loveys? Ask, and we'll answer! Have tips? Share them with your fellow parents!
For those persistent nighttime struggles, check out The 3 Step System to Help Your Baby Sleep. Using the same unique approach and practical tools for success, this e-book helps you and your baby sleep through the night.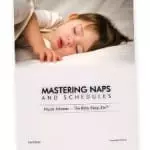 If you're looking for ways to get your baby or toddler into a healthy sleeping routine during the day, I encourage you to explore Mastering Naps and Schedules, a comprehensive guide to napping routines, nap transitions, and all the other important "how-tos" of good baby sleep. With over 45 sample sleep schedules and planning worksheets, Mastering Naps and Schedules is a hands-on tool ideal for any parenting style.
Or, join our Members Area packed with exclusive content and resources: e-Books, assessments, detailed case studies, expert advice, peer support, and more. It actually costs less to join than buying products separately! As a member, you'll also enjoy a weekly chat with an expert sleep consultant. And the best part – members receive 20% off all sleep consultation services!
If you are looking for a more customized solution for your unique situation, and want plenty support along the way, please consider one-on-one baby and toddler sleep consultations. Your consultation package will provide you with the chance to interact one-on-one with a trained sleep consultant, who will create a Personalized Sleep Plan® for your family and then work to help you implement it at home.

Can't decide which product or service is right for you? Visit our Getting Started Page for help.


Disclosure: The Baby Sleep Site® is a participant in the Amazon Services LLC Associates Program and other product affiliate programs. If you click on a product link above and make a purchase, The Baby Sleep Site® may (but not always) receive a small commission from the company selling the product. This commission will not affect your purchase price. We only recommend products that we believe are quality products and are good for our readers.