Who doesn't want to get out once in a while?! While the fun of holidays and vacations, gifts and treats, parties and family time is certainly exciting, I know exactly what a lot of you are worrying over right about now: "How are all the late nights and schedule disruptions and long days spent at Grandma's going to affect my little one's sleep?"
Not to worry, parents – we have done a ton of writing on this very topic! And to make your travel preparations even easier, we've compiled all of those past articles here. Think of this as your one-stop holiday sleep guide!
Traveling With A Baby or Toddler: Your Holiday Sleep Guide
Take a look at the articles below, and get insights on everything from how to help your baby nap in an unfamiliar place to info on dealing with jet lag to managing schedule disruptions due to special events. Take a look!
Learn how holiday traveling, special occasions, loads of treats, and different-than-usual daytime and nighttime schedules will impact your little one's sleep.

Read tips on how to promote sleep during long road or airplane trips, as well as info on how to make the trip go more smoothly for everyone!

This one outlines info on both managing sleep during traveling, AND how to handle holiday visitors who may unintentionally ruin your little one's sleep schedule.

The title of this one says it all! Learn what we think about keeping your baby or toddler up late for special holiday parties and events.

No, this article doesn't come from our site – but it's written by a family that we just love! We did a sleep consultation with them awhile back, and totally admire their commitment to traveling with kids. Read info on how to deal with jet lag and time changes (along with a host of other things) when traveling with little ones.
Prep For Holiday Sleep Challenges With The Baby Sleep Site®
Sleep challenges do NOT have to make your holidays less merry – we can help! Let us create a Personalized Sleep Plan™ for you, which will outline exactly how you can preserve your little one's sleep during your holiday travels. We'll tell you exactly how to manage naps and bedtime, how to deal with schedule disruptions, and what to do when holiday fun starts to mess with your little one's usual sleep patterns.
Browse our list of consultation package options here.
Once you make your choice and purchase, you will immediately receive an e-mail with your Helpdesk login information. You'll be able to log in and get started right away!
Ask your holiday sleep questions and share your holiday sleep tips below, and let's get the conversation started!
Our VIP Members Area is packed with exclusive content and resources: e-Books, assessments, detailed case studies, expert advice, peer support, and more. It actually costs less to join than buying products separately! As a VIP member, you'll also enjoy a weekly chat with an expert sleep consultant.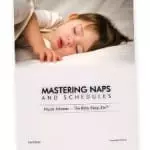 If you're looking for ways to get your baby or toddler into a healthy sleeping routine during the day, I encourage you to explore Mastering Naps and Schedules, a comprehensive guide to napping routines, nap transitions, and all the other important "how-tos" of good baby sleep. With over 45 sample sleep schedules and planning worksheets, Mastering Naps and Schedules is a hands-on tool ideal for any parenting style.


For those persistent nighttime struggles, check out The 3 Step System to Help Your Baby Sleep. Using the same unique approach and practical tools for success, this e-book helps you and your baby sleep through the night.



For those persistent toddler sleep struggles, check out The 5 Step System to Help Your Toddler Sleep. Using the same unique approach and practical tools for success, this e-book helps you and your toddler sleep through the night and enjoy a better daytime schedule.