December was a whirlwind. You shopped up a storm, performed magic in the kitchen for your houseguests, went to all of the holiday parties, and maybe you even traveled a bit. What's left? Picking up the pieces! With the close of the holiday season comes a stark reality: "normal" life has resumed, and your family is off-schedule, tired and cranky. If you're lucky, getting back to your normal routine will be a piece of cake, with just a little nudge. But for many of us, it will be a week or more before our little ones snap back to the norm.
Not to worry, though – we have help! Read on for 5 tips to help your kiddos recover from wacky sleep schedules brought on by the holidays.
5 Ways To Help Your Baby or Toddler Recover from the Holidays
Put them to bed early—If your children are overly tired, the best medicine is to put them to bed early for two or three nights so they get extra rest. Children who are overtired will actually appear hyper (it might not be the cookies!) and act out as they fight the fatigue.
Offer naps early—If your child is a nap-taker and she's now sleeping only half as much as she did before the holidays, try offering her naps a little earlier than usual. Short naps are a sign of being overly tired and putting her down just 15 to 20 minutes earlier will make a big difference.
Wake them up in the morning—That's right! This is one of those times you should wake your child from sleep. If your child is now up a lot at night, as tempting as it is, don't let him sleep in too late in the morning. Get back into routine and on schedule by controlling wake-up, even if you generally don't follow a strict schedule. You can't make him sleep, but you can control the time you start the day if he has started sleeping in. This also helps if bedtime has gotten too late in the past couple of weeks. Stick to a stricter schedule for two to three days to get back on track.
Start from scratch—Unfortunately, even if you had been working on sleep training prior to the holidays, some kids will have completely fallen into their old sleep habits during the holidays. If your baby had only just started to self-soothe (i.e. fall asleep without your help), she may seem to have forgotten how to do it in just a week's time. Help her to remember by teaching her from scratch, just like you did the first time. It may take longer this time around, but stick with it and your hard work will pay off.
Hold off on major changes—As much as it may appear that your child has changed her sleep needs in the past couple of weeks, don't make any drastic changes until you are sure that the holiday hustle and bustle are behind you and you are back to your normal routine. While baby may have transitioned from two naps to one nap the same week that grandma and grandpa came to visit, it's unlikely that this is a permanent shift. Make sure you don't jump to any conclusions and give her time to adjust after the holidays before you make any big changes. More than likely, your child's sleep disturbances will work themselves out in a short time. If you feel that you're encountering an ongoing sleep issue, trust your instincts and seek further support. You'll all sleep better!
Need more holiday recovery tips? Members, log in to the VIP Members Area and listen to our special audio course, How To Recover From The Holidays. Not a member? Become one today, and access this audio course and many other resources… instantly!
Post-Holiday Sleep Help from The Baby Sleep Site®
Need help getting back on track after the holidays? Or, maybe there is no "on track" for your little one – maybe what you need is help teaching your baby or toddler to sleep soundly at night, and to take longer, more restorative naps. Whatever your needs, we can help! We have a team of highly-trained sleep consultants at your disposal, ready to craft a Personalized Sleep Plan™ just for your family. Your plan will walk you through every step of sleep coaching, and will be 100% personalized to fit your baby's personality and needs, and to mesh with your parenting philosophy.
Browse our list of consultation package options here.
Once you make your choice and purchase, you will immediately receive an e-mail with your Helpdesk login information. You'll be able to log in and get started right away!
Want more information about how personalized help works? Check out our FAQ page here, and get answers.
Is your family still suffering from a "holiday hangover"? What are your tips for getting back on track after the holidays? Share your wisdom with us!
Our VIP Members Area is packed with exclusive content and resources: e-Books, assessments, detailed case studies, expert advice, peer support, and more. It actually costs less to join than buying products separately! As a VIP member, you'll also enjoy a weekly chat with an expert sleep consultant.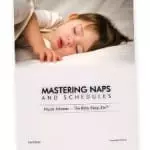 If you're looking for ways to get your baby or toddler into a healthy sleeping routine during the day, I encourage you to explore Mastering Naps and Schedules, a comprehensive guide to napping routines, nap transitions, and all the other important "how-tos" of good baby sleep. With over 45 sample sleep schedules and planning worksheets, Mastering Naps and Schedules is a hands-on tool ideal for any parenting style.
For those persistent nighttime struggles, check out The 3 Step System to Help Your Baby Sleep. Using the same unique approach and practical tools for success, this e-book helps you and your baby sleep through the night.
For those persistent toddler sleep struggles, check out The 5 Step System to Help Your Toddler Sleep. Using the same unique approach and practical tools for success, this e-book helps you and your toddler sleep through the night and enjoy a better daytime schedule.