Time to face facts: your 11 month old baby is barely a baby anymore! Remember those early days of feeding your little ones drippy, runny purees and watching her spit them back at you? How far we've come! Now, your 11 month old should be getting better and better at feeding herself finger foods. In fact, you may have started offering her entire finger food meals! And your baby doesn't need those single-ingredient dishes anymore; now she's completely ready to tackle real food, with lots of ingredients.
Cereal Recipes
Infant cereal is a very small part of your 11 month old baby's diet now. Instead, your 11 month old baby will be getting the grain servings he needs from foods like bread, crackers, and pasta. You may still want to offer your 11 month old a small serving of infant cereal every now and then, however. You can purchase ready-made, powdered cereals at the grocery store, but you can also make your own (for a lot less money!) Visit our Baby Cereal Recipes for step-by-step instructions on how to make your baby's rice and oatmeal cereal from scratch.
Fruit Recipes
Visit our Baby Food Fruit Recipes to see a sampling of delicious fruit purees and your 9 month old baby is sure to love.  At 11 months old, your baby can eat all kinds of fruits, including the strawberries and tomatoes that you've probably been waiting to offer. (And yes — tomatoes are fruit!)
Vegetable Recipes
Visit our Baby Food Vegetable Recipes for a listing of veggie purees and mashes that'll keep your 9 month old on the path to healthy, nutritious eating.  Your 11 month old can now eat all kinds of veggies, including corn.
Protein Recipes
By 11 month old, your baby is eating beans, eggs, meat, and poultry, and maybe even tofu! Now that he's older, he's finally ready to sample fish and nuts. Visit our Baby Food Protein Recipes for tips on easy ways to prepare white fish.
Meal Recipes
Your 11 month old may be getting bored with those single-ingredient means; she may start showing a preference for real food. You can continue to offer her more and more table food; you can also continue creating special dishes just for her. 🙂 Visit our 5 Great Recipes page for meal ideas. We're betting your 11 month old won't be able to get enough of the whole wheat chocolate muffins!
Feeding Fact
Get ready for a transition — it's time for your baby to stop relying on you to feed him every bit and to instead learn to feed himself (that is, if he hasn't already!) Whenever possible, encourage your baby to feed himself small pieces of finger food. Consider making one or more meals "finger food meals" to give your baby plenty of practice at self-feeding.
Is your baby already a finger-feeding expert? If you're feeling brave, give your baby a small plastic dish of food, a spoon, and let her practice spoon feeding. Try something like pudding or yogurt, which'll stick to a spoon easily. Take note: this experiment will be less painful for you if your baby's wearing only a diaper (no messy clothing to wash later!) and if you put down a splash mat over your nice floor 🙂
For ideas that'll help you create a feeding and sleeping schedule for your 10 month old, check out the recommended 11 month schedule available at BabySleepSite.com.
Everything You Need To Know About Starting Solids – All In One e-Book!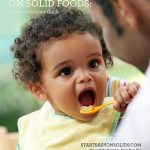 What if you could find everything you needed to know about starting your baby on solid foods – when it's best to start solids, how to introduce solids, complications, food allergies, etc. – in one easy-reference guide? Now you can! Your Baby's Start To Solid Foods: A Comprehensive Guide will walk you through every step of starting solids. Plus, your e-Book package includes several bonus materials, designed to maximize your success in starting solids. You'll get a thorough guide to treating constipation, a dietitian's advice on how to avoid 5 common solid-foods mistakes, and a weekly meal plan for your baby's first year. Grab your e-Book today, and ensure your baby has the healthiest possible start to solid foods!
What are your 11 month old baby's favorite foods?  Share your recipe and feeding ideas below!