You may know, first-hand, the benefits of swaddling your newborn baby. Swaddling, the practice of wrapping your infant tightly* in a blanket to limit his arm and leg movements, is known to help soothe babies. It's also known to help babies sleep better (something we're all very interested in doing, right?) Swaddling prevents your baby from flailing or "startling" awake, which can mean better, longer naps and more sleep at night. But, when should you stop swaddling?
When to Wean Your Baby From Swaddling
There comes a time, though (around 4-6 months, on average) when swaddling stops being the magical cure-all it once was. You may find that your baby starts "busting out" of her swaddle, getting an arm or a leg free. That can be sign that you need to get a better swaddling blanket or to learn a better swaddling technique; it can also be a sign that it's time to stop swaddling.
Or, you may find that your baby starts fighting the swaddle — she may cry after being swaddled or strain to get an arm or a leg out. If she truly hates the swaddle (and isn't crying from overtiredness), then swaddling isn't likely to improve her sleep.
Finally, some parents reach a point at which they have to wean their baby from the swaddle simply because the baby's getting so big; those swaddle blankets only go up to a certain size, after all! And, if your baby is rolling, it can become a safety hazard.
How to Wean Your Baby From Swaddling
You don't necessarily need any specialty products to wean your baby from his swaddle. You can use the old tried-and-true method of swaddling him with his legs out (leaving his arms wrapped). Once your baby's comfortable with that, you can swaddle him with legs free and one arm free. Some parents also start with one arm, but keep the legs wrapped, which can work, too. Either way, eventually, you'll be able to take away the swaddling blanket altogether.
Doesn't that sound easy? So straightforward! So simple! At least, it is for some babies; for others, the process of weaning away from the swaddle is nothing but hard. If that's the case for your baby, it may be worth investing in a specialty product, one that's designed to help your baby transition away from swaddling. We have come across two products (no affiliation) that may help in your upcoming adventure and you have a chance to win one (see below)!


The Swaddle Strap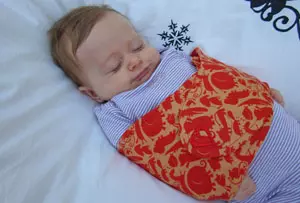 One swaddle weaning product we love is the Swaddle Strap by Anna & Eve. This is an "arms only" swaddling product, making it perfect for transitioning your baby from a full swaddle to no swaddle, when you want to start with allowing the legs to be free, first.
The Swaddle Strap's unique two-strap design ensures baby's safety, while the little "arm pillows" fit snugly over baby's arms, making it virtually impossible for baby to break free of the swaddle. As Anna and Robert (creators of the product) put it, even their own daughter, a "baby Houdini", couldn't worm her way free from the Swaddle Strap!
The Swaddle Strap's design makes it ideal for warm weather (something those of us in the U.S. are experiencing right about now) since it doesn't require you to wrap baby in a heavy blanket. And, since your baby's legs are free, it's easy to keep him swaddled during diaper changes (something swaddle blankets don't allow for).
The Zipadee-Zip
Another product we think is completely cool: the Zipadee-Zip! Innovative product? Super cute name? Yes to both! The Zipadee-Zip is specially designed to wean your baby away from her snug swaddle blanket. It's sweet star-shape design allows a baby freedom of movement, while still keeping baby feeling snug and safe.
Zipadee-Zip comes in two materials: lightweight, breathable cotton (to ensure baby stays cool) or heavier fleece (perfect for colder weather!) Even better? Zipadee-Zip blankets are available in a variety of cute patterns, so it'll be easy to find one your baby loves. And when we say "your baby", we, of course, mean "you." 😉
If you're planning to use a Zipadee-Zip to wean your baby from his swaddle, note this tip from the Zipadee-Zip site:
"SIZING TIP: A smaller fit often aids in the transition from swaddle-time to sleep-time.  Many parents will get a size Small and a size Medium so that once the transition is made off of the swaddle, the baby can be moved to a size Medium for full arm extension and freedom of movement."

Whether you use a product to wean your baby from her swaddle or not, keep in mind that weaning itself, of any kind, can be challenging. Be prepared to be patient, and stay in tune with your baby. If the first few nights (or naps) of weaning from the swaddle are just terrible, there's no shame in putting off the weaning by a week or two and then trying again! You'll guide the process, obviously, but your baby's a part of things, too. 🙂
Nicole's Note:
"As with many new things, it will take your baby time to adjust. The first few days may be the most difficult, but if you slept with a pillow for a long time and then your doctor told you you couldn't, wouldn't you take a few days/weeks to adjust, too? :)"
*Babies who are regularly swaddled very tightly can develop a condition called developmental dysplasia of the hip (DDH). This serious condition can lead to limping, pain, and arthritis. Check out this article for more information.
Please be sure to pick up your FREE copy of 5 (tear-free) Ways to Help Your Child Sleep Through the Night, our e-Book with tear-free tips to help your baby sleep better. For those persistent nighttime struggles, check out The 3-Step System to Help Your Baby Sleep (babies) or The 5-Step System to Better Toddler Sleep (toddlers). Using a unique approach and practical tools for success, our e-books help you and your baby sleep through the night and nap better. For those looking for a more customized solution for your unique situation with support along the way, please consider one-on-one baby and toddler sleep consultations, where you will receive a Personalized Sleep Plan™ you can feel good about! Sometimes it's not that you can't make a plan. Sometimes you're just too tired to.
Disclosure: The Baby Sleep Site received a complimentary Swaddle Strap and Zipadee-zip for review purposes but has not been otherwise compensated for its reviews of these products.