"My newborn baby was sleeping so well…what happened??"
Sound familiar? We hear this all. the. time. Our answers vary, depending on the unique baby in question. In our experience, the answer can be anything from teething to illness to temperament to the birth of a new sibling to a nap transition.
But often, our answer is – sleep regression.
Common Sleep Regressions
Generally, we offer up a diagnosis of sleep regression for babies and toddlers who are the following ages:
6 Week Sleep Problems
But recently, we've been hearing more and more from parents about their 6-week old babies going through what seems like a sleep regression. Their baby was sleeping pretty well (for a newborn, anyway).
But, around 6 weeks old, mom and dad are up every hour and the baby is feeding constantly…what gives?
Is this a 6-week sleep regression, or is it something else?
Sleep Regression Signs and Symptoms
First, let's start with the definition of 'sleep regression'. Remember, a sleep regression generally describes a phase or season in which a baby who normally sleeps well suddenly starts waking more often at night and refusing naps (or taking very short naps) – for no apparent reason at all.
Common signs of a sleep regression include:
Increased fussiness and crying (aka major crankiness!)
Increased night waking and/or shortened or missed naps
Changes in appetite
Extra clinginess and a need for more cuddle time

6 Week Sleep Regression, or 6 Week Growth Spurt?
If your 6-week old baby is currently struggling to sleep well, you may be looking at that list and nodding your head – it may be that your baby has all those symptoms!
But here's the thing to remember – most babies also go through a pretty pronounced growth spurt at 6 weeks, too. And, that growth spurt will likely have your baby waking more often, and seeming to be fussier than usual, simply because your baby will be hungrier than usual, and will need more feedings.
So which is it? Sleep regression, or growth spurt?
Both, actually – it's a double whammy!
In addition to a short, 2-3 day (or perhaps 1 week) growth spurt at 6 weeks, most babies also experience something that Dr. Weissbluth calls "the peak of fussiness". By 6 weeks of age, most babies are growing out of their drowsy newborn state, and are starting to perk up and notice the world. And that world is quite overwhelming for them – so many sights and sounds and smells! What's more, all that observing can really wear a baby out, causing overtiredness and increased fussiness.
If your 6 week old is struggling with sleep, it's most likely due to this one-two punch – the 6 week growth spurt AND that 6 week "peak of fussiness." (Of course, you'll want to rule out illness or another source of discomfort first, if your baby is extra-fussy around 6 weeks.)
6 Week Sleep Regression – How Long Will It Last?
Take comfort in the fact that this phase won't last long – the growth spurt will last just a few days, and even the "peak of fussiness" will last about a week or so and then gradually improve. It's not nearly as long as a regular sleep regression.
Once this phase passes, you should see your baby's sleep improve again (that is, until the 4 month sleep regression hits!).
Nicole's Note
"I remember when my first son was about 6 weeks old. We were losing it with his fussiness! I was juuuust about to cut dairy from my diet, just in case it was that, when I let Weissbluth's words ring in my head that fussiness peaks at 6 weeks. For us, it was SO true! It slowly started to get better at 7 weeks and beyond. I'm so glad I didn't cut out dairy unnecessarily since I didn't think life would be as good without cheese. However, ironically, when I turned 38, I became lactose intolerant anyway! Strange, but true. So, I am dairy-free now, but now it's to avoid really bad stomach pain, which is actually far worse than my son's fussiness was. :)"
6 Week Old Baby Sleep Tips
When it comes to soothing your baby during the 6 week baby growth spurt, you'll want to stick with gentle techniques – your 6 week old baby is still a newborn, after all!
---
For more help with your 6-week-old, you may be interested in these resources:
---
6 Week Old Baby Sleep Resources and Personalized Help
For do-it-yourself sleep coaching help, check out our VIP Members Area, packed with exclusive content and resources: e-Books, assessments, detailed case studies, expert advice, peer support, and more. It actually costs less to join than buying products separately! And this is one baby sleep resource that will grow with your child – our member resources are designed to help you during the newborn stage, as well as the baby and toddler stages! As a VIP member, you'll also enjoy a weekly chat with an expert sleep consultant, as well as access to ALL our newborn resources.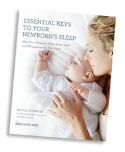 Need help encouraging your newborn to sleep better, and to sleep longer stretches at night and during the day? We have a great resource designed to do just that. Check out Essential Keys to Your Newborn's Sleep, the latest e-Book from The Baby Sleep Site®. Available in PDF format as well as a variety of e-reader formats, Essential Keys to Your Newborn's Sleep is the tired parents' #1 newborn resource. Developed by Nicole and Miriam (a lactation consultant, nurse, and Baby Sleep Site® sleep consultant), Essential Keys lays out everything you need to know about helping your baby to sleep better right from the start. It also includes information on feeding (both breast and bottle), baby communication, bonding with baby, daily routines, sample sleep schedules, and more. Download your copy today!

Interested in personalized, one-on-one help for your newborn? Why not consider one of our personalized sleep consulting packages? Our consultations allow you to work directly with one of our expert sleep consultants, and to get a Personalized Sleep Plan™ that will work for your family.
First, browse our list of package options and select the one that looks best for your situation.

Browse our list of consultation package options here.

Once you make your choice and purchase, you will immediately receive an e-mail with your Helpdesk login information. You'll be able to log in and get started right away – it's that simple!
Tell us about your 6-week old baby's sleep! Did you (or are you) experiencing what feels like a sleep regression?