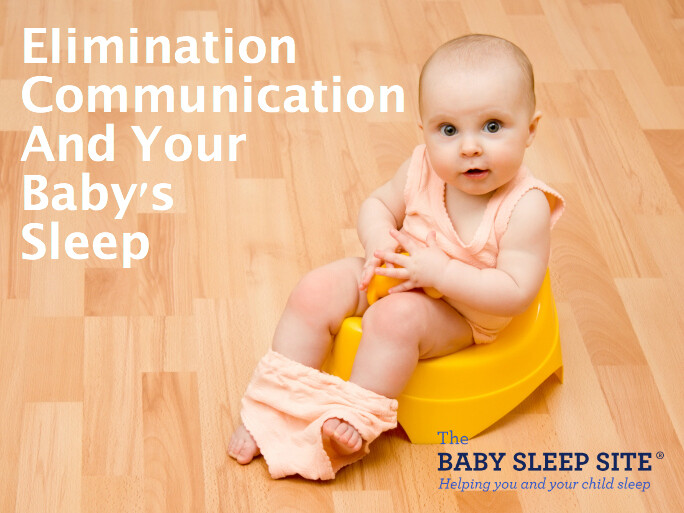 We're shifting gears a bit today and talking about a topic with which some of you may not be familiar: elimination communication (also known as infant potty training). Believe it or not, the concept of elimination communication has been around for ages (literally – people have been doing this for thousands of years, according to experts!) But in recent history, it's fallen out of favor, thanks to diapers. However, there's been a fairly recent resurgence in elimination communication among young parents, who see it as a way to cut down on the cost and environmental hazards of diapers, and as a way to foster early potty training.
This is all well and good – but you know we care about sleep around here. 😉 And that's what we were curious about when we started seeing more and more clients mention elimination communication: how does elimination communication affect a baby's sleep?
Let's take a look!
What is Elimination Communication, Anyway?
Simply put, elimination communication is potty training for babies. I know many of us in the Western world see potty training as something that you wouldn't start until the toddler years, but elimination communication is based on the idea that your baby sends out subtle cues when he has to pee or poop – and if you learn these cues, you can respond by hustling him to a potty (or even a large bowl, if no potty is available) and letting him "go" there.
I know it may sound odd to many of us, who have grown up and are now raising children in the age of disposable diapers, but truly, people have been doing this for centuries. And it's easy to imagine why, right? If you were a hunter-gatherer living in prehistoric times, what would be easier? Wrapping your baby's tush in fabric, and then having to launder it every time it got dirty, or simply helping him do his business right on the ground?
Why Do Elimination Communication in Modern Times?
But why would parents want to do this now, in the 21st century? We have a zillion kinds of diapers to choose from, we have washing machines in our homes, and many of us lead lives that don't exactly lend themselves to letting our babies pee or poop at will, whenever they want to. So why would a 21st century parent want to try this?
Well, for starters, advocates of elimination communication say that it's an incredibly bonding experience between parent and baby – elimination communication requires you to spend lots of time learning your baby's cues and signals, not to mention spending a lot of time with your baby, watching for those cues and signals. Many attachment parents also practice elimination communication at home – and really, attachment approaches and elimination communication fit under the broader category of responsive parenting.
Other parents use elimination communication for more immediate, practical reasons – they want to avoid the cost and/or environmental impact of diapers, for example. Other parents use it as a way to avoid common complications of diapers, like chronic diaper rash for babies with sensitive skin.
How Do I Do Elimination Communication With My Baby?
We've covered the what and why of elimination communication – now, on to the how! Well, the how and the when, that is. First, we need to talk about when to start working on elimination communication. Experts actually recommend that you start this process between birth and 4 months – that allows you plenty of time to learn your baby's elimination cues (grunting, squirming, arching, etc.) from an early age, and it allows your baby to develop more predictable elimination habits.
You can also time your trips to the potty based on feedings and morning wake-up times. And you'll need to make more trips to the potty in the morning, and fewer in the afternoon. Of course, the timing of potty trips changes as your baby grows – by the time your baby is 6 months old, she'll probably be able to "hold it" for close to an hour, while a newborn obviously can't hold it at all.
Now, as for the how – when it's time to visit the potty with your baby, you'll want to be sure to cradle baby securely over the potty. For younger babies, by the time your baby can sit up securely, you can seat her on a child potty. Next, you'll make your cueing sound (many parents make a "psssssss" sound). Over time, the more you do this, the more your child will associate it with peeing or pooping. This "invites" your child to go to the bathroom. If your child has to go, she'll go at your cue. If she doesn't, she'll arch or resist being held, and you'll know you should try again later.
For great insights on the "when" and "how" of elimination communication, check out this series of blog articles.
Does Elimination Communication Affect Sleep?
Okay, here's the million-dollar question: how is elimination communication going to affect your baby's nighttime and nap time sleep? Because here's the thing – babies and toddlers who are sensitive to their bladder and bowels (which often happens during potty training) do tend to wake more often when they have to pee or poop, or when they've wet/soiled themselves. For instance, if you're working on elimination communication during the day, but use a diaper at night, your baby may be much more sensitive to a wet or dirty diaper than a baby who spends all day in diapers, and may therefore wake early from a nap, or wake more often at night. (Of course, that's not true for all babies. Some babies, even those who go diaper-free during daylight hours, may sleep right through a wet or soiled diaper!)
Andrea Olson, the face behind the website GO Diaper Free, has this to say about how elimination communication affects sleep:
"I personally believe that nighttime EC is important… but only if it provides *everyone* in the family with more restful sleep. Some babies will become dry at night naturally after achieving daytime dryness through successful daytime EC with no nighttime EC practice at all! Some will wet that back-up every night till 36 months comes along.

It really depends.

My suggestion for you: give nighttime EC a good, solid try… and ONLY keep doing it if it provides you all with better sleep."
Do I Have To Do Elimination Communication At Night?
Now, here's the thing about elimination communication… There's no "have to" involved. There are no rules! Some parents may choose to go diaper-free 24/7, practicing elimination communication around the clock. Other parents may do it during the day, but opt for diapers at night. Still, other parents (especially working parents whose childcare providers aren't willing to do elimination communication) may choose to do it in the evenings and on weekends. Truly, it's up to you how this plays out.
If you're a co-sleeping attachment parent, then you are no doubt already well-prepared to wake often during the night and tend to your baby. In that case, you may want to do 24-hour elimination communication. But if your baby sleeps in a separate room, it will be a lot tougher to do nightly checks (particularly if your baby is older and has dropped all or most of his night feeds).
When it comes to nighttime elimination communication, it's best to use your judgment, and to weigh your sleep needs against your "potty" goals. In general, it's best not to put too much pressure on yourself. If doing elimination checks all night long is exhausting you completely, then go with a diaper for a while and catch up on sleep.
Elimination Communication Resources
Now, we're not experts on elimination communication (sleep, yes – but not EC!). So we've included some great resources for you to browse, should you decide you want to try elimination communication with your baby.
I found these websites really helpful, and full of great elimination communication info:
Baby Sleep Help That Respects Your Choices – No Judgment Here!
There are as many ways to parent as there are parents. At The Baby Sleep Site®, we are 100% committed to helping you sleep coach in a way that matches your parenting style, philosophies, and goals. Whether you want to use diapers round the clock, or whether you want to use elimination communication 24/7, our team of expert sleep consultants can help! Get in touch with a consultant today, and she'll create a Personalized Sleep Plan™ that takes into account your unique parenting goals.

Browse our list of consultation package options here.
Once you make your choice and purchase, you will immediately receive an e-mail with your Helpdesk login information. You'll be able to log in and get started right away. It's that simple!
What do you think of elimination communication? Have you tried this with your baby?
Join our VIP Members Area packed with exclusive content and resources! YOur VIP subscription includes e-Books, assessments, detailed case studies, expert advice, peer support, and more. It costs less to join than buying products separately! As a VIP member, you'll also enjoy a weekly chat with an expert sleep consultant.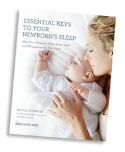 Newborns really can sleep long stretches during the day and at night – you simply have to use appropriate, gentle techniques to get there! Our newborn e-book, Essential Keys to Your Newborn's Sleep, outlines a number of gentle, baby-centered ways you can encourage better sleep from your newborn. Learn how to create sleep-inducing routines and schedules, how to bond and communicate with your newborn, and more!

Persistent nighttime struggles demand a more intensive approach. Check out The 3 Step System to Help Your Baby Sleep. Using the same unique approach and practical tools for success, this e-book helps you and your baby sleep through the night.

Can't decide which product or service is right for you? Visit our Getting Started Page for help.