If you have not read the other parts of this sleep training series, I suggest you start at Part 1.
In part 3 of my sleep training series, I went over the Fading method, a no-cry (or limited crying) sleep training method. Today, I will discuss "The Chair Method". This is the first of what I would call a "crying method", however, you don't leave your baby unattended in the room at all. The idea is that you start by doing your normal bedtime routine and putting the chair very near the crib and sit on it while your baby falls asleep. The goal is not to help your child fall asleep, nor help him/her calm down or anything like that. You are generally not supposed to give your child any attention. The reason you are in the chair is only to reassure them that you are there with them. If you have successfully implemented a bedtime routine, your child will very well know what he/she is supposed to do at this moment. Each night you move the chair further and further away from the crib until you are right outside the door, and eventually, when you no longer need the chair, at all.
As you might suspect, this method can be very difficult, depending on temperament, and can take many days or weeks. It can be difficult to avoid engaging with your child and it will likely be a little confusing to the child (particularly younger ones) when you don't. However, with time and consistency, this can be a good option for parents who do not want to leave their child alone to cry but other methods have not worked, either. As with any sleep training method, it's important to commit to it 100% for at least one or two weeks before you decide it isn't working. Consistency is still key!
Get Personalized Sleep Help You Can Feel Good About

Sleep training can be tough – but you don't have to go it alone! Our consultants at The Baby Sleep Site® are standing by, ready to create a Personalized Sleep Plans® for your family that includes detailed guidance on how to sleep train. Even better, once you have your Personalized Sleep Plan®, your consultant will walk you through each step of implementing it at home.
Sleep Resources That WORK
For those persistent nighttime struggles, check out The 3 Step System to Help Your Baby Sleep. Using the same unique approach and practical tools for success, this e-book helps you and your baby sleep through the night.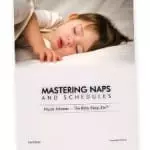 If you're looking for ways to get your baby or toddler into a healthy sleeping routine during the day, I encourage you to explore Mastering Naps and Schedules, a comprehensive guide to napping routines, nap transitions, and all the other important "how-tos" of good baby sleep. With over 45 sample sleep schedules and planning worksheets, Mastering Naps and Schedules is a hands-on tool ideal for any parenting style.
Or, join our Members Area packed with exclusive content and resources: e-Books, assessments, detailed case studies, expert advice, peer support, and more. It actually costs less to join than buying products separately! As a member, you'll also enjoy a weekly chat with an expert sleep consultant.
Continue to Part 5 of this Sleep Training series.
Does this Chair Method sound like a good sleep training method for you and your family? Have you tried The Chair Method before? Share your tips with our village!