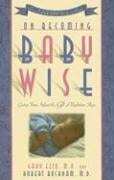 On Becoming Babywise is a popular book among many parents, but receives a lot of criticism from pediatricians and other parents for being too strict or harsh, particularly for newborns. In an article published way back in 1998 by The American Academy of Pediatrics (AAP) News, the author states that Babywise advice is linked to dehydration, failure to thrive, and more. However, others say that is simply not true. Who is right and what is right for your baby? This article will discuss what Babywise is and why it may or may not be right for your baby.
On Becoming Babywise
What is the Babywise method? The Babywise method indicates you should feed on schedule every 2 1/2 to 4 hours (depending on age) rather than on-demand after your baby is a week to 10 days old. It is also routine-based that indicates that you should eat-play-sleep, in that order, every time. This means that your baby wakes up, you feed them, your baby plays, then goes to sleep, and repeats this all day long. The book outlines how long between feedings at various ages and indicates your baby should sleep through the night from an early age (around 8 to 12 weeks, for the most part).
The idea behind the eat-play-sleep routine is that your baby will know what to expect every day, providing predictability and security to both of you. Your baby will take a full feeding since they are not too sleepy falling asleep while eating, will not associate feeding with sleeping (a common reason for baby sleep problems), and have a much better/happier awake period being both full and rested.
Babywise Criticism
So, what's the problem? Because of how strict the Babywise routine can appear to be, some pediatricians belonging to the AAP have indicated that babies are at higher risk to be diagnosed with "failure to thrive" and becoming dehydrated. The feeding schedule is considered stringent with feedings every 3 hours from birth (4 hours once your baby is older). Die-hard Babywise enthusiasts will delay feeding their baby until the "right" time rather than on demand even if baby is hungry. Attachment parenting advocates would say this is disrespectful of the baby by not feeding on cue. After all, it's not like your baby can go to the pantry to eat like you can when you're hungry.
In addition, sleep-wise, the Babywise Method is considered even harsher than The Ferber Method because Babywise advocates letting your baby cry in 20-minute intervals, even as a newborn (Ferber says to wait until 4 to 6 months). In order to get to an eat-play-sleep routine AND have feedings every 3-4 hours, depending on age, your baby needs to be napping in fairly long intervals (1-2 hours each time or so).
Of course, we know that not all babies nap for long periods (some babies won't nap at all) and short naps are common up through 6 months old. If your baby wakes up early from a nap, Babywise indicates you should allow your baby to cry to go back to sleep, even at a young age. Considering some people are thoroughly against cry it out methods to begin with, allowing your newborn to cry for 20 minutes is a lot to ask a new mom, in many cases, even if that same parent may decide to do cry it out when their baby is older.
Why Babywise May Not Be Right for Your Baby
In some ways, I think Babywise gets a bad rep in that it states VERY clearly that if your baby is hungry sooner than the "scheduled" time, then you should feed them. Some pediatricians have submitted their own reports about how Babywise is not dangerous.
As with anything else, I think some people are more prone to follow books to the letter than others. Or, maybe they just didn't read that page (or pages). Or, maybe they didn't read the book at all and heard about the method from a friend. With any book, including mine(!), you still need to apply what YOU know about YOUR baby and make modifications.
No one knows your situation or your baby better than you do!
It is possible to do eat-play-sleep but not be so stringent that you HAVE to feed your baby as soon as she wakes up, for example. As long as you use the correct amount of awake time, it's fine to feed them 15 minutes after they wake, if they are not hungry because they didn't take a two-hour nap. If you follow 12 Hours by 12 Weeks, parents have the same issue.
With my boys, they simply could NOT wait 3 hours between feedings until they were months old (not weeks) and they actually never got to 4 hours between milk feedings. I feel that it's a healthier way to learn to eat when you're hungry and not let yourself get TOO hungry that you overeat. But, that's just my personal philosophy. Even when my sons were 5 and 3 years old, they ate something approximately every 2 1/2 hours due to how active they were and I was okay with that (after all "they" say to eat more frequent smaller meals, right? I do the same).
My boys also did NOT take two-hour naps, either, and sticking to awake times that were outside my eldest's comfort zone was out of the question. Add in that babies get older and can stay up longer between sleep, but not necessarily wait longer to eat, and it can be difficult to make Babywise work for every baby. There are a variety of reasons that your baby may or may not "fit" in with the Babywise Method. It doesn't mean you can't borrow from Babywise and make your own routine, though, if you do yearn for predictability or feel your baby would benefit from it! Maybe you do eat-play-sleep-read-eat-play-sleep-read… Maybe you do eat-play-sleep-walk-eat… there are many ways you can make a routine without it being a particular book's routine. Make it work for you and your baby.
As for sleep, I wasn't willing to let my newborns cry for more than a few minutes, let alone 20 minutes. Does that mean that you can't use Babywise? No. Simply work on the routine and help your baby learn to sleep in the gentlest way possible. As your baby gets older, their brain will mature, sleep will organize, and they will be able to learn how to self-soothe. Even if Babywise isn't exactly right for you, it doesn't mean you can't find something that is.
If you got Babywise to work for you, that's great! For others, their baby will be hungry, and possibly nap even worse due to being hungry, nursing mothers may have a low milk supply go too long between feedings, or may just find it impossible to get their baby to nap long enough to get to the next "eat" time. If you can't get it to work, don't feel like you've failed at all. Just find your baby's own routine and plan to use books as guides, and not as the end all, be all.
Other Ways to Help Your Baby Sleep
If you're looking for ways to get your baby or toddler into a healthy sleeping routine, please be sure to pick up your FREE copy of 5 Ways to Help Your Child Sleep Through the Night, our e-Book with tear-free tips to help your baby sleep better. For those persistent nighttime struggles, check out The 3-Step System to Help Your Baby Sleep (babies) or The 5-Step System to Better Toddler Sleep (toddlers). Using a unique approach and practical tools for success, our e-books help you and your baby sleep through the night and nap better. For those looking for a more customized solution for your unique situation with support along the way, please consider one-on-one baby and toddler sleep consultations, where you will receive a Personalized Sleep Plan® you can feel good about! Sometimes it's not that you can't make a plan. Sometimes you're just too tired to.
What Do You Think About Babywise?