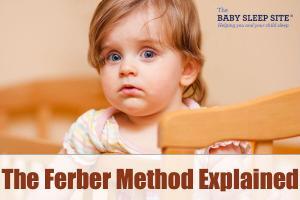 Sleep training comes in all shapes and forms; there are so many different ways you can teach your baby healthy sleep habits!
One of the most popular sleep training methods is The Ferber Method, also known as Ferberizing, which involves letting your baby cry at increasingly longer intervals until they are sleeping through the night and taking longer naps.
Developed by Dr. Richard Ferber, the director of The Center for Pediatric Sleep Disorders, at Children's Hospital Boston, The Ferber Method of sleep training can be an effective way to help your child learn to sleep better. But what is the Ferber method, exactly? How does it work? What age can you start it and is it harmful? Can you adapt it to fit your situation? We answer those questions in today's post – read on for details!
Why is The Ferber Method Used?
The Ferber method has the same goals as any method of sleep training: that is, to wean your child away from sleep associations and help him learn to fall asleep without your help. This, in turn, lays the foundation for sleeping through the night; if your child can fall asleep without help, then he can fall BACK to sleep quickly when he wakes between sleep cycles at night, which is normal.
When using The Ferber Method, also known as Ferberizing or the check-and-console method, you gradually teach your child how to fall asleep without your assistance through a series of incremental check-ins. Over time, you increase the amount of time between your check-ins. This allows your child space and time in which to practice falling asleep without using sleep associations while also providing periodic reassurance and soothing.
Ferber Method Age
The best age for The Ferber Method is 6 months old before your baby is sitting up and standing up, but after you stop swaddling your baby. Some families start at 4 months old and others wait until over a year old. There isn't a "right" or "wrong" time and you know your baby best! I do not generally recommend The Ferber Method for babies younger than 3-4 months old, but every situation is different.
Keep in mind that, based on my 10+ years of experience working with families personally, I do disagree with the book about when a baby can sleep all night without feedings and, therefore, if you plan to implement The Ferber Method exactly as outlined without feedings, then you should wait until your baby is capable of going 11-12 hours without consuming milk.
How Does The Ferber Method Work?
First, as with any sleep training method, you start by laying a healthy foundation for sleep. This means going through all the steps in your pre-sleep training checklist, and making any necessary changes to your child's sleep and feeding schedule.
Once you've laid the groundwork, you can start Ferberizing. Start by laying your child down drowsy but awake at the start of bedtime, then leave the room. If your child fusses or cries, go in to check in and offer comfort, but be sure to leave while your child is still awake. If your baby is not fussing or crying, simply stay out of the room. From there, each night (or every few nights), you would gradually increase the time between your checks, allowing your child more and more time to learn to self-soothe and fall asleep independently.
Your plan for timed check-ins may look something like this:
Day 1 – 3 min (1st interval); 5 min (2nd interval); 10 min (3rd interval); 10 min (remaining intervals)
Day 2 – 5 min; 10 min; 12 min; 12 min
Day 3 – 10 min; 12 min; 15 min; 15 min
Day 4 – 12 min; 15 min; 17 min; 17 min
Day 5 – 15 min; 17 min; 20 min; 20 min
Day 6 – 17 min; 20 min; 25 min; 25 min
Day 7 – 20 min; 25 min; 30 min; 30 min
Now, the pace above moves pretty quickly. When it comes to the exact amount of time you use for your check-in intervals, you can use your judgment and move at a pace that works for you and your baby; that may mean you need to move more slowly.
What about separation anxiety and is this method flexible?
Definitely! The best sleep training methods are those that you can adapt to fit your needs and circumstances. With The Ferber Method, you can increase or decrease the amount of time between your check-ins as needed; you can also use the same check-in intervals for several days at a time if you think your child needs more time to get used to falling asleep independently.
Babies go through peaks and valleys for separation anxiety beginning around 7 months old. If you are concerned your baby is going through a peak, consider waiting to sleep train, having short intervals, or consider sleep training while staying in the room. You can still implement this same method sitting on a chair in the room.
Be aware, that some children get really frustrated if their parents stay in the room during sleep training, as it can be very confusing to have mom or dad so close by but not offering comfort or putting the baby to sleep. Of course, the check-ins allow you to reassure your baby periodically, teaching them that whenever you leave, you come back, which is the primary reason for separation anxiety in the first place.
Finally, HOW you offer comfort during your check-ins is flexible, too. Some families prefer to soothe just with their voices, while other families will pat their babies' heads, rub their backs, etc. Other families prefer to pick their children up briefly. All of these can work, provided you don't inadvertently end up putting your child to sleep during one of your check-ins (since that's what your child is supposed to be doing on her own). The key is to find the right approach for your baby. The first few nights are usually the worse no matter what strategy you choose to try first.
Is The Ferber Method Safe or Harmful?
In general, The Ferber Method is considered safe and not harmful to your baby. Crying for small durations of time with periodic reassurance from parents will not cause long-lasting damage. However, keep in mind that it is important to be "fixing" the right problem.
There are many reasons a baby wakes at night and letting a baby cry for many hours when he is hungry or sick would not be the right thing to do. There is a difference between letting a 4-month-old cry to get him to sleep 12 hours without eating when some 4-month-olds still need two nighttime feedings versus a 12-month-old waking every hour simply to be held at night and everything in between.
I strongly recommend that you view your baby's sleep in a holistic fashion and ensure you are setting her up for success. You should look at the entire daytime schedule, feedings, health, etc. Lay the proper foundation and sometimes very little crying is necessary to help her sleep through the night!
The Ferber Method: Making It Personal
This article offers a general overview of how the Ferber method works – but putting this sleep training method into practice may be tough indeed! Many families wonder how to cope with the crying and fussing between check-in intervals, or how long to do the check-in process each night. If you want a more personalized approach to The Ferber Method, we can give you just that. Connect with one of our expert consultants; she'll walk you through every step of sleep training and will provide detailed answers to your most pressing sleep training questions.
Purchase a sleep consulting package today, and connect with your expert sleep consultant!
Once you make your choice and purchase, you will immediately receive an e-mail with your Helpdesk login information. You'll be able to log in and get started immediately!
Do you have your own tips for parents who are Ferberizing? Share them below!