In some cases, a dream feed can be a great way to "top off" your baby at night, before you go to bed, and guarantee yourself an extra-long stretch of sleep during the night. But in other cases, a dream feed is simply a sleep crutch that doesn't actually improve sleep (and certainly doesn't promote sleeping through the night) and tends to cause more problems than it solves. But how can you know whether or not a dream feed is a good idea for your baby? We have dream feed do's and don'ts for you in today's article – read on for details!
Dream Feed DOs
A dream feed can be a true blessing and a great tool when used in the following scenarios:
A dream feed can work well for babies who are younger than 6 months.
Dream feeds are especially great for newborns (provided you don't wake your newborn up too much during the feed!)
A dream feed can be good for breastfeeding moms who have supply problems and need to nurse more frequently, or for breastfeeding moms who also work outside the home.
Dream feeds work well for babies who are able to wake up enough to feed, but not so much that they're fully awake.
Dream Feed DON'TS
A dream feed isn't a silver bullet solution to sleep problems, however. Dream feeds usually won't work well in the following situations:
A dream feed doesn't usually work well for babies who are older than 9 months (because by this age, most babies don't need any night feedings and are ready for night weaning).
Dream feeds won't work well for babies who are extra-alert and perceptive; you run the risk of waking them too much when you wake them for the dream feed.
A dream feed will do nothing to fix a persistent sleep association. If your baby consistently wakes shortly after the dream feed, it's likely you have a sleep problem on your hands that involves more than simple hunger.
Will A Dream Feed Help Your Baby Sleep?
So, will a dream feed help your baby? That depends on a lot of unique factors, as I mentioned earlier, but here's the main thing to remember: if your baby is breastfeeding, is not super-alert and responds well to being slightly roused at night, and is under 6 months old, then a dream feed may be worth trying, as a tool to improve sleep. But if your baby is over 6 months old, and if your baby usually wakes shortly after the dream feed, then it may be time to identify your baby's sleep associations, and to start working on sleep training.
Baby Sleep Help From The Baby Sleep Site®
For those persistent nighttime struggles, check out The 3 Step System to Help Your Baby Sleep. Using the same unique approach and practical tools for success, this e-book helps you and your baby sleep through the night.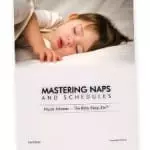 If you're looking for ways to get your baby or toddler into a healthy sleeping routine during the day, I encourage you to explore Mastering Naps and Schedules, a comprehensive guide to napping routines, nap transitions, and all the other important "how-tos" of good baby sleep. With over 45 sample sleep schedules and planning worksheets, Mastering Naps and Schedules is a hands-on tool ideal for any parenting style.
Or, join our Members Area packed with exclusive content and resources: e-Books, assessments, detailed case studies, expert advice, peer support, and more. It actually costs less to join than buying products separately! As a member, you'll also enjoy a weekly chat with an expert sleep consultant.
If you are looking for a more customized solution for your unique situation, and want plenty of support along the way, please consider one-on-one baby and toddler sleep consultations. Your consultation package will provide you with the chance to interact one-on-one with a trained sleep consultant, who will create a Personalized Sleep Plan™ for your family and then work to help you implement it at home.

Have "dreaming on your mind?" check out our article all about babies and their dreams!