Did you know that your baby can develop habits at lightning-fast speeds? It's true; even though she cannot walk or talk yet, she can develop a deeply-rooted habit very, very quickly. This explains why, after just a few days of rocking your baby to sleep, she will come to expect to be rocked. And this is why many babies quickly come to need a pacifier to calm down, even if they have only used the pacifier for a week or two.
Babies can be especially prone to develop bad naptime habits. Why? Because that is when we parents are up and about, and are likely to jump in and "help" (by rocking, offering a pacifier, using the swing, etc.) if baby is fighting sleep. And, let's be honest, most of us would do just about anything to help our babies take long, restful naps, because that translates into down-time for us!
So, what does this fact mean for us as parents? Two things: first, do not feel bad if your baby develops a bad sleeping habit. Sometimes, during our babies' illnesses or bouts of teething, we have to help them fall asleep occasionally. And newborns often need to be 'parented' to sleep. This is understandable, and if our babies develop a sleep association as a result, it is not because we did anything wrong.
Second, this fact is a good reminder to all of us to watch for bad sleeping habits that our babies may be developing, and to take action to correct those habits when we feel it's necessary.
So, what kinds of bad napping habits should you be on the lookout for? And how can you correct them? Let's take a look.
5 Bad Napping Habits Your Baby May Develop
Nicole's Note:
"One of the more common sleep problems we address in a Personalized Sleep Plan is how to help baby nap in the crib or pack-n-play, instead of a caretaker's arms. We've even had 18+ month olds still napping in arms. While it's wonderful to cuddle your baby, keep in mind your baby will take naps over 2,500 times before she's 4 years old! That's a lot of holding, which would be wonderful if there wasn't laundry, vacuuming, showering, or eating to do. Some new moms hardly feel like they have time to shower or eat, and the stress mounts. Sometimes having 'you' time can be enough to recharge and it's important."
How To Avoid Bad Baby Nap Habits, and Help Your Baby Nap Better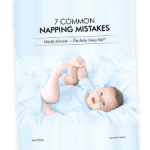 Short or non-existent baby naps can be so frustrating – but you don't have to suffer through them! We have a ton of nap resources – and one of those nap resources is our free guide, 7 Common Napping Mistakes. Are you making any of these common nap mistakes? If so, they may be the cause of your baby's non-napping. So download your free guide today, and start putting the tips to use as early as your baby's next nap!

*****************************************************************************************
Special Members-Only Nap Resources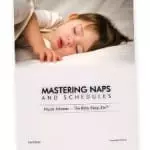 Mastering Naps & Schedules — For starters, all Baby Sleep Site® members receive unlimited access to all our e-Books. That's right – for the price of your membership, you can read all our e-Books at no additional cost! That includes Mastering Naps & Schedules. With over 45 sample schedules (all available for you to view in the Members Area), Mastering Naps & Schedules is THE e-Book for tired parents of non-napping kiddos! We tackle all your top napping issues, including how to get your baby or toddler to take longer naps, how to get your child's naps to be more consistent and predictable, how to manage nap transitions, how to encourage good napping while traveling – and more! Become a member today, and access the e-Book instantly – no download necessary!


Nap Tele-Seminars — Another great members-only resource? Our tele-seminars. Hosted by Nicole herself, these 30 – 45-minute tele-seminars offer you insider-information and our trademark sleep coaching methods and techniques. We have several awesome nap-focused tele-seminars, including one on managing nap transitions, and one on lengthening short naps! Listening to these seminars is like getting a coaching session from Nicole! She'll walk you through the basics of dealing with common nap problems and give you tried-and-true strategies you can implement at home.
For more details about all our member benefits (including weekly chats with a trained sleep consultant and 20% off ALL sleep consulting packages), visit our membership page, and consider becoming a member today!


*****************************************************************************************
While our Members Area is great for DIY moms who prefer to tackle sleep challenges on their own, we know that other moms much prefer to go straight to one-on-one help. Well, good news – we offer that, and you can start getting the personal help you need TODAY! You can teach your baby a new way to nap – and we can help. We have helped thousands of families around the world with their babies' nap trouble, and we can help you, too! Take a look at our consultation packages, and see which one looks like a good fit for you.
Click here to see all our personalized consultation packages.
Once you purchase, you will immediately receive access to the Helpdesk, and you can set up your account, fill out your Family Sleep History form, submit it to a consultant, and get started on the journey to better sleep!
Want more information about how personalized help works? Check out our FAQ page here, and get answers. You can also take a tour of the Helpdesk.
Is your baby developing any of these bad napping habits? How are you working to correct them?