New to Sleep Training Bootcamp? Check out our overview page to find out what Sleep Training Boot Camp is all about, and to catch up on past Boot Camp articles.
BOOT CAMP, PART TWO: Making Feeding and Schedule Changes (Plus an Optional Bonus Step)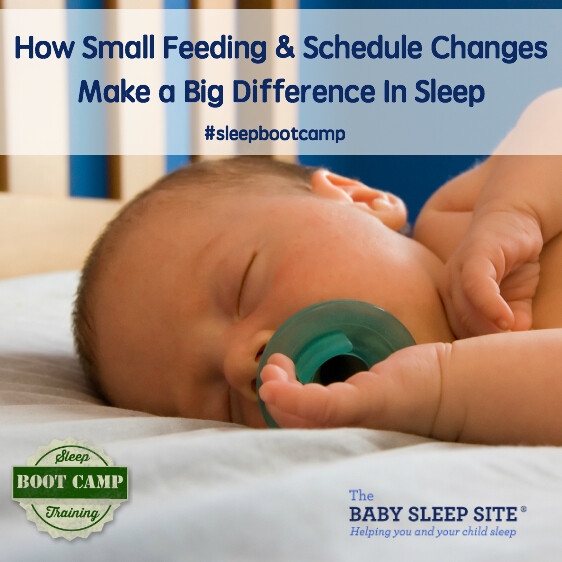 A few days ago, we talked about how important it is to prepare before sleep training. Today's boot camp article offers another preparation tip – now that you have (hopefully!) done the 5 things you need to do before sleep training, the next step is to take a long, hard look at your baby or toddler's current feeding and sleep schedule.
Why? Simple – because in our years of working with families, we have found that sometimes, making adjustments to feeding, and to the sleep schedule, makes a big impact on sleep. In fact, some parents have discovered that simply adding in one or two extra daytime feedings, or shifting the timing of naps, eliminates their need to sleep train at all!
We're not promising that will be true for you, of course, but at the very least, if you have a scheduling issue or feeding problem, making the change now will allow a few days for your baby or toddler to adjust before you start sleep coaching, which is a good thing.
So, let's take these two things separately…
FEEDING
Take a good look at how much your baby or toddler is eating, and then compare that to the recommended averages found on our baby feeding chart. If your little one isn't taking in enough breastmilk, formula, and/or solid food, then up the amounts.
Also, think about when your baby or toddler is eating. Is there a loooooong stretch between your toddler's last meal of the day and bedtime? Maybe offer a bedtime snack. Or try cluster-feeding your baby close to bedtime – offer a series of shorter, smaller feeds before bed. Has your baby gotten into a pattern of eating frequently at night and not much during the day? See if you can begin to gradually shift some of those feeds to daylight hours.
SLEEP SCHEDULE
The timing of your child's naps is what matters here, as well as the morning wake time and bed time. Remember, bedtime shouldn't be too late, as that can make sleep problems even worse. See our (printable!) baby and toddler bedtime by age chart for help with this. Keep an eye on morning wake time, too – as best you can, try not to get your baby up for the day before about 6 or maybe 6:30 a.m.
Naps are key, too – particularly naps that happen late in the day. If your baby's last "nap" of the day isn't over until 6:30 p.m., that's a problem! It's going to push bedtime way too late. Watch the length of your baby or toddler's naps, too – while the last nap of the day can be a short, 30 minute catnap at certain stages (and when you're nearing a nap transition), a truly restorative nap should be about an hour or longer. (Of course, if short and inconsistent naps are part of the reason why you're sleep coaching, then don't stress over this too much; make whatever small changes you can, but know that we'll get into real nap training in another week or so).
Work on making small changes to the feeding and sleep schedule now, and over the weekend. That will set you up for Boot Camp Part #3, when we'll make (and implement!) our sleep coaching plans. As you work on this step, some resources that will no doubt really help you are our sample sleep and feeding schedules by age. Use the sample schedule for your child's age as a template.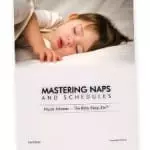 Or, even better, consider picking up a copy of Mastering Naps and Schedules – it has over 45 sample schedules by age, so you will have plenty of scheduling resources to draw from.
BONUS PART 2: Fill out the Sleep History Form
You don't necessarily have to do this part, if you don't have time, but we think it'll be really helpful in planning for sleep coaching.
Now, I know what you may be thinking – "What on earth is a Sleep History Form??" Great question! 😉 The Sleep History is a form that we ask all our consultation clients to fill out prior to starting their consultations. It allows us to get all the background information before our consultants create the Personalized Sleep Plans™ for each family.
It's an exercise that can benefit ANY family who's struggling with sleep. We have heard from lots of clients over the years who have told us that filling out the sleep history helped them so much in the sleep coaching process.
Why? Because the form helps you:
…identify your baby or toddler's specific sleep associations.
…summarize the history of your baby or toddler's sleep issues (when they started, how long they have lasted, if/when they got worse, etc.)
…outline what sleep training (if any) you have tried already. It's key to use your past sleep training experience when creating your sleep training plan (more on that soon), so this step of the form is a vital one.
…summarize your child's current sleep and feeding schedule.
…identify your child's feeding habits and schedule considerations.
…pin down your baby or toddler's temperament.
…summarize your own parenting philosophy (which will have a big impact on the kind of sleep coaching methods you include in your sleep plan).
…identify your sleep coaching expectations.
Many parents have told us that filling out the form is therapeutic. Some have even told us that, by filling out the survey, they were able to clearly see and understand their sleep situation for the first time – there's just something about putting the facts (and your feelings!) down on paper.
Here's what Vikki, your "boot camp encourager", had to say about what filling out the Sleep History questionnaire was like for her:
"Filling out the form put a voice to our problems. I made lots of notes on Lyla's sleep and issues around sleep on my own, but filling out the form made it a narrative. It gave me a comprehensive story to look at and problem solve. It also forced me to think through things that I thought were little or insignificant and how they might be impacting Lyla's ability to self-sooth and learn to sleep on her own. It was an excellent exercise and I highly recommend it for anyone struggling with sleep issues with their little one."
And here's something else to consider – even if you don't plan to do a personalized consultation with a Baby Sleep Site consultant now, if you change your mind in the next few weeks, you'll have your Family History Form all filled out and ready to go. Win! 🙂
So, if you have time this weekend, after working on implementing feeding and schedule changes – sit down and take a little time to fill out the Family History Form. Then, save it – you'll need the info in it to tackle boot camp part #3!
Download a PDF copy of the Family History Form HERE. Or, click this link to automatically download a Word version of the form – great if you want to type your info right into the field provided.

Don't forget that, while you can definitely tackle sleep training boot camp all by yourself, you don't have to. After all, baby and toddler sleep problems can be tough to deal with. Between constant nighttime waking, super-short naps, and an erratic daytime schedule, sleep training may feel downright impossible to you. Not to worry – we can help. Our consultants at The Baby Sleep Site® specialize in creating Personalized Sleep Plans™ that are customized to your own parenting philosophy, and that will NEVER make you feel guilty or pressured. Even better, once you have your Personalized Sleep Plan™, your consultant will walk you through each step of implementing it at home. Think of your consultant as your boot camp instructor, telling you what to do next and providing the constant encouragement you need!
Browse our list of consultation package options here.
Once you make your choice and purchase, you will immediately receive an e-mail with your Helpdesk login information. You'll be able to login and start your Sleep History form right away – it's that simple!
Feeding and schedules can challenge every parent!  You're not alone!

<–Boot Camp Part One: 5 Things To Do Before You Sleep Train
Boot Camp Part Three: Creating & Implementing Your Sleep Training Plan –>