New to Sleep Training Bootcamp? Check out our overview page to find out what Sleep Training Boot Camp is all about, and to catch up on past Boot Camp articles.
BOOT CAMP, PART FOUR: Staying Consistent During Sleep Training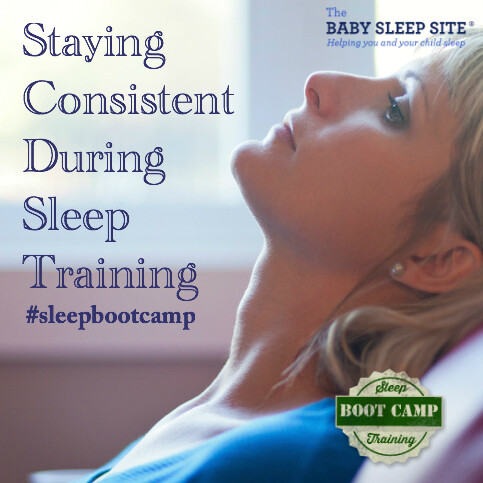 Welcome back, boot campers! Well, here we are, halfway through sleep training boot camp. How are you doing? Are you sticking with it? I know that, at this point, after a week or so of sleep training and using your sleep training plan, you may be starting to feel worn out. Exhausted. Maybe discouraged. In fact, some of you may feel like giving up completely (or at least making massive changes to your sleep plan!)
Vikki and I knew that many of you would be feeling this way right around now, and as we discussed it, Vikki mentioned that she remembered feeling this way herself, when she was working on sleep training her daughter Lyla. And given that Vikki knows exactly how it feels to be discouraged in sleep training, and to want to give up, I thought it would be best if she talked to you today about staying consistent. Vikki also let me know that she had a little secret – the key to consistency, for her, was finding her inspiration.
What is 'find your inspiration' all about? Read on and find out how finding your inspiration can help you stay focused and committed.
Take it away, Vikki!
Staying Consistent With Sleep Training – Vikki's Sleep Coaching Story
It's 9:30p. I have been trying to get my ten-month old, Lyla, to sleep for more than two hours. These hours, added to the time it took to get her down for her two naps today, means I have been in her room working on sleep for more total hours than I had slept the night before. Boo. Hiss.
I consulted my Personalized Sleep Plan™ before starting bedtime to give me some support. I knew what to do. But here I was again – night 20 million of Lyla not sleeping. I was seconds from offering her the breast just to get her go to sleep.
I was frustrated. I was impatient. I was exhausted.
I was on day four of the Personalized Sleep Plan™. The details were all there. What was not there, yet, was my baby's understanding of what I was asking her to do. What I was always asking her to do. SLEEP!
My husband always says to take three deep breaths when I feel overwhelmed. Somewhere between breaths two and three, I had an epiphany. I have to give Lyla better than this version of me. I was not being the gentle, loving mom I know I am. Lack of sleep and the inability to get my child to sleep had started to change the way I was responding to this beautiful little nugget. I am human. I was at my breaking point.
One of the things my consultant, Jen, helped me realize is that my baby doesn't know how to sleep on her own. Others may. Mine, not so much. Much like working with her on walking or using a spoon, I had to teach Lyla about sleep. I had to help her learn to sleep on her own.
My Lyla is what The Baby Sleep Site® calls "persistent". That's the polite word for extremely strong willed. Although, I think every baby that can't or doesn't want to sleep seems to have the will of Superman.
So, I finished my breaths. I worked through the steps of the Plan. I got Lyla to sleep. It took three hours that night. But it was a few minutes less than the night before and I gobbled that small victory up like a hunk of cake. But it wasn't enough to make me feel like there was progress. I collapsed into a messy heap of tears and asked God, the dog, the lamp – anything that would listen – that she find peace so that she might start to see sleep as something to look forward to and not something that made her scream and scream. And scream.
Defining Your Goals, and Finding Your Inspiration
The next morning, I walked into Lyla's room to check on her and just watched her sleep for a minute. It was beautiful. That vision was my goal. I was going to help my baby always find this snuggle of serenity.
As bedtime rolled around on day five of my Personalized Sleep Plan™, I felt like a cliff diver. I was full of adrenalin. Excited. Nervous. Ready. I was going to work the steps and get my baby to sleep. As she reared up for a big cry when I put her into bed, I stood at the side of her crib and realized something. This crib would eventually convert into her toddler bed, then to her full-sized bed. This crib side I've stood at for hours wooing her to sleep was the same place I would stand years from now begging my child, my pre-teen, my teenager to get up. And all at once, I knew that this was JUST FOR RIGHT NOW. These fits about sleep, these sleepless nights, the tears she and I both cried from exhaustion, was so just right now. This, too, shall pass.
I was committed to figuring out how to give her better tools to sleep and I had help in the consultants. We could do this. WE WOULD DO THIS.
And we did. It took a few nights, but Lyla started doing better. She still objected vocally and loudly to having to go to bed, but she found peace much more quickly. As I followed the plan's goals for each night, Lyla found more and more peace. I watched her learn. It was amazing.
Jen advised that we stick to our plan for at least a week (if not two) before making any changes, because it usually takes at least that long to start seeing the effects of recommended changes. I am so glad we did.
So, my fellow mommas fighting the good sleep fight, YOU CAN DO THIS. Find your inspiration. Find the thing that will help you get through, because as you look for a solution that helps baby learn to sleep, you'll need it. And it's there! For me, realizing that this sleep saga is temporary, and that my baby would learn if I kept teaching her gave me the strength to go on.
Plus, I had support. We stuck with the Personalized Sleep Plan™. Based on it, and with help from Jen, we created "Lyla's Sleep Rules", which we follow every night. They helped us be consistent. Lyla got the same actions and reactions from both my husband and I. The rules evolved as Lyla continued to challenge us with her sleepless ways, but having them in place help her know what to expect, and for my husband and I, it kept us on track with how to deal with her.
Remember: You can do this. Find your inspiration to keep going. If nothing else, let it be that the payoff to sticking with sleep training is worth it – your baby or toddler will know how to sleep, making him/her more happy and healthy. And you will finally get some sleep, too!
You Don't Have To Do This Alone…We Can Help!
Vikki had Jen acting has her boot camp coach – Jen created a Personalized Sleep Plan™ that was tailored to the Meldrum family's needs and schedule, and was oriented around Lyla's unique personality and temperament. Having Jen in her corner was key to Vikki's sleep training success – yes, she and her husband put in a ton of hard work, but having Jen there to help coach them along was vital!
You can have your own Baby Sleep Site consultant in your corner, acting as your Boot Camp Coach, too. Simply purchase one of our consultation packages to get started. Then, connect with one of our expert consultants, and get started! Your consultant will create your Personalized Sleep Plan™, and – most importantly – she'll support you every step of the way. Vikki had Jen to coach her through this process; having your own sleep consultant is just what YOU need to conquer sleep training boot camp!
You can do it, sleep training boot campers – don't give up! Keep going! 
<–Boot Camp Part Three: Creating & Implementing Your Sleep Training Plan
Boot Camp Part Five: What You Need To Know About Nap Training –>