This article outlines the average toddler schedule, including feedings, naps and night sleep. If your toddler is having trouble napping, you may be interested in my toddler nap tips. And, for good ideas on feeding your toddler, check out Wholesome Toddler Food. You may also want to encourage your toddler to get involved in his routine by teaching him to tell time with this Melissa and Doug Wooden Shape Sorting Clock.


Two Nap Schedule | One Nap Schedule | No Nap Schedule
Toddler Schedules – General Info
At this age, your toddler should be sleeping through the night, with no night feedings. Obviously, all babies vary, but here are some rough schedules you can use to make your own for your unique baby.
I think of a "toddler" as a 1-3 year old, which is a wide range. Sleep needs change in that time-frame. While your one year old may be sleeping 12 hours at night and 2-3 hours during the day made up of 2 naps, on average, your three year old is likely starting to transition into not napping all together and will do so most likely before the age of four. At 2 years old, the average amount of sleep drops to between 12 and 12 1/2 hours in 24 hours, including just one afternoon nap. The average age for a toddler to transition to just one nap is 15-18 months. Transitioning too soon can have disastrous results with a very cranky toddler.
This article will give an example of 3 different types of schedules, 2 naps, 1 nap and no naps.
7:00 – Wake
7:00/7:30 – Breakfast
9:30 – Light snack if she needs it
10:00 – Morning Nap (at least 1 hour)
11:30/12:00 – Lunch
2:00 – Afternoon Nap (at least 1 hour)
3:30 – Afternoon Snack
5:30 – Dinner
6:30 – Begin bedtime routine
7:00 – Bedtime
7:00 – Wake
7:00/7:30 – Breakfast
9:00 – Light snack if she needs it
11:00 – Lunch
12:00 – Nap (at least 1 hour)
3:30 – Afternoon Snack
5:30 – Dinner
6:30 – Begin bedtime routine
7:00 – Bedtime
7:00 – Wake
7:00/7:30 – Breakfast
9:30 – Light snack if she needs it
12:00 – Lunch
1:00 – Quiet/Rest time (45 minutes to 1 hour)
3:30 – Afternoon Snack
5:30 – Dinner
6:30 – Begin bedtime routine
7:00 – Bedtime
If your toddler is waking too early or going to bed too late, you may be interested in shifting his schedule.
Need Baby and Toddler Sleep Help? We Have the Resources You Need!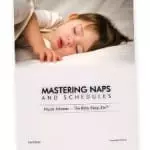 If you're looking for ways to get your baby or toddler into a healthy sleeping routine during the day, I encourage you to explore Mastering Naps and Schedules, a comprehensive guide to napping routines, nap transitions, and all the other important "how-tos" of good baby sleep. With over 45 sample sleep schedules and planning worksheets, Mastering Naps and Schedules is a hands-on tool ideal for any parenting style.
For those persistent toddler sleep struggles, check out The 5 Step System to Help Your Toddler Sleep. Using the same unique approach and practical tools for success, this e-book helps you and your toddler sleep through the night and enjoy a better daytime schedule.


Or, join our Members Area packed with exclusive content and resources: e-Books, assessments, detailed case studies, expert advice, peer support, and more. It actually costs less to join than buying products separately! As a member, you'll also enjoy a weekly chat with an expert sleep consultant. And the best part – members receive 20% off all sleep consultation services!
If you are looking for a more customized solution for your unique situation, and want plenty support along the way, please consider one-on-one baby and toddler sleep consultations. Your consultation package will provide you with the chance to interact one-on-one with a trained sleep consultant, who will create a Personalized Sleep Plan™ for your family and then work to help you implement it at home.

Can't decide which product or service is right for you? Visit our Getting Started Page for help.
*******************************************************************************************

Want FREE sleep help that you can put to use right away? Download a copy of our free guide, Toddler Sleep Secrets! The guide is available to download instantly, which means you can start using the techniques in it as early as tonight. So download now, and learn why your baby is waking at night – and what you can do about it.


Click here to learn more about how to get your free guide.
A better night's sleep could be just a few clicks away. So don't wait – download now, and start your journey to better sleep tonight!
*******************************************************************************************
Share your toddler's schedule