Picture this. You've just settled into a nice, predictable daytime sleep schedule, you're feeling good about life, and then, before you know it, your baby gets a little older and blows your perfectly-crafted routine to pieces.
I'm positive a lot of you know exactly what I'm talking about (even those of you who've never been able to establish a nap schedule.) The first few years of a child's life are full of changes, and those changes add up to mean ever-shifting sleep patterns and schedules.
This is really apparent when you consider a child's typical nap schedule from birth to toddlerhood. Newborn babies take 5 or more naps each day; by 18 months, toddlers are taking one nap. That's a lot of change! And transitioning between all those nap schedules can be a huge headache for little ones and for their parents.
Read on to learn more about how to spot a coming nap transition!
Common Nap Transitions: When They Happen
There's no blueprint, of course, that'll let you know exactly when your baby or toddler is due for a nap transition. However, here's a general timeline that most babies and toddlers follow:
From 1-4 months, the number of naps your baby takes will be variable, but will hover around 4-5 naps per day, depending on how long his naps are and how long he can stay up between naps.
By 3 or 4 months old, she will lean towards just 4 naps, rather than 5.
From 5-8 months, most babies will have three naps per day. They will start to resist the fourth nap, no matter how tired they are. There are a few babies who will only have two naps at a very young age, but those naps are usually long.
From 9-15 or 18 months, on average, your baby will nap two times a day. Although many people believe most babies can transition to one nap at 12 months, the average age is actually 15 to 18 months.
From 18 months to 4 years, toddlers nap once a day. The age to transition away from all napping varies a lot, from 2 to 5+ years old, but the average age is between 3 and 4 years old.
The early nap transitions (from five, to four, to three) usually happen quickly and aren't as problematic. It's the other nap transitions (from three, to two, to one, to none) that tend to frustrate parents. Those nap transitions take longer, for one thing (my middle son has been transitioning from one nap to none for the past YEAR), and they seem to affect children more noticeably.
Common Nap Transitions: How To Tell If One's On The Way
How will your baby or toddler let you know that a nap transition is coming? Here are a few signs to look for:
The timing of your baby's or toddler's naps begins to change: Before a nap transition, the schedule generally goes crazy. Naptime goes from being predictable to being all over the place. This can interfere with nighttime sleep, too — if the afternoon nap doesn't happen until late afternoon or early evening, for example, it can interfere with bedtime.
Your baby or toddler begins consistently refusing a nap: Most parents find that their little one suddenly starts refusing a nap (usually an afternoon one) that, just yesterday, they agreed to without a problem.
The length of your baby's or toddler's naps begins to change. You may notice that one or more of your little one's naps are suddenly much shorter than normal. This can be a sign that your baby or toddler is getting ready to drop a nap.
Can You Make Nap Transitions Easier?
For some babies and toddlers (especially those who are highly adaptable), nap transitions are a piece of cake — they only take a few days. If that's the case in your home, then a sort of "cold turkey" approach to nap transitions might work well. Simply cut out a nap, re-vamp the schedule, and endure a few fussy days.
For others, though, nap transitions are difficult and loooong. If your baby or toddler is in that second category, you'd probably appreciate some suggestions as to how to make those transitions a bit easier, right?
We hear you. That's why we've included so many nap-focused resources in our VIP Members Area. Check them out below!
---
Special VIP Members-Only Nap Resources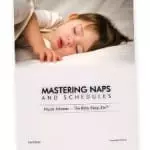 Mastering Naps & Schedules — For starters, all Baby Sleep Site® VIP Members receive unlimited access to all our e-Books. That's right – for the price of your membership, you can read all our e-Books at no additional cost! That includes Mastering Naps & Schedules. With over 45 sample schedules (all available for you to view in the Members Area), Mastering Naps & Schedules is THE e-Book for tired parents of non-napping kiddos! We tackle all your top napping issues, including how to get your baby or toddler to take longer naps, how to get your child's naps to be more consistent and predictable, how to manage nap transitions, how to encourage good napping while traveling – and more! Become a VIP member today, and access the e-Book instantly – no download necessary!
Nap Audio Courses — Another great members-only resource? Our audio courses. Hosted by Nicole Johnson herself, these 30-45 minute audio recordings offer you insider-information and our trademark sleep coaching methods and techniques. And guess what? We have a special audio course that's completely focused on managing nap transitions. That's right – as a member, you will have access to a 30 – 45-minute coaching session with Nicole herself! She'll walk you through the basics of navigating nap transitions without destroying your existing daytime schedule, or ruining night sleep.
Members-Only Nap Articles — And now, we've recently added a special members-only article on this very topic: 5 Practical, Hands-On Tips For Managing Common Nap Transitions. Learn our 5 top secrets for how to gently and painlessly navigate nap transitions, and help them happen in a way that preserves your child's sleep while also preserving your own sanity! 😉
For more details about all our VIP Members Area benefits (including weekly chats with a trained sleep consultant and and "Ask the Author" feature), visit our DIY VIP Members Area page, and consider becoming a VIP Member today!
---
No matter how you decide to handle a nap transition, the first step is to be aware of any nap transitions that are coming your way. Once you know the signs of a nap transition, and are prepared for the scheduling chaos they can create, you'll be able to plan for how you're going to get through the transition itself.
How have you handled nap transitions with your baby or toddler?